Investors speculating on Chinese e-commerce companies have had a marvelous week as E-Commerce China Dangdang Inc. (NYSE:DANG) and Vipshop Holdings Limited (NYSE:VIPS) reported revenue and net income well above expectations for Q4, resulting in very large positive movements in share price.
DANG pulled a much awaited quarterly profit of $3.6M on $325.7M in revenue. The company grew Q4 revenue by 25.7% and beat consensus revenue estimates by $10M. VIPS did even better with $651M in revenue for Q4, up 117% from Q4 2012 and beating consensus estimates by $92M. VIPS' net income rose 300.0% from $6.3M in Q4 2012 to $25.4M in Q4 2013. LightInTheBox (NYSE:LITB) has been the only disappointment with a revenue increase of 21.6% but increasing net losses as its dynamic of being an e-commerce company that primarily sells overseas is different than the other two which primarily sell to the domestic Chinese market.
My article on December 12 titled "Alibaba's Looming IPO Shows That Smaller Players In The Chinese E-Commerce Industry Are Significantly Undervalued" outlined my bullishness on the industry but these outstanding Q4 results by two of the larger publicly traded domestic Chinese e-commerce companies beat even my expectations. In my article I had the following 2014 year-end price targets:
A target range of $120 to $313 for VIPS
A $40 target for DANG
A $3.35 target for Fireswirl Technologies (OTC:FRWRF)
A target range of $11.80 to $36.60 for LITB
Since the recommendation on December 12, VIPS has more than doubled from $78 to $170 in price. DANG has doubled from over $8 to over $17, LITB has increase slightly from the $6's to $8 and Fireswirl has moved from 28 cents to 35 cents on the TSX Venture Exchange under the symbol FSW.
The positive earnings results for DANG and VIPS present a great potential opportunity for investors who feel they may have missed out on a big run in China's e-commerce companies. The reporting requirements of the TSX Venture Exchange gives companies a much longer deadline to report their audited year-end results, so Fireswirl will likely report its Q4 earnings in the last week of April. Fireswirl's Q3 YTD revenue growth was 115% and as outlined in my aforementioned article, the company's price to sales ratio is by far the lowest in the industry. While Fireswirl has a recent history of net income losses, the company has generally reported superior operating margins compared to DANG. If that is the case once again for Q4, Fireswirl may report a profit too.
When people speak of the e-commerce industry and its tremendous growth, one item that consistently gets overlooked is how are these goods purchased online getting to the customer's homes? Because of China's reputation as an exporter, there has been enough focus on international freight transport, particularly shipping. But I believe a great opportunity exists in the domestic freight transport industry, particularly that of trucking.
The market research report for Freight Trucking in China by IBISWorld predicts an industry growth of 12% per year through 2018. China's rail system is overloaded and in need of expansion so there is an expectation that trucking will take the bulk of the increase in land transport in the country until that expansion takes place.
China Yuchai International Limited (NYSE:CYD) had 24.5% revenue growth in Q4 2013 on the strength of the company's sales of diesel engines for the commercial truck market in China. Industry sales of heavy-duty diesel trucks increased by 48.2% year-over-year according to the China Association of Automobile Manufacturers.
This leads me to the second overlooked opportunity. Grand Power Logistics Group trades on the TSX Venture Exchange under the symbol GPW and provides local and cross-border trucking services as well as air and ocean freight and warehousing under the name Grand Power Express in China. The company's key financial performance statistics can be seen below.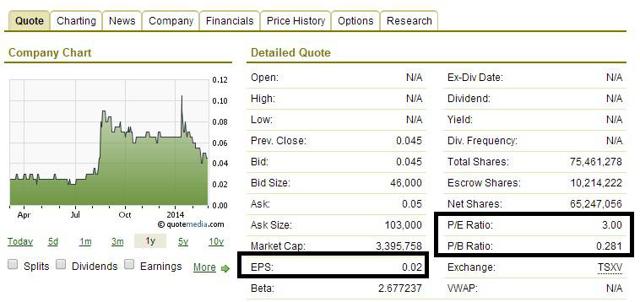 With an EPS of $0.02 and a stock price of $0.05, the low Price to Earnings ratio of 3 and Price to Book ratio of 0.281, GPW's low price is a throwback to the Sino-Forest days where the fear of all Chinese companies being frauds was at its peak. GPW has not recovered from the 2011 depths despite improved financial performance to achieve positive net income over the past year.
With companies such as VIPS and NQ Mobile (NYSE:NQ) standing up to allegations of Muddy Waters and other accusers of financial wrongdoing, people are once again warming up to Chinese companies thanks to the country's economic growth. Incredible stock price returns having been the result. With the increase in price in the stocks of many Chinese companies listed in the United States over the past year, two great opportunities exist in Canadian-listed Chinese companies like FSW and GPW.
Disclosure: I am long FRWRF. I wrote this article myself, and it expresses my own opinions. I am not receiving compensation for it (other than from Seeking Alpha). I have no business relationship with any company whose stock is mentioned in this article.
Additional disclosure: I am long FSW.V and GPW.V on the TSX Venture Exchange.