These guys are the most in-demand skilled labour force in Canada right now. Every failed TSXV mining company or near-bankrupt OTC stock would love to secure their services: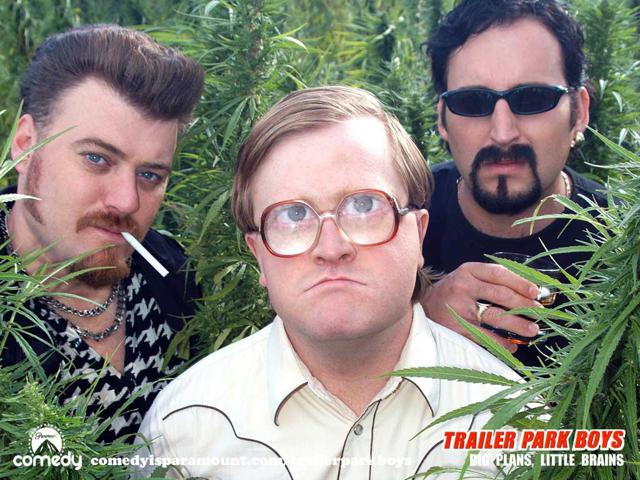 The marijuana industry pump has been particularly lucrative for many traders recently. The first companies in the door have experienced tremendous growth in stock price. Companies on the TSX Venture with cute symbols like Satori Resources (NYSE:BUD) and Thelon Capital (NYSE:THC) have seen stock price increases in excess of 10x since the start of the year with even greater gains on the OTC markets in the US from companies like Creative Edge Nutrition (OTC:FITX) and Tranzbyte Corporation (OTCPK:ERBB).
The success with these companies has led to many more trying to jump on the bandwagon and pump their shares prices at the mere mention of looking into the industry. Thus far it has worked with great success for companies like Windfire Capital (WIF) and Terra Firma Resources (TFR) among several others.
While traders have made a lot of money with these companies, I believe buying into them now represents a poor risk-reward speculative investment proposition even when doing just a cursory amount of research.
Just because they have the inside track to producing and selling marijuana legally in their various jurisdictions of focus does not mean they will instantly become successful companies overnight. FITX's income statement shows a loss of $6.3M for 2013 while the balance sheet shows a mere $19K in cash and $859K in total current assets against $4.6M in total current liabilities. ERBB is in even more of a desperate state with just $38K in total current assets to its name against $3.6M in current liabilities. As in other words, these companies WILL need to finance in order to start operations and fix their balance sheets. That financing will put a damper on the price of each stock, particularly if it is quite dilutive.
The companies trading on the TSX Venture aren't in such desperate shape as they generally have positive (albeit small) working capital and much lower cash burn rates. But THC has a negative working capital with minimal cash just like its counterparts south of the border. BUD has $320K in current assets compared to $187K in current liabilities. But that has come on the heels of financing at very low prices of 15.5M shares at a price of 1 cent for $155K in cash in September. The kicker is those 15.5M shares also got warrants with a strike price of 5 cents to buy the stock. With a stock price over 15 cents those warrants will certainly get exercised and provide the company with $775K, but it's a near certainty that exercise of the warrants will be accompanied by sales of the stock purchased at 1.5 cents to fund the proceeds of the warrant exercise. The people who made the most money on BUD were the ones who participated in the private placement or otherwise bought near 52-week lows.
The companies who are bandwagon jumpers are an even worse buy after the stock price has already popped. Let's take WIF as an example. Today's news release about the company evaluating the agriculture sector comes with this caveat:
"While the company has been in discussions, no agreement in principal has been entered into with any parties and there is no assurance that the company will acquire any agriculture related assets, directly or indirectly."
Not only that, the company just closed a private placement of 4.4M shares at 5 cents on March 13. The stock closed at 18 cents on Friday. So an investment in WIF gets you a company that just closed a secondary at a deep discount to the price today and the company doesn't even guarantee you a slice of the medical marijuana pie. It's companies like these that offer the worst risk-reward speculative opportunity because you are paying a high price for the shares with no guarantees of success of even getting into the industry let alone figuring out how to profit from it. It's not so easy to snap your fingers and start making money growing pot. You have to get the license to become a legal commercial producer in Canada first.
Clearly the people who have won the most on the companies above are the ones who bought at the low prices and are selling or holding at these higher ones.
If you want to win like the early investors who have won on the companies above, the best way to play the marijuana industry is to try to guess which company would be a likely suspect to convert their business and who would be capable of executing on said change in business. Here's a checklist of what I think would be valuable to go through when evaluating a company's propensity to change its course of business to "agriculture".
1. A failed resource company that still owns property and has a desire or need to change its business.
2. That property is in Canada or in a jurisdiction which supports the development of marijuana both from a legal perspective and an agricultural one (so if your property is located in the Nevada/Arizona desert, no such luck for you).
3. They have people who are experienced and licensed in the commercial production of medical marijuana.
4. They have money to hire the people in point #3 like the Trailer Park Boys and/or acquire those licenses as well as start up money to begin its production or buy a plot of land that can grow marijuana if anything they already own doesn't suffice.
5. The company has a small float of shares to maximize the stock price pump it will see by releasing a press release saying it will try to get into agricultural ventures.
One company that immediately comes to my mind which I have talked about before is Noble Mineral Exploration (OTCPK:NLPXF), symbol NOB on the TSX Venture. My article "Noble Mineral Exploration Demonstrates How To Run A Profitable Junior Exploration Company" gets into some detail over a recent sale of the company's surface to Block A of Project 81. The sale is scheduled to close on March 31 so the company will soon be getting plenty of cash. I estimate well over $1M will remain after NOB discharges its liabilities and buys out the rights of the previous landowner. That would be plenty of cash to pursue opportunities in agriculture, more cash than any of the companies listed above.
As NOB intends to sell the remaining surface rights to Project 81, that land will be eligible for mineral exploration only. But NOB still has full access to land in Northern Ontario and Saskatchewan. I'm not sure if that land can be used for agricultural as well as exploration purposes. But if not the former, NOB still has plenty of money to find and purchase one. The only negative against NOB is that the float is fairly large - 155M shares - but NOB doesn't have a cheap recent PP weighing down the stock either.
I have no idea if NOB's management team has any desire to get into the marijuana game. But what I do know is that if they did, they would have a lot more ability to execute on those plans based on the cash that the company will have soon than WIF, and is trading at a lower market cap to WIF too.
NOB is not the only company out there which could capitalize on this industry while it is hot. There are many other undervalued mining companies that may pursue this opportunity. It makes a lot of sense that if the market is not properly valuing their exploration potential, why should these companies spend money on something that's not going to get a return right now? It's better to sit on the properties and wait it out while we are in this exploration bear market. The minerals which are underground are not going to go anywhere, but in the meantime some of these companies may be able to use some of the surface land for agricultural purposes and garner cash flow that way.
This Excel file list will give you a bunch of names with very low market caps and floats which have the potential to pop 100% or more just by announcing a change in business to agriculture. You can evaluate which companies have the best ability to execute on that change in business and who might want to go through such a change. It's a lot of work to find a diamond in the rough but if you call it correctly you will make a lot more money on the initial pop in my opinion than by chasing the companies which currently claim to be looking into pot. And if you call it wrong but follow the rules of investing into a good company with cash, you will still have a company with a lot of exploration potential and the money to execute on a business plan without the threat of dilution or delisting.
Disclosure: I am long NLPXF.