When looking at Grand Power Logistics Group (GPW) on the TSX Venture Exchange, investors would be hard-pressed to find a better investment. The company provides local and cross-border trucking services as well as air and ocean freight and warehousing under the name Grand Power Express in China. There are six major factors, some of which tie into each other, that show the investment and/or trading opportunity that currently exists with this stock:
Two recent news releases about the profitable sale of non-core assets
The strong cash position derived from the sales
Several real and potential near-term catalysts for this stock
Insider support
Financial ratios and metrics that compare favorably to most peers and very favorably to the market at large.
Favorable direction on the long term chart
1. Two news releases about the profitable sale of assets
My prior blog post on GPW details how Grand Power managed to sell one of its non-core projects in excess of its market cap at the time and at a large profit. Recapping it:
The sale price for the whole Yangshan Logistics Park project is RMB239 million (approx. US$38.93 million). Grand Power's portion of the sale price is RMB31.55 million (approx. US$5.139) for its 13.2% interest. As of today, Grand Power has received a payment deposit of RMB10.45 million (approx. US$1.7 million). Grand Power has invested a total of HK$13.2 million (approx. US$1.7 million) for its 13.2% interest in the project.
Since then, the company has managed to sell another non-core asset at a profit, the Macau property:
The property was purchased for a cost of HK$14.46 million (approx. US$1.8 million) and sold for HK$16.50 million (approx. US$2.12 million).
Ricky Chiu, President and CEO of Grand Power said "The Macau property did not fit into our expansion plans as originally intended and has gained significant value, so we decided to sell it, lock in the profits and further add to our healthy cash position."
GPW's stock price has moved from 5 cents to 10 cents recently in reaction to the news but I believe it can do much more. I invest in LX Ventures (LXV) because I like the company's philosophy of acquire, accelerate and exit. Well GPW has shown an ability to do exactly that with the Yangshan property while it smartly exited the Macau property at a profit once it was determined to not fit into the company's long-term plans.
2. Strong cash position
The two sales mentioned above have resulted in tremendous improvement of the company's cash position. The balance sheet as of Sept 2013 shows $1.3M in cash, $20.5M in total current assets, $19.1 in liabilities ($1.4M in working capital) and $11.4M in total equity. The property sales bring in $7.26M in USD cash or about $8M Canadian. Total working capital improves to $9.4M and that excludes Q4 operating results. Working capital could be in excess of $10M while GPW's market cap is only $7.5M. A stock price of 13 cents values the company at $10M, meaning a profitable business in one of the fastest growing economies in the world would be thrown in for free at that price. And the stock price is 30% discounted to 13 cents at this moment.
3. Several upcoming catalysts
Before the news releases in March, GPW was already headed in the right direction financially. After years of losses, the company scaled down its operations in 2011 and pulled its first annual profit in 2012.
(click to enlarge)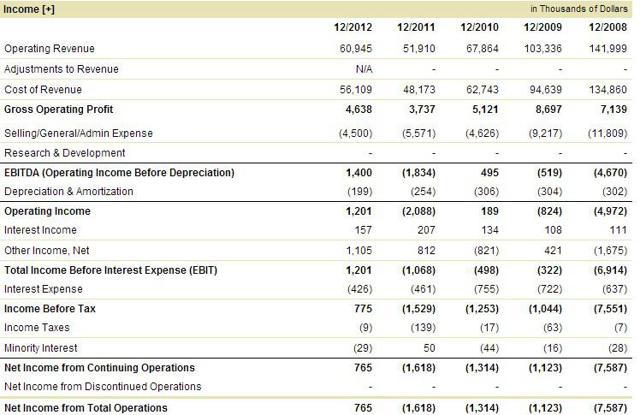 Click to enlarge
Q4 2012 was the company's most profitable quarter at nearly $800K, driving the full year profitability. The first three quarters of 2013 have seen a profit of over $400K. Q4 2013 results will be announced before the end of April. Based on the recent trend, it's not unreasonable to estimate that the company can achieve over $1M in earnings for the quarter. Q1 and Q2 have been traditionally weak quarters for the company but Q2 was a good earner for it for 2013.
(click to enlarge)

Click to enlarge
According to TMX Money, the company is scheduled to earn 2 cents in EPS and have a 3 P/E ratio. A Q4 report of over $1M would result in around $1.5M in earnings or 2 cents per share and would push the company well on its way to achieving a 3 P/E ratio for 2014 as it would need over 3 cents per share or $2.3M in annual earnings to hit that target.
(click to enlarge)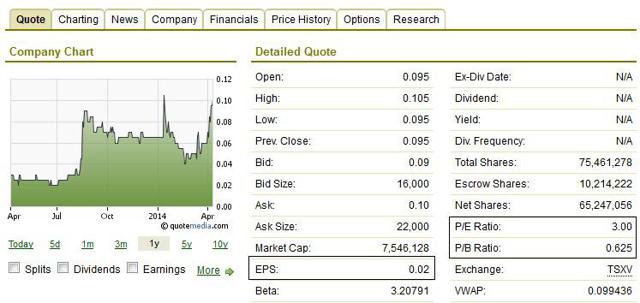 Click to enlarge
Q1 2014 will be announced by the end of May. While normally a poor quarter for the company, it will include the one-time net income recorded for the sales of the properties (about $3.75M US) as well as show the improved balance sheet where cash per share should exceed 10 cents.
With the strong cash position and recent activity, there could be more catalysts to move the stock up in price. The company may choose to liquidate more assets if management can do so profitably. GPW may be hoarding the cash for some major project to be announced or it could announce a share buy back program. All of these items are just speculation, but with the padded bank account we can expect GPW will continue with the newsworthy events.
4. Insider support
Over the past two years several insiders including the CEO and CFO have purchased shares on the market. This gives credence to the statement from Ricky Chiu in which he believes "the share price is significantly undervalued, and will continue to strive to do what is best for the company and its investors." Mr. Chiu and his associates have chipped in to buy a million shares on the open market over the past two years without selling one share. Thus far it has been an excellent investment as many shares were purchased at 2.5 or 3 cents.
(click to enlarge)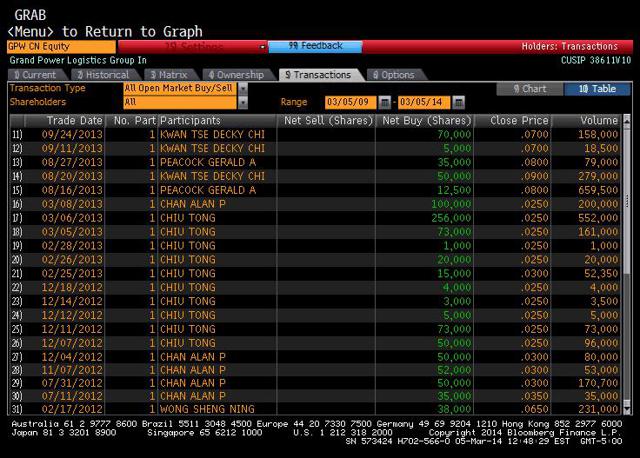 Click to enlarge
If the insiders wanted to sell some shares and take profits, the best course of action for them would be to implement a share buy back program at a price higher than 10 cents so there would be sufficient liquidity to profitably exit. A share buyback of 10 million shares at 20 cents each costs only $2M, well within the range of what the company can afford thanks to the strengthened cash position.
5. Favorable financial ratios versus its peers.
A concern that has been brought up when looking at a stock like GPW goes along the lines of "who cares about the financials, they are all faked or fraudulent anyways". Even though there has been no allegations of fraud being brought forth against GPW in the ten years since it started trading, people who were bitten by Sino-Forest or many other fraudulent Chinese companies or a witness to it are understandably skeptical. Even in 2013 there was a few companies on both sides of the border that have gotten into trouble with the securities regulators. The difference between these stocks and Sino-Forest types is that the regulators seem to be catching them shortly after they go public.
NQ Mobile was a favorite pick of mine shortly after the Muddy Waters allegations tanked the stock. Read my articles here and here for some of my insight onto that situation. After successfully taking down Sino-Forest, Muddy Waters has been on a bit of a cold streak when trying to uncover fraudulent Chinese companies. If this is their expertise and they are unable to successfully uncover frauds, does that mean China scams aren't nearly as prevalent as they once were?
Let's assume that there is discount applied to GPW due to guilt by association. If that's the case, then all Chinese stocks should be suffering the same fate. I've selected 10 of the more popular companies trading in Canada which hold the bulk of their operations in China or Hong Kong for comparison to GPW.
Boyuan Construction Group: BOY
Brand Marvel Worldwide: BMW
Changfeng Energy: CFY
China Keli Electric Company: ZKL
Fireswirl Technologies: FSW
GINSMS: GOK
GreenStar Agricultural: GRE
Huaxing Machinery: HUA
Mountain China Resorts: MCG
Symax Lift (Holding) Co: SYL
While they are all in China, they vary across industries from logistics, utilities and construction like GPW, ZKL, SYL and BOY to high growth tech stocks like FSW or GOK. So one must be careful in using stats like price to sales or price to book blindly, as some industries will be valued at lower ratios than others. All the stats are taken from the TMX Money website, with the links to each company's page in the stock symbol.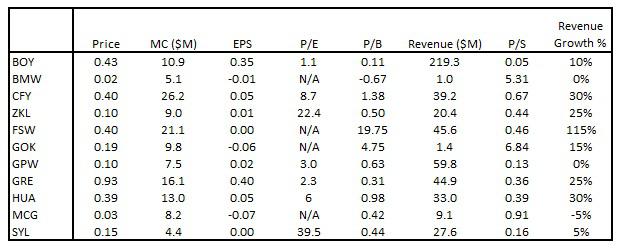 We can see from the chart that the majority of well-performing companies are valued at very cheap multiples across the board. FSW, a stock which I have been championing as highly undervalued versus its senior Chinese eCommerce peers in the US looks relatively overvalued compared to most others on this list although one must keep in mind what I said about the industry and pay attention to its vastly superior revenue growth.
Even as many Chinese companies are valued at low multiples, GPW still stands out as one of the best. The only one that clearly outdoes it is BOY. The problem with that stock is that it became a target of investigation by the Ontario Securities Commission last year with respect to a loan agreement back in 2010. The issue has since been settled but BOY is still tainted thanks to it. I do not own BOY, but I encourage others to watch the stock closely as it has tremendous future potential at these low prices if it can show that the issue from 2010 was a one-time lapse in judgment and not indicative of company-wide fraud.
Having a look at Chinese companies listed on the US exchanges, we can see that those companies don't have the same low valuations as their smaller Canadian counterparts. The companies I included are:
Baidu.com (NASDAQ:BIDU)
China Auto Logistic (NASDAQ:CALI)
China Mobile Limited (NYSE:CHL)
China Yuchai International (NYSE:CYD)
E-Commerce China Dangdang (NYSE:DANG)
LightInTheBox Holding Co (NYSE:LITB)
NQ Mobile (NYSE:NQ)
Qihoo 360 Technology Co (NYSE:QIHU)
Renren (NYSE:RENN)
SINA Corporation (NASDAQ:SINA)
Sohu.com (NASDAQ:SOHU)
Vipshop Holdings (NYSE:VIPS)
Youku Tudou (NYSE:YOKU)
All the stats are from Yahoo Finance.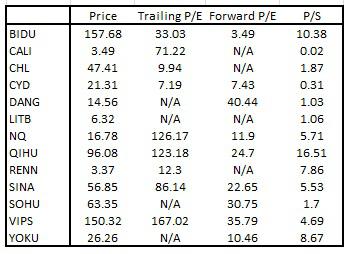 While most of these stocks are high-flying tech companies, there are several valid points to take from this. First, no matter what industry, if the fear of fraud is there, the greed of growth outweighs it or these companies wouldn't have such high P/E and P/S valuations. A comparable tech company like FSW has a P/S ratio of less than half of DANG and a tenth of VIPS.
Also, the industrial/logistics type of companies more similar to GPW like CYD and CALI trade at higher multiples. CALI trades at a 0.02 P/S but that's due to its perpetual state of extremely thin margins; the trailing P/E is over 70 and the estimate is for negative earnings in the year coming up. GPW is undervalued relative to its peers on the TSX and quite a bit more undervalued to its peers in the United States.
6. Favorable direction on the long term chart
Looking at the 5-year chart, GPW looks poised to break upward from its several year bear run where it has dropped from 50 cents to a low of 2 cents. Back in 2010 the company was losing money and revenues were shrinking while the TSX Venture Index was dropping so it made sense for the stock price to tank. Now that GPW is making money after finishing scaling down its unprofitable operations and it appears ready and able (cash wise) to attack the market with a growth strategy, it makes perfect sense for the stock to move back up to where it was a few years ago. Note the higher P/E ratio of 6.2 that's based on trailing revenue.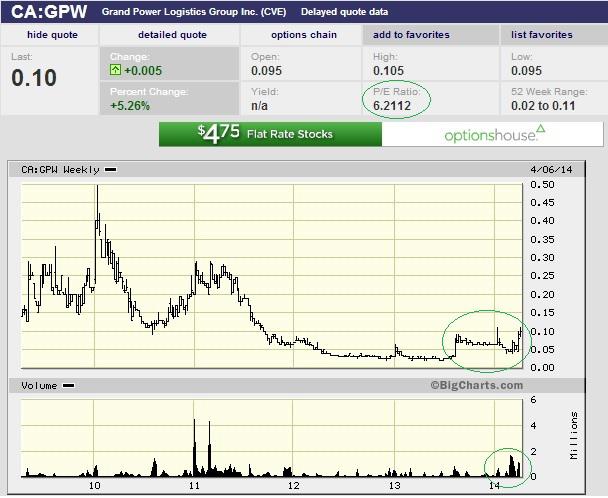 When I decide to purchase a stock for deep-value, I look for one with a low P/E and strong cash position. That usually leads me to out of favor stocks. GPW fell out of favor as it downsized itself until it was profitable. Revenue growth has been mediocre but earnings growth has been strong. Now the company has the cash to execute a plan in the lucrative Chinese economy. Logistics services are going to be in high demand. China is well-known as the #1 exporter of goods but as Chinese eCommerce heats up, someone is going to have to get those goods from the online vendor to the client. GPW's air and trucking business is in the ideal position for growth. Below is a summary of the company's sales revenues by type and region for the past eight quarters.
(click to enlarge)

Click to enlarge
Disclosure: I am long FRWRF.
Additional disclosure: I am long FSW and GPW on the TSX Venture Exchange.