Partner Jet, which trades under the symbol PJT on the TSX Venture, released its Q1 results today. Although the results were excellent and the stock was up 150% to 25 cents, only 5,000 shares were traded. PJT makes a great speculative investment on a turnaround play, if you can get any shares. Below is a snapshot of the Q1 results. They can be seen on SEDAR.
(click to enlarge)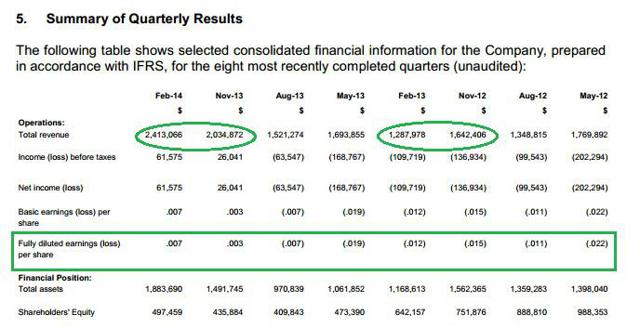 Click to enlarge
After several quarters of losses, the past two have shown positive EPS of 0.3 and 0.7 cents respectively. PJT achieved record revenue of $2.4M for Q1, an 87% increase over Q1 2013. With only 9M shares outstanding, it's quite possible that PJT will achieve 3-4 cents in EPS for 2014.
If annual revenues are $10M a year going forward, the $2.3M market cap implies a price to sales ratio of 0.23x, less than half to a quarter of the price to sales valuations of the larger airlines and other aircraft service providers which have P/S ratios of 0.5 to 1.0x.
Reviewing the discussion of operations can provide some insight as to what were the drivers of PJT's success in Q1.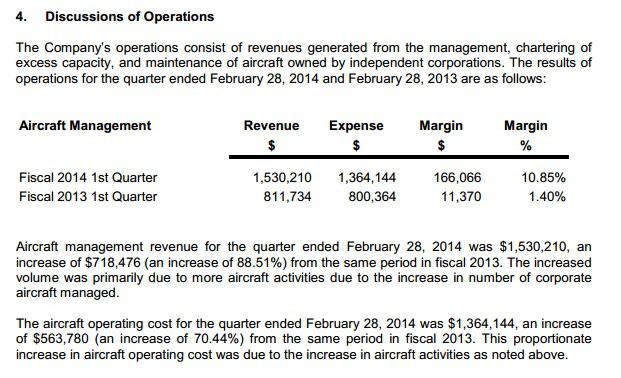 The bulk of the company's revenue and growth came from Aircraft Management services such as the scheduling of the pilots and crew for clients' flights. Margins improved from 1% to 11% as revenues nearly doubled.
(click to enlarge)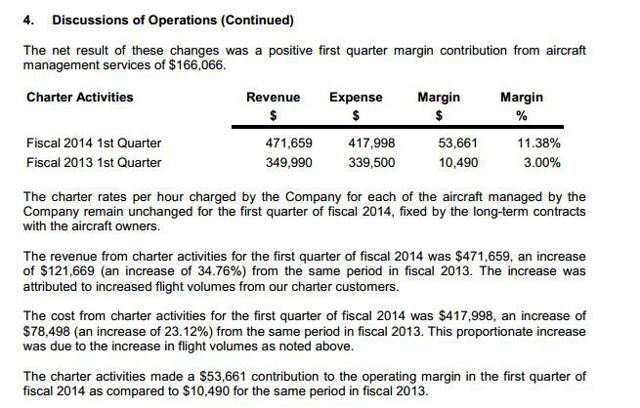 Click to enlarge
PJT's chartered flight activities grew 35% while margins improved from 3% to 11%. As contracts are fixed for several years, it's very encouraging to see the company improve its margins in this segment through synergies with related parties and other cost controls.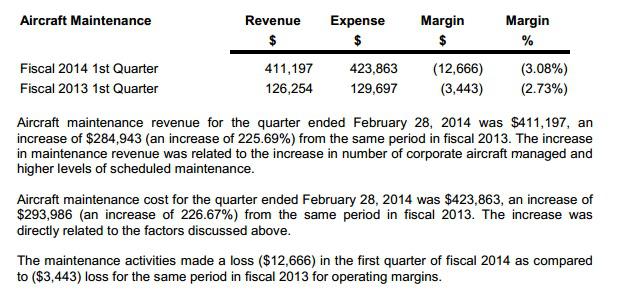 The most encouraging part of the company's revenue growth is in its aircraft maintenance, inspection and repair services. Revenue grew 226% from Q1 2013. It's still a negative margin business as economies of scale have not yet been reached. The company managed to achieve record profits for Q1 even as the maintenance division remained unprofitable and took up a bigger chunk percentage-wise of the company's total revenues. This bodes very well for the future assuming the stronger margins in the other sectors will be supplemented by a positive aircraft maintenance sector in the near future.
PJT is entering in exciting times. With a small share float that's very tightly held, it's a challenge to get shares. It might be a challenge worth pursuing. If PJT continues on the path that it has been headed for the past two quarters I see a dividend payout or a buyout in the near future by one of the bigger airlines.