April 26, 2013 (Coinalpha.com) - Bitcoin has tried to break above $160 in the last couple of sessions but so far has not been able to overcome this resistance area as pressure on the virtual currency mounts, making a test of $100 a likely scenario that could play out in the days ahead…
In our previous analysis, we explained the importance of monitoring Bitcoin's price behavior, especially during pullbacks to the previous triple top resistance, potentially strong support around $140.
Our view was that if Bitcoin forms a base above $140 and does not encounter steep resistance in the $160 area, we would not be surprised to see another leg higher to our next target area between $190 and $200.
In today's trading session, however, the virtual currency maintained below $160 and struggled to hold above $140, breaking below this important support area and reaching as low as $120.08 on Mt. Gox- the world's largest Bitcoin exchange.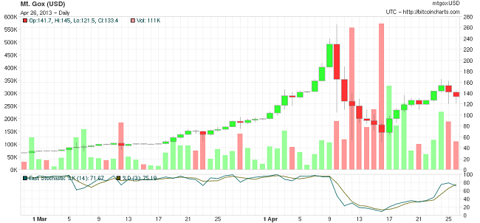 BTC Daily Chart Provided by Bitcoincharts.com
We consider the drop below $140 as a significant sign of weakness. This level used to be a previous triple top resistance but has failed to provide strong support on the way down.
As we pointed in our outlook earlier this week, the inability to form a base above $140 could send a signal that the two-week long price correction of Bitcoin's losses may be coming to an end and could give traders a green light to push the virtual currency back to $100.