April 30, 2013 (Coinalpha.com) - The financial markets are bracing for announcements of further monetary policy easing by the Fed and the European Central Bank this week that could weigh on the US dollar and the euro, and could spur demand for Bitcoin.
The Federal Open Markets Committee's decision is due on Wednesday, May 1, at 2:00 pm, ET. Under its open-ended quantitative easing program, the Fed is currently buying $85 billion of bonds and mortgage backed securities per month and it doesn't seem like the US central bank is ready to call it quits anytime soon.
Recent reports from the labor market and other sectors of the economy have sparked concerns that the US may be losing momentum. In addition, the world's largest economy is already feeling the negative impact from the cuts in government spending.
In our view, this current economic backdrop does not create a sense of urgency for the Fed to tighten monetary policy. We expect the FOMC to maintain the current monetary policy course at its May meeting, and probably into 2014. The majority of policy makers will be likely to reiterate their commitment to open-ended QE until the unemployment rate falls below 6.5% or inflation exceeds 2.5%.
With the Fed's printing presses cranked up and no end in sight to the unprecedented amount of quantitative easing, the USD could see pressures mounting.
Further debasement on the US dollar could help Bitcoin to attract more bids as an alternative to the greenback.
The virtual currency is trading sideways ahead of the Fed's announcement, fluctuating within a range between $120 and $160.
Should the FOMC monetary policy decision serve as a catalyst for a bullish breakout above the top of this range, Bitcoin will be likely to eye our next target area $190-$200.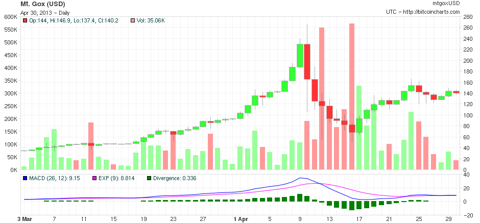 BTC Daily Chart Provided by Bitcoincharts.com
Only a day after the Fed, the European Central Bank is scheduled to make its monetary policy announcement on Thursday, May 2, at 7:45 am, ET.
Economic data from the euro-area continues to spell recession. The eurozone economy suffers from a chronic contraction in its manufacturing and services sectors. Unemployment is at a record high, while the rate of inflation is falling to 1.2% y/y- well below the 2% target.
With economic growth still nowhere to be seen and deflationary pressures developing, the odds of a rate cut by the European Central Bank have increased significantly.
There is also growing anticipation that cutting rates may not be the only monetary policy change announced by the ECB this Thursday. The lack of improvement in the eurozone could prompt the European Central Bank into providing additional stimulus to the ailing economy.
As the world's major central banks step up their monetary policy easing efforts, expand their balance sheets to new record levels and debase their currencies, Bitcoin should continue to emerge as a viable alternative for investors around the globe.