Jason Napodano's new article on Tonix Pharmaceuticals (NASDAQ:TNXP) says shares are fairly valued at $16. While we happen to think pre-data shares are more dear, we were stopped in our tracks when we saw this: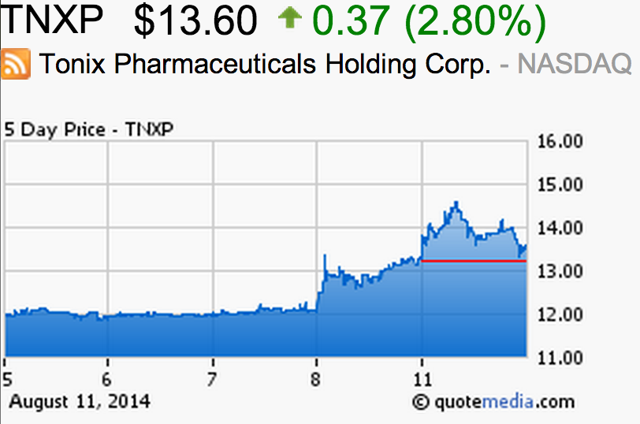 As you can see, the chart only goes to $16.
Sigh.
Ah well, three quick notes:
1) We noted that Tonix filed its S-3 last week, a "Notice of Effectiveness" should follow at some point meaning that it has been accepted.
2) Effective today Tonix is listed on The NASDAQ Global Market. The more choice pedigree should get some additional institutional eyeballs on the stock. CEO Dr. Seth Lederman:
we believe that this move will expand Tonix's visibility to potential investors
Some details from Nasdaq on the listing:
The NASDAQ Stock Market has three distinctive tiers: The NASDAQ Global Select Market®, The NASDAQ Global Market® and The NASDAQ Capital Market®. Applicants must satisfy certain financial, liquidity and corporate governance requirements to be approved for listing on any of these market tiers
Looks like a heads up move by management with big/huge BESTFIT data looming.
3) Dr. Lederman is presenting at two conferences this week:
Wedbush Life Sciences Management Access Conference
Tuesday, August 12, 2014 at 9:45 am ET
New York, NY
Canaccord Genuity Annual Growth Conference
Thursday, August 14, 2014 at 11:30 am ET
Boston, MA
Wedbush's conference is "for institutional clients of Wedbush Securities and by invitation only" and is not being broadcast.
Canaccord Genuity's conference will be broadcast live - you can listen here.
Disclosure: The author is long TNXP.