This is getting a bit embarrassing: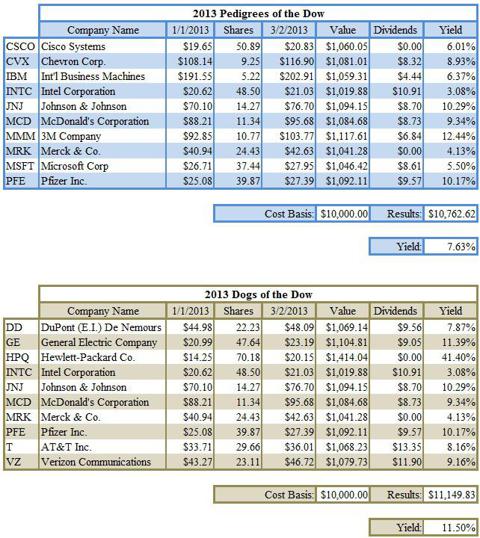 Hewlett-Packard Co. (NYSE:HPQ) is going wild, and they haven't even paid their first-quarter dividend yet. With a Q1 growth rate of 41.4% you have to believe that the perception, at least, is that Hewlett-Packard is back on track. Given that the two kennels share 5 companies, any difference is going to be due to the companies they don't share, and HP makes up the bulk of that difference.
Of the other Dogs, DuPont (NYSE:DD), General Electric (NYSE:GE), AT&T (NYSE:T) and Verizon (NYSE:VZ) are all doing well, with GE turning in a commendable 11.39% yield thus far in Q1.
For the Pedigrees, 3M Company (NYSE:MMM) is giving nice numbers, and Chevron (NYSE:CVX) is keeping up. Cisco (NASDAQ:CSCO) and IBM (NYSE:IBM) are doing somewhat less well, but still making a go of it. Microsoft (NASDAQ:MSFT), on the other hand, seems to be having its problems - lukewarm reception of Windows 8 may be part of that, along with less than Apple-like enthusiasm for their tablet offering.
Disclosure: I am long PFE.