This week was quite a noteworthy period - the Dow had a string of record highs, while the S&P and NASDAQ also moved upwards substantially. Both of our Kennels were up, although the Pedigrees are increasing their lead: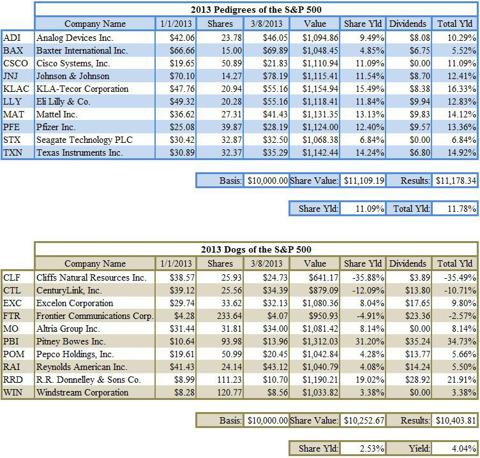 (Note that the table format is different from past tables, adding a column for "Share Yld" and an entry for "Share Yld" among the totals entries. This is to bring the table in line with performances of the S&P index and other indexes which do not compute "total yield" as including the dividends paid.) The Pedigrees moved up by 253 BPS, while the Dogs only moved up by 159 BPS.
The persistent problem for the Dogs is the performance of Cliffs Natural Resources (NYSE:CLF), which lost $.52/share this past week, finishing up with a share yield of -35.88% so far in Q1; CenturyLink (NYSE:CTL) and Frontier Communications (NYSE:FTR) are also dwelling in the negative-yield zone, with -12.09% and -4.91% share yields, respectively. While this is substantially offset by Pitney Bowes' (NYSE:PBI) very impressive 31.20% share yield, there is no other Dog that is performing so well as to help lift the Dogs out of their doldrums, although R.R. Donnelley (NASDAQ:RRD) is pulling more than its share with a yield of 19.02%.
The Pedigrees seem to be staying close to the pack with only Seagate Technology (NASDAQ:STX) and Baxter International (NYSE:BAX) dragging their heels at 6.84% and 4.85%, respectively. Of the rest, KLA-Tecor (NASDAQ:KLAC) and Texas Instruments (NYSE:TXN) have performed nicely at 15.49% and 14.24%, respectively. Mattel (NASDAQ:MAT) is a close third at 13.13%. The remaining Pedigrees seem fairly well packed in around 11%.
Disclosure: I am long PFE.