This was a great week for the markets, with the Dow in particular making new highs. The Dogs have increased their lead over the Pedigrees, although both were chugging along nicely.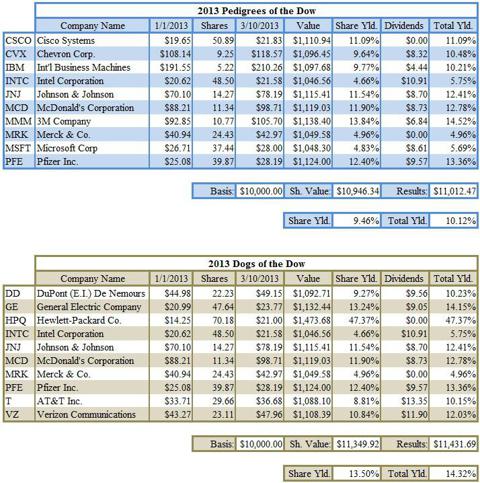 (Note that the table format is different from past tables, adding a column for "Share Yld" and an entry for "Sh. Value" and "Share Yld" among the totals entries. This is to bring the table in line with performances of the Dow and other indexes which do not compute "total yield" as including the dividends paid.)
For the most part, all companies continue to do well and took advantage of the opportunity this past week to move upwards in the neighborhood of 200 to 250 BPS each.
The real stunner is Hewlett-Packard (NYSE:HPQ), which is up 47.37% so far this year. It is interesting to note that the performance of the Dogs as a team is by and large due to HP's performance. Without HP, the other nine Dogs are collectively performing with a total yield of 10.64%, putting them only slightly ahead of the Pedigrees. This takes some of the sting out of the performance the Pedigree kennel has turned in - they are actually doing quite well, all things considered.
Disclosure: I am long PFE.