This was an interesting week, as some earnings were better than expected, a few disappointed, but overall, the signs were there that the economy is meandering its way to a recovery. Both sets of teams did better over last week, with both Dog teams making substantial gains.
The S&P story: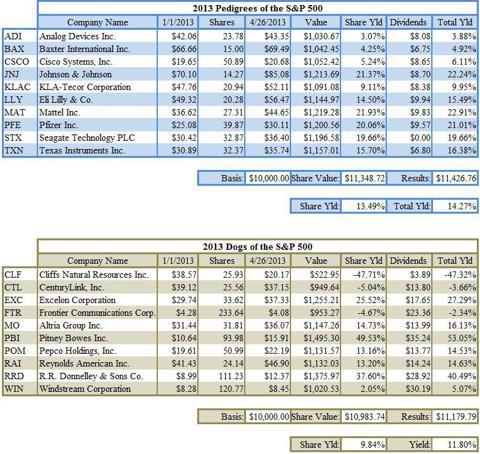 Needless to say, the Dogs are up, and up big time. Cliffs Natural Resources Inc. (NYSE:CLF) seems stuck in reverse, as even though it hasn't given out any bad news, it failed to gain in a good week. Other companies, on the other hand, are progressing nicely, as both Pitney Bowes Inc. (NYSE:PBI) and R.R. Donnelley & Sons Co (NASDAQ:RRD) stepped on the gas, and really moved up.
The Dow Groups: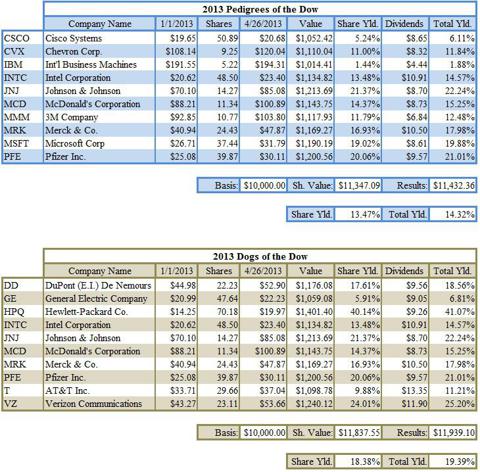 Both groups are maintaining their overall growth pattern, although the Dogs are no longer relying on Hewlett-Packard Co. (NYSE:HPQ) for all of their lead - factoring HP out of the equation, the dogs lose only about 300 BPS, giving them a good lead over the Pedigrees. Advances by Verizon Communication (NYSE:VZ) may account for most of the additional performance.
Disclosure: I am long PFE.