This was a good week for the markets, generally speaking, but neither Dog team did exceedingly well. Pedigrees, on the other hand, had a good week, picking up ground in the Dow, and increasing their lead in the S&P.
Let's look at the Dow: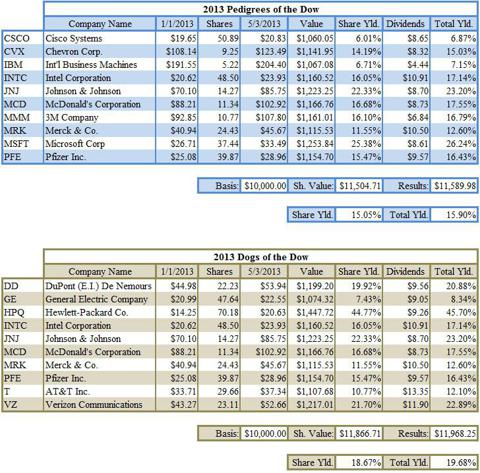 In the Dow comparison any difference to be made will be made in the companies where the two teams do not overlap. In this week's case, the Dog's Hewlett-Packard Co. (NYSE:HPQ) got back some of its mojo, and picked up in the neighborhood of 400 BPS.
Among the Pedigrees, Chevron Corp. (NYSE:CVX), IBM (NYSE:IBM), 3M Company (NYSE:MMM) and Microsoft Corp. (NASDAQ:MSFT) all turned in major weeks, helping the Pedigrees to pick up some ground.
As for the S&P: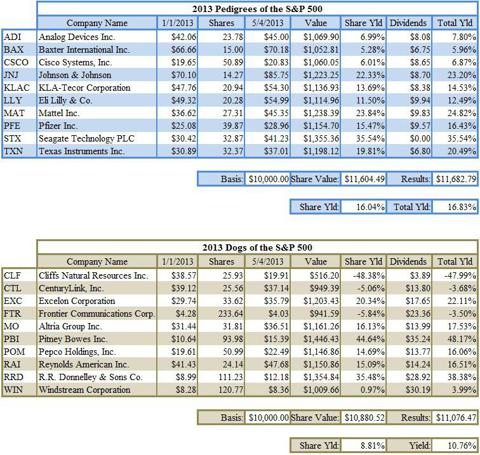 Most of the Dogs were down this past week, and a couple of Pedigrees were likewise dragging. Of note among the Pedigrees, however, were Analog Devices Inc. (NYSE:ADI), KLA-Tecor Corporation (NASDAQ:KLAC), Seagate Technology PLC (NASDAQ:STX) and Texas Instruments Inc. (NYSE:TXN), each of which did extremely well, Particularly KLA-Tecor and Seagate.
Disclosure: I am long PFE.