Seems like the market was a mixed bag of tricks last week -- on the whole, the Dow and the S&P did well, but not every stock contained therein did as well as others.
Let's look at the Dow groups: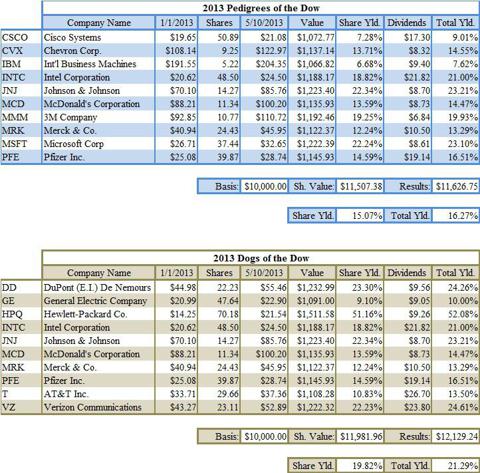 The Dogs managed to erase any gains the Pedigrees made last week, and, for the most part, the difference seemed to boil down to two companies: Hewlett-Packard Company (NYSE:HPQ) in the Dogs, and Microsoft Corp. (NASDAQ:MSFT) for the Pedigrees. HP seemed to get back to its winning ways, pushing ahead ~ 650 BPS - a nice one-week gain. Microsoft, on the other hand, managed to limp to a loss of 314 BPS.
How about the S&P 500: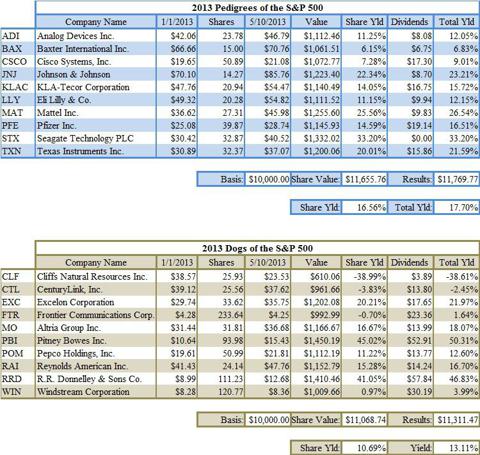 Here, the Dogs managed to make up some of the distance between their performance and that of the Pedigrees. On the Dogs' side, this is due mainly to two companies: R.R. Donnelley & Sons Co. (NASDAQ:RRD) and Cliffs Natural Resources Inc. (NYSE:CLF). Donnelley was up by a noteworthy 550 BPS +, while Cliffs exploded for an impressive gain of 939 BPS - a very good week for a company that has had its problems so far this year.
For the Pedigrees, the only real bright spot was Analog Devices Inc. (NYSE:ADI), which jumped up by 425 BPS; the other Pedigrees performed passably well with a mixture of small gains and small losses.
All in all, one of those weeks that leaves you scratching your head.
Disclosure: I am long PFE.