The Dow and the S&P were up this week, as were all four teams. However, interesting turn of events in the Dow comparison, so let's look there, first:
(click to enlarge)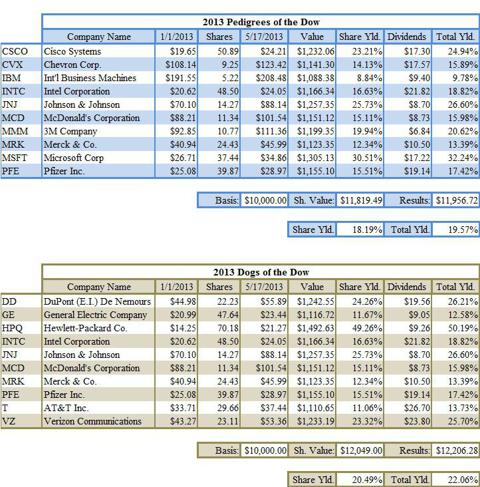 Click to enlarge
On the whole, there wasn't much of note happening in either team - most companies were up a little bit, a couple of companies dropped a little. However, compared to last week, the Pedigrees picked up 245 BPS on the Dogs, which is quite an accomplishment.
How did this happen? Thank Cisco Systems (NASDAQ:CSCO) and Microsoft Corp. (NASDAQ:MSFT) for having fantastic weeks. Cisco gained 1593 BPS, to 24.94% from 9.01% last week. Microsoft, on the other hand, posted a 914 BPS gain, to 32.24% from 23.10%. These two companies made all the difference, as when you average the total of their growth over the team as a whole, they account for more than the 245 BPS gain.
While the Dow Pedigrees were closing in on the Dogs, the S&P Pedigrees were busy extending their lead over their competition - by 317 BPS.
(click to enlarge)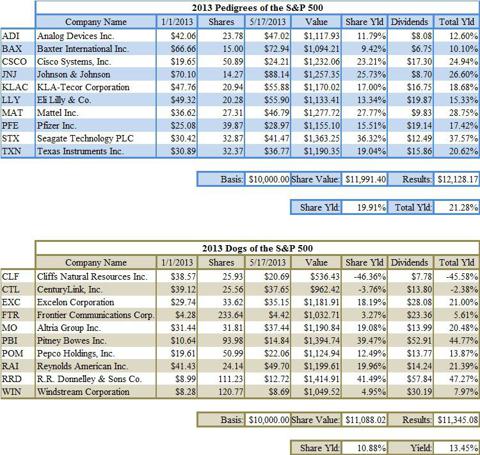 Click to enlarge
The Pedigree cause was aided again by Cisco, with the rest of the Pedigrees turning in fine performances; the Dogs, however, suffered several significant losses: Cliffs Natural Resources Inc. (NYSE:CLF); Pitney Bowes Inc. (NYSE:PBI) and Reynolds American Inc. (NASDAQ:RRD), all took significant dives which, when added to the gains by Cisco, account for the increased spread between the two teams.
Disclosure: I am long PFE.