The past two months have been "interesting" to say the least. At least one of my colleagues believes the market is headed for a significant drop, and Zacks has started cautioning about August.
Nothing like trying to get a panic started, is there?
The problem is, the market has vacillated since mid-May. This may be nothing more than some resistance to any momentum to keep moving into record territory; it may also be signaling underlying concerns about the sustainability of such high prices, especially in the face of mediocre performance in most market sectors.
I will stick with my belief that this is the "correction" that people had been worrying about since March and April.
I am also contemplating a new set of stop losses on my holdings. It can't hurt, and it's free.
The Dow numbers: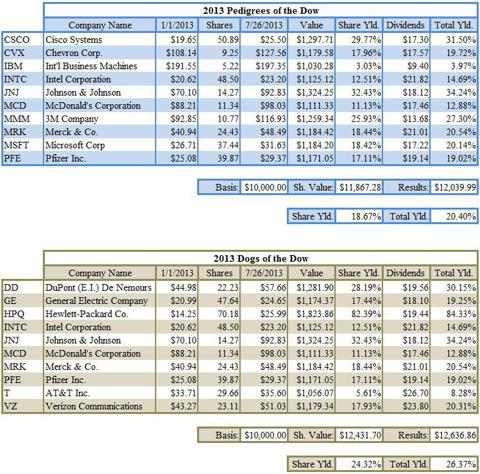 The Pedigrees are up, but only marginally - total yield is 20.40%, up from last week's 19.97%. Cisco Systems (NASDAQ:CSCO) and McDonald's Corporation (NYSE:MCD) both dropped a little, while IBM (NYSE:IBM) gained about $4.00 per share. Other companies had only modest changes in price.
What I find worrisome is that the share yield for the Pedigrees is 18.67% YTD, putting it behind the Dow Jones (18.73%) and DIA (18.82%). We're not talking significant differences, but that quality companies are starting to trail the index I find -as I said - worrisome.
Perhaps more worrisome is the situation the Dogs are in. The team as a whole is up 100 BPS over last week, but more and more of the success is due to Hewlett-Packard Co. (NYSE:HPQ), with a total yield of 84.33%. There are some rumblings around questioning whether HP can maintain its market position - its products are doing fair, but it seems to be stumbling into the cloud market, and it offers no meaningful phone product. Acquiring Nokia (NYSE:NOK) would be a nice move for them, particularly since Microsoft Corp. (NASDAQ:MSFT) has pretty much scrapped any plans it may (or may not) have had in that direction.
How important is HP to the Dogs? Factoring it out of the team, the Dogs have a share yield of 17.86%. Not very encouraging.
The S&P numbers: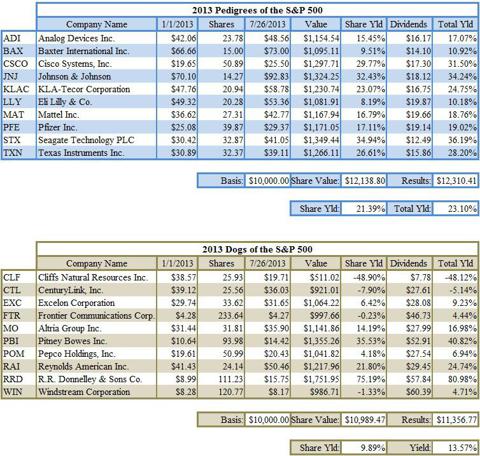 Here the Pedigrees lost about 50 BPS, while the Dogs gained almost 40 BPS. All things considered, no significant change in their standing vis a vis one another. Seagate Technology PLC (NASDAQ:STX) took it on the chin, dropping $6.50 from last week, and KLA-Tecor Corporation (NASDAQ:KLAC) took a substantial hit. Fortunately for the Pedigrees, Eli LIlly & Co. (NYSE:LLY) increased by about $2.80. Overall, the Pedigrees were underperformers last week.
For the Dogs, however, R.R. Donnelley & Sons (NASDAQ:RRD) continues to run roughshod over everyone, coming in second only to the Dow's HP. Donnelley's performance was offset by Reynolds American (NYSE:RAI), which dropped 560 BPS +.
As with the Dogs of the Dow, the value of Donnelley to the Dogs of the S&P is substantial. Factoring it out leaves the Dogs with a share yield of 2.64%. Ouch!
If there is an advantage to the Pedigree teams, it would be that, on the whole, all stocks in the portfolios are performing fairly comparably (with a few exceptions), with no stock really standing out the way HP and Donnelley stand out in their respective Dog teams.
Disclosure: I am long PFE.