This is more like it. Things were up, in general, this past week - except for the Dogs of the S&P. The big surprise to me was the substantial jumps made by all of the ETFs that track the indexes - some of them made jumps larger than 400 bps!
The Dow: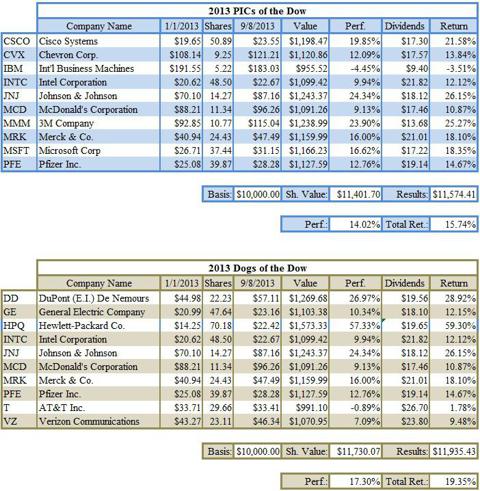 IBM (NYSE:IBM) seems to be hobbled, and the news from the company isn't encouraging. They are in financial difficulty, at least to the extent that they are going to drop retirees from the company's health insurance plan, and pay them to look elsewhere. AT&T (NYSE:T) is also having its problems, and becomes a negative performer this week. Hewlett-Packard Co. (NYSE:HPQ) is stalled - no double-bagger there after all?
The S&P 500: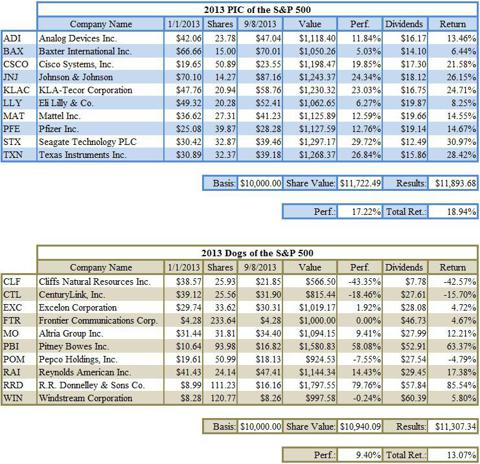 The PICs are doing not too badly although Baxter International (NYSE:BAX) seems to be a bit off. The Dogs are having their problems, with four companies in the red, and a fifth - Frontier Communications (NYSE:FTR) - flat at zero for performance; but for their dividends, they've been spinning their wheels for eight months. On the bright side, R.R. Donnelley & Sons (NASDAQ:RRD) and Pitney Bowes (NYSE:PBI) have both gotten back on track - they're just not enough to pull the Dogs out of the mud.
Disclosure: I am long PFE.