So it shouldn't be too much of a surprise to anyone, the market did not fare well during the first week of the government shutdown showdown. There were two days of promising activity, however - on Tuesday and Friday; perhaps as investors become acclimated to the absence of government activity, people will take heart and bring the market back to life.
That is, until earnings reports start slipping under the door.
The Dow: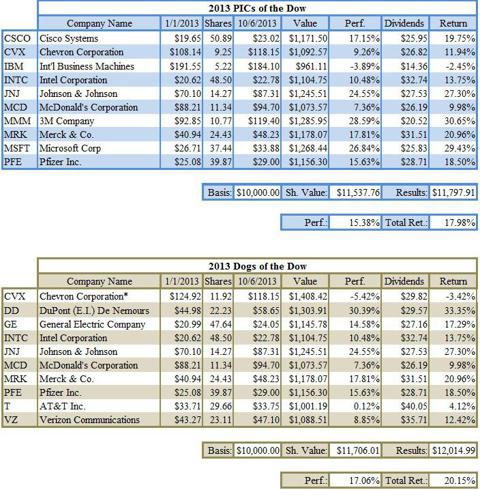 The Dogs got bit a little harder than the PIC's, so the PIC portfolio caught up by almost 50 bps. Chevron Corporation (NYSE:CVX) had a down week, and losers outnumbered gainers in both portfolios. Of some real concern, perhaps, is that giant IBM (NYSE:IBM) fell deeper into the hole YTD. Guess who stands a good chance of being on the Dog portfolio next year.
The S&P 500: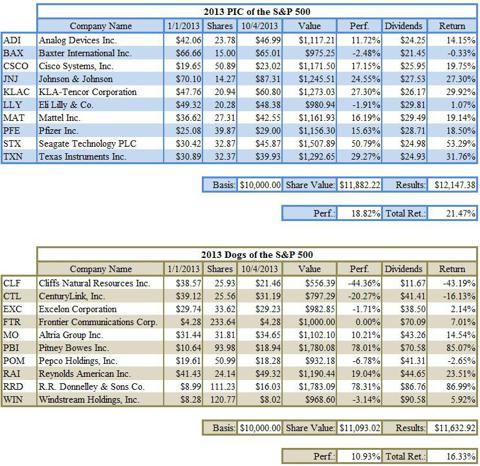 Both portfolios did well this week, if only marginally so, but with the Dogs gaining some ground - but not enough to make much of a difference. The usual bunch of suspects are holding the Dogs back, but Pitney Bowes (NYSE:PBI) is now running neck-and-neck with R.R. Donnelley & Sons (NASDAQ:RRD). Eli Lilly (NYSE:LLY) joins Baxter International (NYSE:BAX) in the cellar in the PIC portfolio.
Maybe this week will be more promising.
If only we could keep the government shut down.