Now that Washington is back in business (for at least the next three months) people can settle back and enjoy untrammeled investment activity. Things seem to be waiting with bated breath for more earnings reports, but if people are looking for some direction from last quarter's activity I have a feeling not much is going to happen. I am sort of anticipating mid-autumn doldrums as the economy in general waits to see what's going to happen after Thanksgiving. Retail has been a mixed bag this year, and if consumers are going to make their presence (and their presents) known, it will happen after November 29th.
The Dow: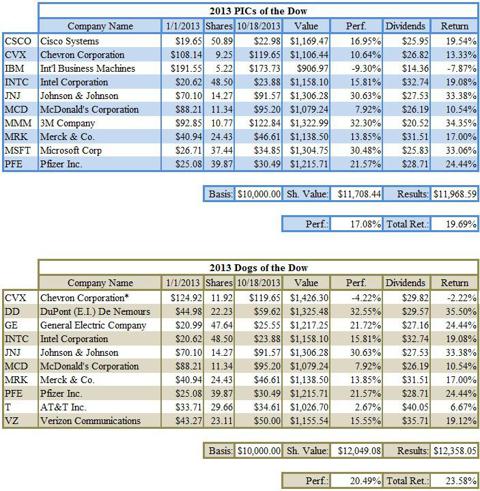 The PIC portfolio is lagging the DJIA by a few basis points, even though both the PICs and the Dogs were up for the week. This is a bad time for IBM (NYSE:IBM) to pull up lame, but they have done so in big fashion, dropping 652 bps in one week. That they should suffer such a loss in a week where things in general reflected relief and hope seems ominous, in a way.
On the other side of the coin, we have Pfizer (NYSE:PFE), which has had its issues in the past several weeks, surge by 706 bps - a nice showing that brought its share price over $30.00. Dogs DuPont (NYSE:DD) and Verizon (NYSE:VZ) both jumped significantly, with most of the other Dogs giving a good showing. Dogs increased their lead over the PICs by 210 bps.
The S&P 500: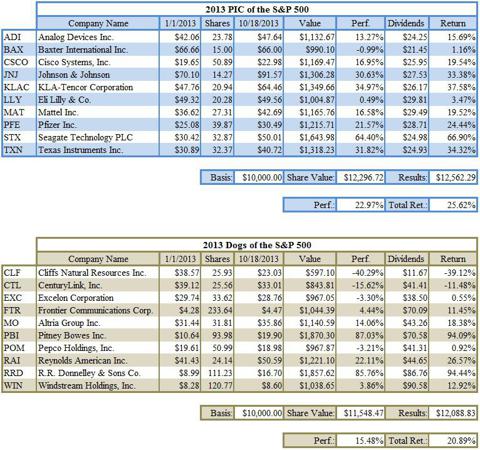 Let's start off with the week's (if not the year's) best performance - Seagate Technology (NASDAQ:STX) up by an incredible 1,230 bps, rising to $50.01/share, up from $46.27 last week - an increase of $3.74 per share. Seagate's performance was no doubt the most significant factor in the PIC portfolio's 333 bps increase over week 41.
The Dogs were up, although Excelon (NYSE:EXC) dropped by 532 bps - this company started out well early on, but its recent performance has been dismal. Offsetting Excelon has been the performance of both Pitney Bowes (NYSE:PBI) and R.R. Donnelley (NASDAQ:RRD), up 677 bps and 367 bps, respectively. Both companies are still on track to become two-baggers by year's end.