It seems like things are sort of back to normal, at least until January. The market seems to be behaving just about as usual. Whatever "usual" is supposed to mean for the market.
The Dow: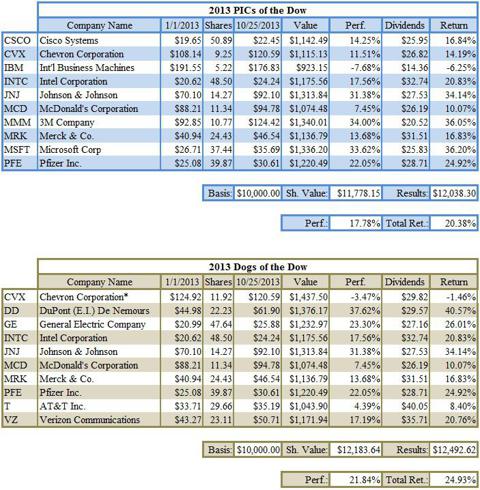 I must admit to feeling a bit sad, as the PIC portfolio has fallen quite a bit behind the DJIA itself, let alone the Dogs. Meanwhile, the Dogs are moving right along. One thing hampering the PIC is the fact that IBM (NYSE:IBM) is still in the negatives, although it has moved up by 238 bps over week 42. Chevron (NYSE:CVX) has moved up by 125 bps for the Dogs, although it is still negative for that portfolio. DuPont (NYSE:DD) has moved upwards by a sizeable amount for the second consecutive week, jumping 507 bps over week 42. The movement in other companies has been nominal.
The S&P 500: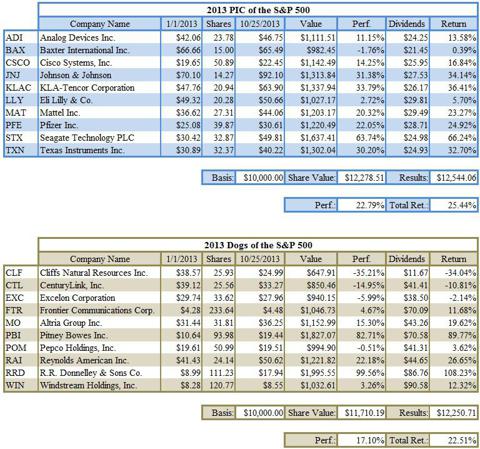 While the S&P 500 was up nicely for the week (and the Dogs portfolio followed suit), the PICs were maybe hit by some mediocre earnings - the PIC portfolio was down ~ 70 bps from week 42. Analog Devices (NYSE:ADI), Baxter (NYSE:BAX), Cisco Systems (NASDAQ:CSCO), KLA-Tencor (NASDAQ:KLAC), Seagate (NASDAQ:STX) and Texas Instruments (NYSE:TXN) were all down, some by 200 bps or more from last week. It seems more than just coincidence that five of the six losers are tech companies (and for all intents and purposes, we can toss Baxter in with them).
The Dogs had its share of losers last week, as well - notably Pitney Bowes (NYSE:PBI), which dropped by ~ 430 bps from last week. Offsetting the loses, however, was an incredible gain of 1380 bps by R.R. Donnelley (NASDAQ:RRD), which may well be tying up its two-bagger run - it has a current performance of 99.56% (which rounds off to 100%), and total return thus far of 108.23%. Very nice.