This has been an odd week, as the weirdness of the investor has raised more than a few eyebrows. More on that elsewhere.
The Dow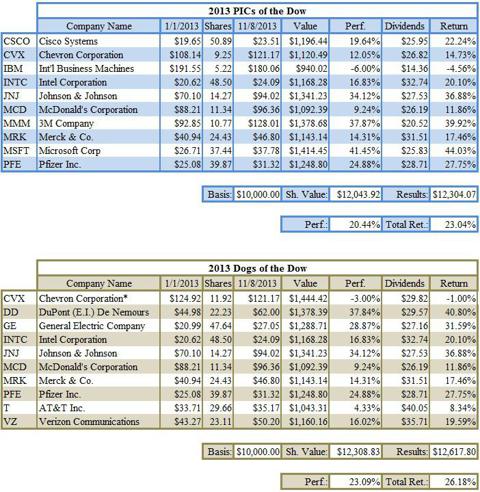 The PIC portfolio picked up some ground on the Dogs - the Dogs were up by 80 bps, but the PIC was up 222 bps. Three companies helped push the PIC up: Cisco Systems (NASDAQ:CSCO), up 498 bps; Merck (NYSE:MRK), up 383 bps; and Microsoft (NASDAQ:MSFT) astounding everyone with a jump of 857 bps. For the Dogs, the damage came from AT&T (NYSE:T), which dropped by 383 bps.
The S&P 500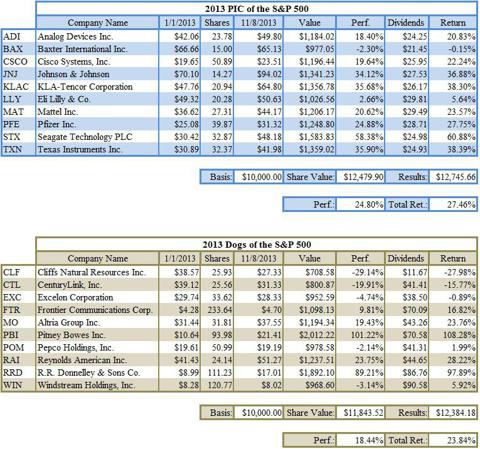 With the exception of Cisco, the PIC portfolio was fairly subdued this week, with the portfolio as a whole moving up only 8 bps - doesn't even count as an increase. The Dogs, however, dropped by 255 bps, pretty much undoing the gains they'd made over the past couple of weeks. On the plus side, Frontier Communications (NYSE:FTR) surprised us with a 607 bps gain; the gain was more than offset by losses by CenturyLink (NYSE:CTL) - down 580 bps - Windstream Holdings (NASDAQ:WIN) - down 628 bps and back in the negative numbers - and, with a huge loss of 1735 bps, R.R. Donnelley (NASDAQ:RRD), which lost its two-bagger status, at least for the time being.