First of all, it helps to know a few points. China is the worlds biggest PC market, and unlike anywhere else, there's an EVEN split between laptops and desktops. For AMD investors, and people wondering how in the crap they've survived all these years on budget desktop chips, it seems as though China and Asia proper is responsible for, like, 70% of the sales of their core business over the last several years.

THIS IS AN ASTOUNDING FIGURE AND SHOULD BE VERY EXCITING FOR AMD LONGS. NEARLY $4B ASIA SALES IN 2012 VS $5.4B TOTAL = 74%.
It makes sense that AMD's chip design strategy, which has always been about performance per dollar, is so well suited for a place where people generally have more brains than dollars. It seems as though desktop enthusiasts/gamers are still strong in China, and with good reason. The cost of a new laptop that SORTA plays modern games is at least $800. However, upgrading to AMD's latest chip Kaveri will cost a desktop owner between $170-$250 for the top-of-the-line model available (depending on if a new motherboard is also necessary), and will enable high-level gameplay on an extreme budget. Laptops simply can never be upgraded, and I believe this is why the Chinese have favored keeping desktops:they are the lone configuration to offer interchangeability of parts over a long time, and certainly the cheapest way to stay up to date on games. Some will say gaming consoles are a cheaper way to stay current with games, but AMD has that covered, too.
To finalize the point that growing shipments of Desktop chips are likely headed to China, here is a quote from their last earnings report: "Revenue from Computing Solutions was $790 million (historic low for CS was $751 million per quarter), down 6% sequentially, due to decreased notebook and chipset unit shipments, partially offset by an increase in desktop unit shipments."1 Nowhere but China has a growing desktop market!
However, that quarter, AMD lacked a chip anything close to as compelling as Kaveri, and still sold MORE desktop chips sequentially. That shows a lot of demand. This is like, AAPL selling more iPhone 5's sequentially, the quarter before the iPhone 6 release.
AMD, China "People's Champ"
There's a reason AMD is favored in the desktop configuration in China: AMD has always done something very non-INTC and given enthusiasts the best upgrade options, like keeping a motherboard/chipset for multiple processor generations. Unsurprisingly, they're still using this model. This is a great tip of the hat towards people who like to stay current by trading/swapping parts on a budget, and why I believe AMD is poised to GROW in China- they offer a huge cost advantage for the common gamer.
The reason I believe they can grow share is the very low price-point they've achieved with their latest offering, unlike any other. Not only does it play the TOP tier games very well, since it does, it *saves gamers need for an outrigger GPU*. This is at minimum $100 in direct cost as well as fans/cooling/power/noise issues to boot. Here is Kaveri playing BattleField 4, one of the most power-hungry new games, at 60FPS at 720P resolution. The tech-heads in the vid are clearly impressed with the performance: that game is demanding.
If you skimmed the linked Bidu article and comments above, you'll see the gaming community is very tech savvy and probably likes one thing a lot: overclocking. AMD has always had a niche here, and 1 day into Kaveri's official release overclockers are already hard at work getting whopping performance from Kaveri, rivaling more expensive INTC parts with dedicated GPU's. All for huge cost savings for the consumer.
Another feature unique to AMD that's targeted at the consumer is Crossfire. This allows the GPU on the APU to be used in tandem with an external AMD GPU of its generation. This means a savvy techhead has a big upgrade path waiting to get even more, and this time, top tier graphics, at an extremely cheap cost in the DIY segment. Crossfire is fully functional in the sample below.
Here's what crossfire can do: pair the lowest-end 65w Kaveri with AMD's cheapest graphics card, and get excellent performance in a top tier game. A grand total cost of these two products APU+extra GPU is less than the cost of many intel i5s, and certainly presents an incredible high performance gaming value.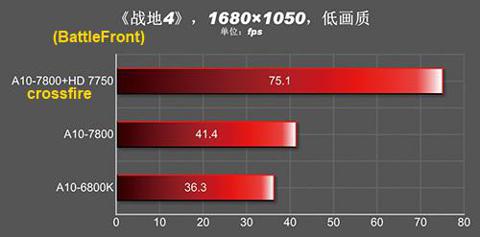 So Crossfire is just another way AMD is pushing more products to repeat buyers and dragging new ones into their computer ecosystem: big upgrade paths and plenty of price points.
Finally, another consumer hero feature: the gift that keeps giving? AMD APU's could be used to slowly mine liteCoins. Although unlikely to make any unsuspecting enthusiasts overnight millionaires, the AMD APU can produce a steady dividend of liteCoins while a gamer isn't gaming. Even just $10, $20, or $50 can make a difference to a person in an emerging market. This is the final very attractive advantage to AMD's latest APU.
Jan 14 Kaveri release - as if to further reinforce AMD's focus on the China market, is it a coincidence AMD is releasing Kaveri just three days before CHL releases the iPhone? I can only assume that each are trying to catch the Chinese "Black Friday" ahead of the Chinese New Year's celebration. AAPL seems keen on this strategy and I'm very glad to see AMD's timing with this release.
It's no surprise, then, that this chip is hotly anticipated in China, the people buying these things in the first place. To quote this article,
"Kaveri APU AMD has also become the most attention, IT industry is most concerned about, DIY gamers most look forward to a product"
That seems like a promising amount of interest in their product: apparently, top interest of the Chinese gamer.
How healthy is the notion of the Chinese gamer anyway? What kind of pulse does the US investor have on the Chinese game market? Well, luckily, there are a few options to see investor sentiment via the stocks GAME, PWRD, and NCTY. It is no surprise that if we have a thesis of growth in gaming in China, that those stocks were up 14, 20, and 7% respectively, all last week. This reinforces China gaming as a growth market, and I hope to learn a bit more about these other exciting opportunities, especially PWRD.
BOTTOM LINE
If you care to read my prior articles, you'll see my former AMD thesis had nothing to do with their core business. Now I believe AMD is doing VERY WELL in their core PC business, making all the right moves, and poised to expand market share in a GROWING desktop market by reducing consumer cost as substantially as tossing out the need for external graphics cards to play modern games. The appeal for upgraders and overclockers is undeniable, and this group seems to be a boon for AMD in China. This compelling position causes me to re-raise my AMD price target to $8+, and I have high confidence on AMD's footing going forward: not only do they have the peripheral/evolutionary businesses bringing in revenue, but are sitting on great market share and reputation in the very hot China PC market.
There I said it: GROWTH DESKTOP MARKET for AMD. I can't believe I just wrote it, but it seems conveniently contrarian that they seem to be in this exact position, to the dismay of many AMD shorts, which hold 24% of AMD's float short.
Credits: thanks to Justin Jaynes for some of the impressive data on China sales, which he soured from AMD's official reports.
1) http://www.xbitlabs.com/news/cpu/display/20131017223319_AMD_Returns_to_Profitability_Thanks_to_Orders_for_Microsoft_Xbox_One_and_Sony_PlayStation_4_Chips.html
Disclosure: I am long AMD.
Additional disclosure: and am watching PWRD GAME and NCTY for potential positions.