Tesla (NASDAQ:TSLA) continues to make headlines in the United States, but the real news might be occurring in China. While potential competitors in the U.S. continue to raise legal barriers for Tesla's sales process in individual states, in China, Tesla is able to undertake more aggressive marketing strategies.
Positive early indicators have emerged.
Breaking Barriers, Building Opportunities
Foreign companies have often stumbled in China, due to strict government regulations. The Chinese bureaucracy is especially challenging for many foreign enterprises, attempting to market new products. Tesla's CEO Elon Musk seems to understand these potential commercial barriers and is venturing to China in the near future to discuss an innovative partnership with Sinopec, the largest refiner in Asia.
Tesla's Model S electric cars require a 20-minute recharge after 150 miles of driving. Tesla is pursuing a practical solution to this logistical requirement by proposing to build recharging facilities at Sinopec's gas stations. As currently envisioned, this would involve a pilot project in Beijing and expand to nearby provinces.
The collaborative idea could be a win-win for Sinopec and Tesla. Partnering with a large government-owned company like Sinopec could provide early momentum and powerful connections for Tesla in China. Government officials would gain by publicly cooperating with a visible symbol of cleaner energy.
Rewarding Cleaner Energy in China
The high levels of air pollution in China are a growing concern. Tax incentives that reward Chinese consumer buying decisions in support of cleaner energy are already in advanced stages. The timing of government support for Tesla's partnership with Sinopec appears to be a good fit for all parties.
Additional Positive Publicity
GE Capital Fleet Services (NYSE:GE) hosted an off-site alternative fuel vehicles event during NAFA 2014, providing Tesla VP Jeff Evanson a platform to showcase Tesla's luxury vehicles, alongside alternative fuel vehicles in electric, natural gas, propane, hydrogen and other formats. The exposure allowed Tesla more publicity to become even more of a household name.
No Recalls For The Model S
While GM (NYSE:GM) and Toyota (NYSE:TM) are facing recalls of millions of vehicles, due to faulty ignition switches and engine crankcases, Tesla and electric cars look increasingly reliable. In August 2013, the Tesla Model S received the highest safety rating of any car ever-currently in stark contrast with the Chevrolet Cobalt.
Good Timing for Tesla Investors
Investors in TSLA stock should be delighted with Elon Musk's travel itinerary to China. The move to expand electric vehicles in China comes at a critical moment in China's environmental history as it attempts to lower pollution-also affording Tesla a rare business opportunity in an otherwise (at times) hard-to-navigate commercial realm.
Despite some barriers to growth at home, Tesla continues to pave the way for electric vehicles, while other American classics from GM are flailing.
TSLA stock has seen steady growth the past twelve months (first chart), and has performed solidly in 2014 (second chart).
(click to enlarge)
Click to enlarge
(TSLA: 12-month chart; Nasdaq.com)
(click to enlarge)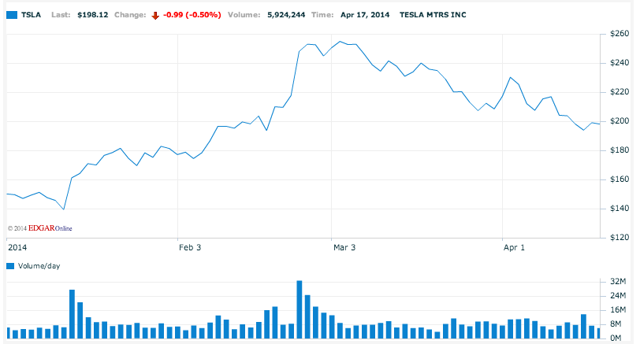 Click to enlarge
(TSLA: YTD. Nasdaq.com)
We believe TSLA stock will continue to rise and suggest aggressive investors hop on for the ride.
Disclosure: I have no positions in any stocks mentioned, and no plans to initiate any positions within the next 72 hours. I wrote this article myself, and it expresses my own opinions. I am not receiving compensation for it (other than from Seeking Alpha). I have no business relationship with any company whose stock is mentioned in this article.