Mark Zuckerberg, the CEO of Facebook (NASDAQ:FB), has matured the company over the past year. It now looks more like a stable blue-chip company than a maverick tech start up.
Unlike most publicly traded companies, Facebook has been shaped by a single leader. With a personal net worth of $26.6 billion, a 29% ownership of the company, and a 57% voting right, Zuckerberg is still very much in charge of the company.
What he says has a big impact on what happens at Facebook--and his science-fiction-oriented mind seems to be paying off for shareholders.
The Virtual Reality Revolution
The next phase for Facebook seems to be developing Oculus, a company that it bought for $3 billion in March.
Oculus is the next phase in human ingenuity. It is a virtual reality company with an online gaming system that can accommodate multi-players. According to Brendan Iribe, the company's chief executive, massively multiplayer online (MMO) system wants to serve one billion players. For this new communication network to develop, Facebook would have to sell more Oculus Rift headsets than all the games consoles sold around the world since 1982.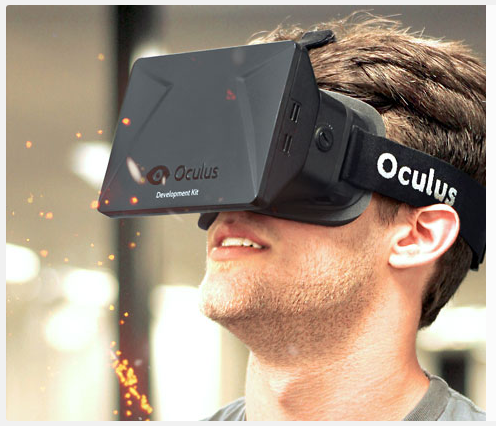 (http://oculusvr.com/rift/)
An MMO with a billion users is a formidable challenge. By comparison, the World of Warcraft, currently the biggest MMO on the planet, only managed to get to 12 million active users a month in 2010.
Internet Access for All
Still, Oculus is not the only thing on Zuckerberg's active imagination, fueled since childhood by a steady diet of science fiction novels. He is also invested in Internet.org, a project that is trying to make Internet access affordable to two-thirds of the planet.
This massive project involves collaborating with some of the top telecommunication companies in the world-Ericsson, Samsung, Nokia, MediaTek, Qualcomm and Opera Software-to make Internet access more affordable and more efficient for more communities around the world regardless of geographic limitations.
The basic idea is to leverage existing technology to improve connectivity, including the use of high-altitude drones, lasers, and satellites.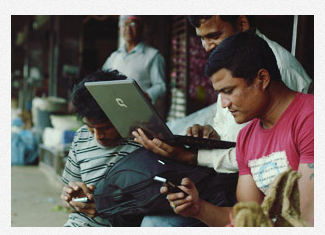 While there is certainly a humanitarian element to this project, Facebook itself could benefit enormously. Currently 1.23 billion people use Facebook each month, which, in relation to all the people using the Internet, accounts for more than half the online population.
By expanding the number of people, even slightly, towards the 7 billion mark, will significantly boost Facebook usership.
A More Mature, Prosperous Future for Facebook
As Zuckerberg begins his 30th year, he is ushering a broader vision for Facebook, envisioning the company leveraging its popularity and revenues to improve the world. Although he may appear to have gone on a spending spree with Oculus and Internet.org, not to mention WhatsApp, it is becoming clear he holds a bigger vision of what is possible.
The public company is beginning to have a GE-style approach to big business, expanding, diversifying, and providing shareholders new revenue streams.
GE (NYSE:GE), the engineering giant, has spent a considerable amount of money investing in numerous ways to improve both its industrial and electrical businesses. The company has invested in communication technology, analytics, and software, to name but a few industries, in an attempt to broaden its economic stability after the economic crunch a few years ago.
GE also has had success by building a strong presence in emerging markets.
Long-Term Outlook Positive For Facebook Investors
Like GE, Facebook is not relying on one industry alone to prosper. Should the social media craze ever ebb, Facebook will still be moving toward a prosperous future--as it appears to be doing so now.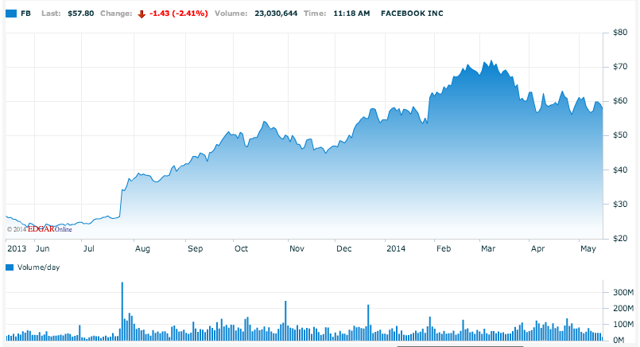 (Nasdaq.com)
Disclosure: I have no positions in any stocks mentioned, and no plans to initiate any positions within the next 72 hours. I wrote this article myself, and it expresses my own opinions. I am not receiving compensation for it (other than from Seeking Alpha). I have no business relationship with any company whose stock is mentioned in this article.