Berkshire Hathaway (NYSE:BRK.B) has always been known for its broad range of holdings. The company's recent inroads into real estate have now been followed by moves into travel insurance.
Berkshire's Insurance Holdings
Berkshire Hathaway has made inroads in the insurance industry for some time. Their specialty insurance division has provided covered for several underserved areas of the insurance industry, including business crisis event coverage, builder's risk insurance, directors and officers coverage and consolidated coverage for contractor's risk. In January, they announced the acquisition of MyAssist, a personal concierge service, along with Insure America, which provides insurance products to the travel industry. This move appears to be a stepping-off point for further incursion into the travel market.
The Travel Insurance Market
With increasing concerns about extreme weather changes and its impact on the travel and tourism industry, more travelers are recognizing the value of travel insurance to cover costs that can easily accrue when vacations are cut short because of weather conditions.
Data company masFlight notes that 300,000 flight delays occurred in January of 2014 alone because of bad weather. The number of flight delays and cancellations made records this year, and Berkshire apparently sees an opening in the travel insurance niche that they can easily fill.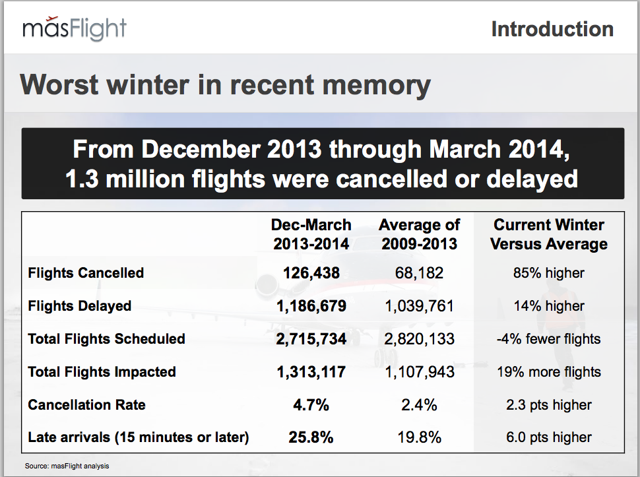 (http://masflight.com/conferences/masFlight-Technical-Presentation-Larsen-AGIFORS-2014-Panama-WEBSITE.pdf)
The Formation of AirCare
Peter Eastwood, president of Specialty Insurance Division of Berkshire, believes this is a natural extension of the company's insurance holdings. Berkshire Hathaway Travel Protection, under the name of AirCare, will be in direct competition with Eastwood's former employer, AIG. AIG has offered insurance under the Travel Guard brand for a number of years.
Berkshire's Aggressive Expansion
Founder Warren Buffet, the "Oracle of Omaha" has made it clear he has an interest in expanding Berkshire's influence over the American market after record profits in 2013. Berkshire's per share net worth was up 91 percent during the 2009 to 2013 period.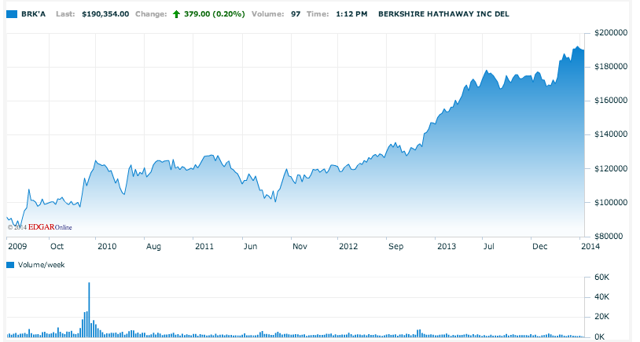 (Nasdaq.com)
With the winding down of the country's ruinous recession, Buffet foresees a time of increased growth and expansion in the economy, and he intends to have Berkshire squarely in the forefront of the action. He admits he has an eye out for further acquisitions of companies with potential for growth.
Outlook for Berkshire Investors
Berkshire Hathaway insurance units have driven profits for the company throughout 2013.
Although the company's profits have not kept pace with the broader market, Buffet says that Berkshire has never followed the glitz of current trends.
Barclays recently issued a detailed, positive report on the company, citing that the stock is actually undervalued and issuing a Buy rating.
Berkshire has maintained a strategy of value investing that serves the company well through varying economic conditions.
Under Buffet's leadership and that of his steadily growing staff, Berkshire will continue to be one of the premier names in investing.
We reiterate our positive stance on BRK.A, BRK.B in 2014 as the conglomerate continues to innovate its portfolio, even as its figurehead grows older and nears full retirement.
Readers wishing to join the discussion on Berkshire Hathaway should click the +FOLLOW button above the title of this article.
Disclosure: I have no positions in any stocks mentioned, and no plans to initiate any positions within the next 72 hours. I wrote this article myself, and it expresses my own opinions. I am not receiving compensation for it (other than from Seeking Alpha). I have no business relationship with any company whose stock is mentioned in this article.