Ardelyx, Inc (NASDAQ:ARDX), a clinical-stage biopharmaceutical firm, seeking to develop small-molecule therapeutics for cardio-renal, gastrointestinal and metabolic diseases, plans to raise $50.4 million in its upcoming IPO.
The Fremont, California-based firm will offer 3.6 million shares at an expected price range of $13-$15 per share. If the IPO can reach the midpoint of that range at $14 per share, ARDX will command a market value of $252 million.
ARDX filed on May 19, 2014
Lead Underwriters: Citigroup Global Markets Inc; Leerink Partners LLC
Underwriters: JMP Securities LLC; Wedbush Securities Inc
Summary: Gastro-intestinal and Metabolic Disease Treatment
ARDX is a clinical-stage biopharmaceutical firm, engaged in the discovery, development and commercialization of non-systemic, small-molecule therapeutics to operate in the gastrointestinal tract and treat cardio-renal, gastrointestinal and metabolic diseases.
The firm has made a habit of forming partnerships with established pharmaceutical firms to develop and commercialize its treatments.
ARDX's tenapanor is currently in Phase 2 trials for patients with late-stage chronic kidney disease (CKD), end-stage renal disease (ESRD), and constipation-predominant irritable bowel syndrome (IBS-C) in collaboration with AstraZeneca (NYSE:AZN); AstraZeneca is funding all research and development of tenapanor, while ARDX could potentially receive hundreds of millions in milestone payments as well as tiered royalties. The firm has also licensed the development of small moleculle NaP2b inhibitors for the treatment of hyperphosphatemia-elevated phosphorus-in ESRD to Sanofi S.A.
ARDX's drug discovery program is supplemented by a cell-culture system that the company has created to simulate gut tissues called the Ardelyx Primary Enterocyte and Colonocyte Culture System (APECCS). The firm has identified more than 3,800 proteins on the gut's inner surface, which it may be able to target with drugs in the future.
(click to enlarge)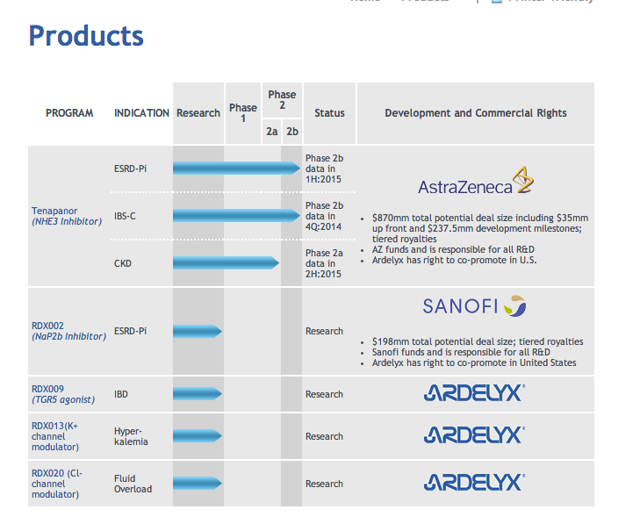 Click to enlarge
Valuation
ARDX offers the following figures in its S-1 balance sheet for the three months ended March 31, 2014:
Revenue: $8,550,000.00
Net Loss: ($3,071,000.00)
Total Assets: $40,548,000.00
Total Liabilities: $50,851,000.00
Stockholders' Equity: ($66,458,000.00)
As none of ARDX's products have yet been commercialized, its losses are unsurprising. The firm has generated some revenue through its partnerships with Sanofi and AstraZeneca, but will not be able to create sustainable revenue streams until its products have been further developed and commercialized.
Big Competitors
ARDX's products, if approved, would compete with other products intended to treat the same conditions, including many that are in development or marketed by established firms with far greater financial and marketing resources than ARDX has available.
These competitors could include the likes of Genzyme Corp., Impax Laboratories, Inc (NASDAQ:IPXL), Keryx Biopharmaceuticals, Inc. (NASDAQ:KERX), Opko Health Inc (NYSEMKT:OPK), Sorbent Therapeutics, Concert Pharmaceuticals, and Ironwood Pharmaceuticals (NASDAQ:IRWD).
Management Highlights
President and CEO Michael Raab has served in his current roles since 2009.
Mr. Raab was previously a partner at New Enterprise Associates, where he specialized in healthcare investments in the biotechnology and pharmaceutical sectors. He also served as Senior Vice President, Therapeutics and General Manager of the Renal Division at Genzyme Corporation, and worked in various business development and sales and marketing positions at Repligen Corporation and Bristol-Myers Squibb Company.
Mr. Raab holds a B.A. from DePauw University.
Conclusion For Investors
We are positive on this IPO.
ARDX's products all will face significant competition from potent competitors in the event that they are able to gain regulatory approval, and there is no guarantee that they will be able to achieve even that.
However, the firm has appreciably improved its odds by partnering with established firms like Sanofi and AstraZeneca and by pursuing multiple product candidates simultaneously.
ARDX also benefits from an executive team well-versed in the business world and specifically in life sciences.
We suggest investors considering buying into this IPO.
We invite readers wishing to join the discussion on IPOs to click the +FOLLOW button above the title of this article and follow @DRDInvestments on twitter.
Disclosure: The author has no positions in any stocks mentioned, and no plans to initiate any positions within the next 72 hours. The author wrote this article themselves, and it expresses their own opinions. The author is not receiving compensation for it (other than from Seeking Alpha). The author has no business relationship with any company whose stock is mentioned in this article.