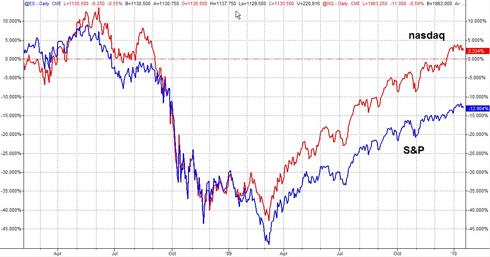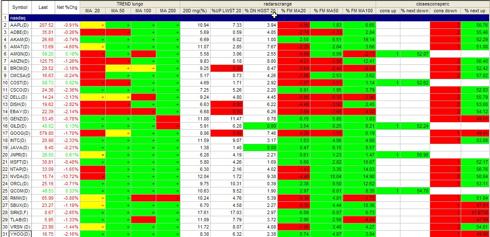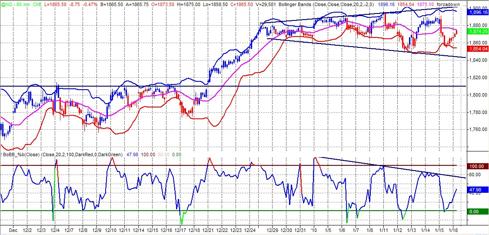 The 60-minute trend is down according to the force index indicator. The %b indicator is developing a negative divergence. The market continues to trade near its high. The Nasdaq and S&P have printed a breakout of the ascending triangle (objective reached at 1880). The Nasdaq has outperformrd the S&P since last March. Only prices re-entering the trading range (below 1810) would provide a negative signal.
The emini is now developing a very interesting broadening formation that you can see on the chart.
I have been basically out of this markets for a long time, entering only for some short-term trades but missing the move up. This market is not driven by fundamentals. Money is coming into this market and this is going to continue until this virtuous (or vicious) circle is interrupted for some reason. There are some elements to be prudent in this situation.
See my post about Rosenberg's bearish views.
David Rosenberg: Equity Markets Are Lagging Indicators
BRCM, DISH, EBAY, GOOG printed a new 20-day low. GILD, JAVA printed new 20-day highs.
Most of the stocks are moving above their long term moving averages. In the short term the picture is mixed.
In the Figure you can see a summary of the trend conditions of the Index stocks. I used the 20, 50, 100 and 200 days moving average of the close. The background is Green when the close is > than the moving average. Red when it is below and yellow when it crosses. + and - indicate the slope of the moving average.
RANGE ANALYSIS
I have also programmed Tradestation Radarscreen to display:
- range of the past 20 trading sessions (%);
- % from the lowest close of the past 20 trading session. The cell
is RED if the close of today is the lowest close of the past 20 days.
- % from the highest close of the past 20 trading session. The cell
is GREEN if the close of today is the highest close of the past 20 days.
In the other columns I included the % of the close from the 20,50 and 100 days moving average.
CONSECUTIVE UP/DOWN CLOSES
I have programmed the Tradestation Radarscreen to display how nany consecutive up/down closes have been printed and what is the probability that the next day tomorrow) the asset closes in the opposite direction. I have calculated the probability using the past 1000 trading days.
Disclosure:
no positions