The words of wisdom that have graced this site on the topic of Micron (NASDAQ:MU) have made many Seeking Alpha readers a small fortune. I am not here to attempt to regurgitate all of their wonderful knowledge just for the page views. We've seen that before and it's downright unhelpful and borderline plagiarism.
This article is very much bias around those bullish ideas that have been presented before. For the select few that have remained on the bear-side...well, god speed.
What I would like to bring to everyone's attention is this simple volatility chart for Micron Call Options:
MU: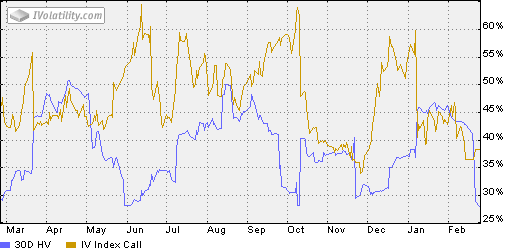 Can you take a guess at what happened during all those peaks? Earnings reports of course! During this entire bull run, we've seen a consistent increase in volatility starting approximately 45-60 days before earnings. We just so happen to be in that sweet spot right now.
(Check out a simple primer on volatility here:http://www.investopedia.com/articles/optioninvestor/02/031102.asp)
As of this writing, we are experiencing a perfectly timed pullback. Now I know not everyone loves to read the charts, but this daily chart I have my drawings on is showing that we are a third of the way up a really nice pattern line. (I'd be more than happy to share with the chart lovers out there.) The daily chart will also tell you one thing for sure: pullbacks in an uptrend like this don't last long. I'm talking three days and we've already had two.
So, what's the play? First we need to know when earnings are going to be reported. Here's a breakdown of the time in between reports from last year:
Q1 -> Q2 = 91 Days
Q2 -> Q3 = 90 Days
Q3 -> Q4 = 113 Days*
Q4 -> Q1 = 89 Days
*Let's chalk this delay up to the Elpida acquisition and give Micron the benefit of the doubt that they'll report 90 days from Q1:
Q1 -> Q2 = 90 days or Monday, April 7th (My mom's 70th birthday!)
Therefore we can automatically rule out the April 4th expiration as a sound play, so I'm focusing in on the April 19th expiration.
My daily chart plus a slew of events posted on the Micron IR website for March lead me to believe that price could appreciate into the $27-29 range before earnings.
If we get one more day of pullback, you can get the 26 calls for under a buck, and the 27 calls for as close to a half dollar as it'll probably get.
Using the $27-29 price range before earnings, you're looking at a possible double on the price of those options before even accounting for volatility.
I'm planning on buying this pullback and selling a chunk of it right before earnings to capture the volatility pricing. Historically, this has worked out quite well.
Disclosure: I am long MU.