Arcam AB's research on 3-D printing of Titanium Aluminide Turbochargers for the auto industry could turbocharge the company's future growth.
Swedish 3-D printing company Arcam AB, (OTCPK:AMAVF) which trades on the NASDAQ OMX in Europe under the ticker ARCM.ST, is researching the development and mass production of Titanium Aluminide turbochargers using their EBM ® technology.
About Titanium Aluminide (TiAl)
"Titanium Aluminide, (TiAl), is characterized by the properties of light weight and high strength. As this alloy is suitable for rotating and reciprocating parts, its applicability is related closely to blades for airplanes and other industrial engines, and exhaust valves and turbochargers for passenger vehicle engines." (source: Keytometals.com)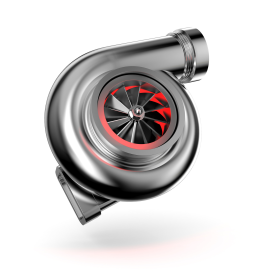 The European Union's "TiAlCharger Project", using Arcam AB's patented EBM® (Electron Beam Melting) technology.
Past revenue and earnings growth in Arcam has been focused on the aerospace, defense, and orthopedic implant industries. This focus now appears to be expanding into the colossal automotive industry using their EBM® (Electron Beam Melting) technology.
As participant in Europe's TiAlCharger Project, funded by governments of the European Union, Arcam has partnered with TWI, a global leader in technology engineering, forming a consortium of companies that are researching Arcam AB's patented EBM® technology and it's applications for 3-D printing in the automotive industry.
From the project site:
The TiAlCharger Project aims to create a cost-effective, mass producible, low inertia titanium aluminide turbocharger assembly providing:
Weight savings of 60%
A reduction on mass moment of inertia of 36% (compared to Nickel super alloys that are the current state of the art)
Operation at temperatures >950°C
Increased fuel to air ratios thereby improving vehicle efficiency by an additional 5% and reducing CO2 emissions reduced by 8%.
The technologies behind this innovation are Electron Beam Melting (EBM) and Electron Beam Welding (EBW).
The EBM process has the potential to fabricate a turbine wheel from successive layers of powder allowing a hollow, lightweight, low-inertia rotor-wheel to be formed.
The TiAl wheel will be joined to the steel shaft using the EBW process, the challenge being to create a weld between dissimilar materials that is robust enough to withstand the vibrations, high temperatures and rotational speeds present in a turbocharger. This fabrication method provides the possibility to manufacture turbocharger wheels from TiAl, which (if of the required quality) retains its strength at high temperatures, expanding the usage of turbochargers to a broad range of engine types.
The project will enable our SME consortium to:
Create a new IP protectable product giving us greater security from ever decreasing margins
Direct increased sales and revenues worth an estimated 58 million, creating/safeguarding ~176 new jobs p.a, by year 5 post-project (EU market)
Supply into a market technology that is expected to expand from 20% of US cars to over 85%, representing the potential to increase European exports by over >200m by 2020.
This potential move into an enormous industry with Titanium Aluminide Turbochargers could "Turbocharge" Arcam AB's already impressive sales and earnings growth in the chart below.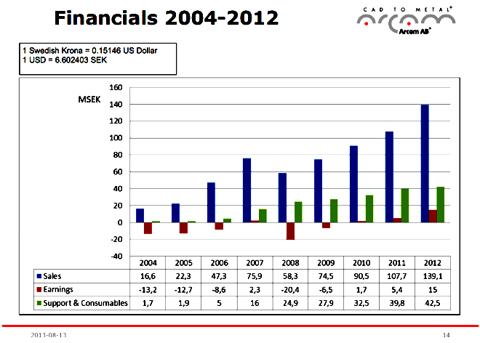 What is unknown at this point is how much potential revenue will come to Arcam AB with commercialization of the Titanium Aluminide Turbocharger Project. Since commercialization includes the utilization of Arcam's EBM® technology, it seems reasonable to expect the company will get a certain percentage of the "revenues worth an estimated 58 million" ($ 76.5 million US).
With just 4.2M shares outstanding, even a modest percentage of $76.5M US in revenue could have a significant impact on future earnings for Arcam AB. Because Arcam is not funding this project (EU governments/taxpayers are), the zero R&D costs to Arcam magnifies the positive impact.
Disclosure: I am long OTCPK:AMAVF. I wrote this article myself, and it expresses my own opinions. I am not receiving compensation for it. I have no business relationship with any company whose stock is mentioned in this article.