The past few weeks, I saw a lot of "negative" talk on Apple, less iPhone's getting sold, the stock is not performing etc. The stock came from a high of $700 a few months ago to a low of $390. Now I never trade on news or indicators. I always watch the reaction on the charts, this tells us if a stock will be a buy or a sell.
This weekend I went over some charts and saw this inverse head and shoulders developing on Apple. Now this is not a buy yet. First of all we want to see if we can close above the neckline. If this pattern plays out, the price of Apple can go in the short term to $540.
Join the traders network on twitter @stockhunter1984.
Kind Regards
Kristof De Block
(click to enlarge)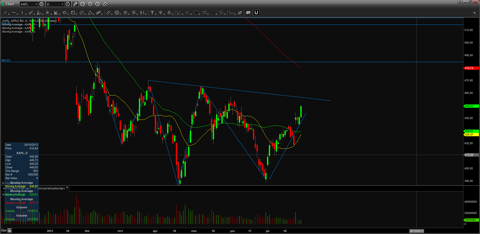 Click to enlarge