A "Reality Check" has become essential to my work / analytics. There are many ways the Marketplace does it best to deceive you. The Media and Wall Street sources do that each and every day, and they are very good at doing so. Reality comes from Raw Data and long hours of Analytics. You have a choice of which one you choose to follow seeking profits. When the Fundamental Valuations do not support the current price and the Company, and its Industry Group are over-bought a Bearish Warning is worthy of a close and diligent watch. That is how I accurately Forecasted the current pull back in (NASDAQ:AAPL). It is also how I go about taking profits at or near a Bearish Inflection Point.
Apple Corp. has sold a ton of iPhones and iPads and in price of their stock is down from the high by over 36%. Earnings continue to be robust, and all seems well. HUM! It Isn't! The truth is starting to leak,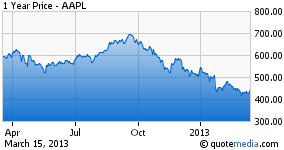 and the Big Guns are unloading their holdings of Apple, big time. That is evident when you do a forward Valuation of Earnings and compare the future of Apple with its past.
Future earnings drop of sharply for this year and then resume the positives of the past few years. Why are earnings off this year is my first questions? And, how accurate are future earnings is my second question? Quarterly earnings are up but flat - to slightly up throughout 2013.
The Computer Industry Group is not setting any records. I have offered my Report Card below for Dell (NASDAQ:DELL) and Hewlett-Packard (NYSE:HPQ).
The Company is going to be a big hurt to shareholders and there is currently no floor under the price per share.
Price History
Apple's shares sold for over $697. in late 2012. The current down-trend has been intack with a low of $419. per share. That is unacceptable price performance for me and should be for you too. The 20-year chart (see below) tells this story best. You may want to ponder before taking new positions. My charts compare Apple with the SPDR S&P 500 ETF (NYSEARCA:SPY). I use this S&P ETF to provide an important perspective about a company that I am valuating. The first thing I look at is how Apple has tracked the Indices in bullish and bearish market time frames. The second thing is a statistical measure of percentage gain and loss during bullish and bearish market time frames.
You will note that three times before Apple has taken a huge hit in price per share. Note the years 2000, 2006 and 2008. We learn from the past and Apple, Inc. is an excellent teacher.
Trends are a very helpful and profitable tool when Investing Wisely.
Current Valuation of Apple,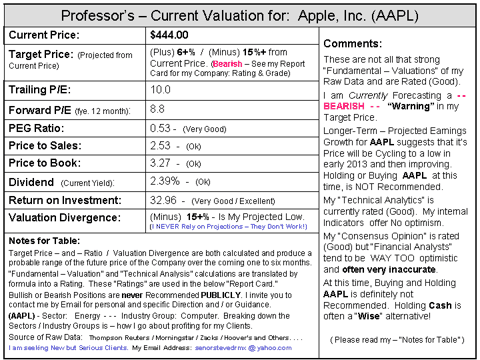 Disclosure: I have no positions in any stocks mentioned, and no plans to initiate any positions within the next 72 hours. I wrote this article myself, and it expresses my own opinions. I am not receiving compensation for it (other than from Seeking Alpha). I have no business relationship with any company whose stock is mentioned in this article.