SELL ! - Here is How It Works to PROFIT - Consistently
Profiting in the Stock Market requires two things.
* Patience / Discipline
* Experience
I have both to offer my Client and Prospective Clients.
Here is how it works to Profit: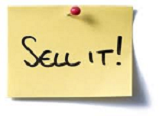 I send an Email with a Formal Recommendation to Sell. It simple says: Sell (XYZ - Name of the Security) at the market all shares and fractions there of. (Remember, when Selling you are going to Cash. You are then "Waiting" to take my next Formal Recommendation. A Buying - or - Shorting opportunity will come soon - so - be Patient).
Dr. Steve
senorstevedrmx@yahoo.com
my phone number