Silver Trust - iShares - ETF - - Performance - - Diving Deeper for Profits
My logo for over 50 years is: "Investing Wisely."
Yes, I "Dive Deeper" than most financial analysts and asset managers. I learned that I must do this many years ago and the results have been worth every minute of effort. It is incredible rewarding as to enjoying superior profits, but it is perhaps even more rewarding for me academically and helping people meet their financial objectives.
This missive is offered in support of my many years of providing "Profits" for my Clients and Perhaps for You?
I believe you will find that my ten performance articles will provide you with very encouraging support for my Methodology of "Investing Wisely" and for my on going Forecasts and Opinions. These ten Companies and ETFs are near perfect examples of - - How I go about Profiting for myself and my Clients. It is just a small thumb-nail of my on going Analytics of well over 2,000 Companies and ETFs.
This rather simple routine of work / analytics provides me with two very important parts to my job - to invest my Clients money "Wisely." First it give me a great deal of lead time to know well ahead of making prudent and profitable Formal Investment Recommendations, e.g. just which securities currently are offering the highest possible prospect for Profit - with the lowest possible Risk Threshold; and Second, it provides a very clear perspective of the future direction of the General Market and its respective Sectors and Industry Groups.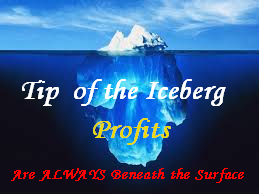 There are many reasons most Financial Analysts and Asset managers - - under-perform. The Iceberg is a great example of - WHY.
My providing my Record for these ten Companies and ETFs is intended to share the fact that PROFITS are always well "Beneath the Surface." My total Analytics, after diving deep and exploring / researching in that (often very cold environment) is profoundly unique and over the years very profitable.
I am simple doing my best to communicate the essence, e.g. - - Is IT - or - Will IT be more Profitable to - - Hold the Company / ETF in your Portfolio - or - Is IT - or - Will IT be more Profitable to - - Hold-Cash for a future and even more lucrative investments?
That is WHY I fervently believe my Analytics / Forecasting clearly and distinctively separates me from most other Asset Managers.
Ten Companies & ETFs - - The 5-Year Performance Record
AAPL, AMZN, BAC, CSCO, F, GOOG, SBUX, UCO, GLD, SLV. These Companies and ETFs are part of the series of 34 articles that I write Bi-Monthly and those articles Update my Forecasting and Opinions - - very accurately. ( Please see the entire list of such articles below and perhaps click on a few. )
SLV logo Please Click on the Silver Trust - iShares - ETF logo to get a list of 20 most recent articles on (NYSEARCA:SLV) that I have published. They too offer very accurate forecasts.
Table of Performance
Silver Trust - iShares - ETF has produced superior profits for both me and my Clients for many years. The below Table provides that Record quite clearly. Often - longer-term performance - does not come close to my minimum and attainable objective. That objective is a consistent annual return of 20% or more. Most often more! With over 50 years of Asset-Management experience, I have much confidence that I can continue to serve my Client / Investors that kind of return with a very low risk / reward threshold.
Hopefully, my Table will also provide a perspective of how my Forecasting to "Invest Wisely" has provided my Clientele with superior profits for many years. It also clearly outlines my Holding time frames and when I Formally Recommend moving to Holding-Cash.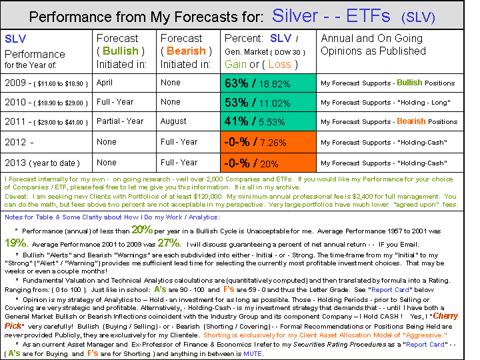 A Seven-Year and a Twenty-Year Chart for Silver Trust - iShares - ETF
7-Year - - URL. / 20-Year - - URL. - - Just Click - - Charts are always - Up to Date.
Perspective & Reality is a major part of maintaining consistent annual profits!
Guidance as to My Use of the Terms: "Hold" and "Hold-Cash"
All of my published articles use just two terms for guidance and direction that I would like to briefly explain. A little support and understanding never hurts when it comes to managing money wisely. The terms are: HOLD and HOLD-CASH.
Typically, when I Forecast or offer my Opinion to: HOLD, I am assuming you currently have a position in that Company or ETF. Or -- Perhaps you are just considering it for Buying? I will often advise: HOLD, "In anticipation of taking profits." Clearly, that implies that my Analytics does not suggest that there is much more up-side for that particular security. This is particularly so, when it is coupled with my words: "Initial or Strong - Bearish "Warning."
Typically, when I Forecast or offer my Opinion to: HOLD-CASH, I am assuming you do not have a position in that Company or ETF. HOLDING-CASH is something Wall Street never seems to recommend. I DO ! When my Clients are "Holding-Cash" they are waiting for me to make new Formal - Buy - Recommendations. My Recommendations rarely be the same Company, I am Forecast - giving my Opinion on! Think about that for a minute or so - - I have and maintain a List of Candidates for Buying (C4Bs) securities to choose from! I do the same for Candidates for Selling / Shorting (C4Ss). Shorting is for my Clients with an Asset Allocation Model of "Aggressive."
I do not publicly provide: Buy / Sell - Formal Recommendations but I will be very specific with guidance and direction via Email.
My - Long-Term Performance Record:
1957 - 1963: Profitable on Average of 32%
1963 - 1970: Profitable on Average of 16%
1970 - 2001: Profitable on Average of 19%
2001 - 2007: Profitable on Average of 22%
2007 - 2014: Profitable on Average of 27%
Best year: 67%
Worst year: -8%
Please consider reading my Published - Article on: My - Long-Term Performance Record. The URL is: http://seekingalpha.com/instablog/121308-steven-bauer/2406472-my-long-term-performance-record
Additional Support
You might want to check out my Personal Blog. I cover a lot of ground each and every day. Just Click - - > http://investingwisely-rotation.blogspot.mx/?spref=tw
Articles on my High Profile / Bellwether Companies and ETFs.
SPY, QQQ, DIA, AAPL, ABX, AMZN, BAC, C, CAT, CSCO, CVX, D, DIS, F, FB, GE, GG, GOOG, HPQ, IBM, INTC, JNJ, JPM, KO, MSFT, PAAS, PFE, SBUX, SLW, SO, T, VZ, WMT, XOM, GLD, SLV, UCO.
Just Click on those you may follow:
For Guidance / Direction on the above Securities or perhaps your favorites - or - further insight into my "Iceberg" Analytics, feel free to Email me.
My Email Address: senorstevedrmx@yahoo.com
For a Full Listing of my most current Articles - Just Click - - > http://seekingalpha.com/author/steven-bauer/instablog/full index
Question
Would you be interested in Professional Guidance and Direction? I have over 50 years of Asset-Management experience with excellent and consistent annual results?
Smile, Have Fun "Investing Wisely,"
Dr. Steve