Cisco Systems, Inc. - Not a Good Place for Your Money Right Now !
Cisco Systems is not one of the leading Dow 30 - Industrials composite Companies. The recent 20% pull-back is two things for me. First it is telling Investors that it is going down in the coming months. Second the little rally since mid-December is giving Investors a chance to get out in the coming few weeks or perhaps less.
For several month I have said: Cisco could well (highly likely) be topping after a nice recovery since mid 2011. Caution is definitely Warranted. Nearly a 20% drop from its highs of July is telling me and I hope You a story. If, and I say "IF" - this late December rally is tepid, I would strongly consider Cash.
You may want to review my articles on CSCO (just click) you will be provided with the exact history of the accuracy of my Forecasting / Formal Recommendations and much more.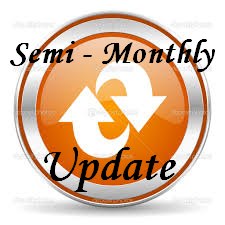 My Performance (my 5-Year Table) for Cisco Systems, Inc. is available by clicking: (NASDAQ:CSCO) I treat Cisco just like any other Company, and my performance is an excellent credential that I will not hesitate to move my Clients to Cash when my Forecast dictates.
Having recently completed my weekly study of all my High Profile Technology / Computer Network Companies.
My management objective is to identify changing trends for my Forecasting Analytics. Simple stated, I want to have current notes to quickly refer to on the anticipated direction of this Sector and Industry Group.
This week's Commentary on - Cisco Systems, Inc. (CSCO) - covers all of my Indicators, both Fundamentally for Valuations and Technically for Momentum.
A Special Note for Seniors & Retired Investors - Dividend Yield: 2.99%
I believe you folks deserve much better service and investment direction and guidance that either Wall Street or the Brokerage Community is / has been providing. Being a retired Asset Manager / Financial Analyst is a joy for me to assist you and meet your investment - needs, goals and objective. Peace of Mind for you is my mission.
Forecast w/ Performance
Cisco Systems, Inc. and other Networking Companies are tracking well. Although (CSCO) is in a strong Rally it is always an excellent contributor to my Analytics. A little history for my Forecast for Cisco: in 2010 was clearly on target. It was for a Pull-Back from the March highs of $26 and stuck with it all the way down to $14. - some fifteen months later. March 2010 was three and one half years ago and Cisco is just recently recovered back to $26. I hope you will read the above with an appreciation of just what Accurate Forecasting can do for you and your portfolio. Forecasting with my Methodology can be both profitable and save you heartache, in a Company or General Market Bearish time frame. You might want to - Think About That - for perhaps better / more profitable management of your portfolio in the future.
Note: The below Table is for your review, questions and perhaps thoughts. If you are seeking to "Invest Wisely" in my "Income & Growth- Asset Allocation Model" - - please Email me to open a dialog on how I go about providing super performance with a very low threshold of Risk.
(click to enlarge)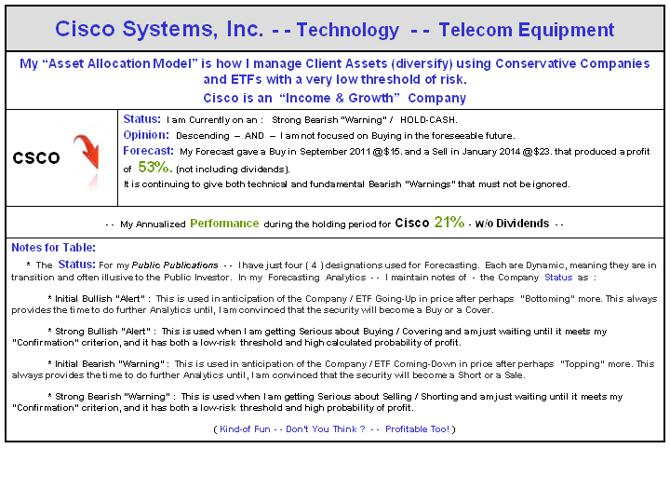 Click to enlarge
My Current Forecast is not as bright as you may think !
If you own or are considering owning Networking Companies, the securities require "Selectivity" (see below peers list). Cisco Systems, Inc. is currently strong Technically (back to the highs of early 2010 mentioned above) but I have reservations about my Fundamental Valuations, therefore I have placed it on an Initial Bearish Forecast - "Warning."
My Current Opinion is Hold-Cash !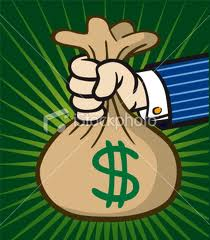 Fundamentally - ( weighting - - 40% ), my Valuations remains relatively strong but are producing future declining projections. This coupled with an over-bought and over-valued General Stock Market does not make for a positive fundamental picture to investing into or to perhaps even hold.
Technically - ( weighting - - 35% ), my Indicators are clearly breaking down. The recent large (near-term) pull-back is offering strong support for my Bearish "Warning." A re-bound rally was in the making and is in progress - - the strength of which is telling me to advise Clients to "Take Profits - and - move to Holding-Cash." It is selling for $22.
Consensus Opinion - ( weighting - - 25% ): My third pillar of Research is one that is ALWAYS distorted to the Positive by most all financial analysts. I believe that is because they are afraid of being Bearish. I Am NOT! My articles on "Reality" are supportive of this - have a look.
Please read my previous postings on Cisco: CSCO
Consensus Opinion - ( weighting - - 25% ): My third pillar of Research is one that is ALWAYS distorted to the Positive by most all financial analysts. That's because they are afraid of being Bearish. I Am NOT! My articles on "Reality" are supportive of the below 20 year Chart.
I will personally and promptly reply to any serious investor's inquiry as to my very cautious position for (CSCO) !
A Twenty Year Perspective of Cisco Systems, Inc. (CSCO)
It has NOT always been like you are being told by so many who do not take the time to do their homework and "Invest Wisely." Cisco Systems, Inc. (CSCO), like most all other quality Companies, has taken some big hits over the years.
URL for (20-years of) (CSCO): http://stockcharts.com/h-sc/ui?s=CSCO&p=W&yr=20&mn=0&dy=0&id=p02768005019&a=311352737
Selectivity
"Selectivity" is what I preach (along with Discipline and Patience) and is what separates the Average Investor and Mutual Funds from the profits that come with long-hours / hard work and "Selectivity."
Here are a number of the Component Companies / Peers in the Telecom Equipment Industry Group that I focus on: (CSCO), (NASDAQ:BRCD), (NASDAQ:RVBD), (NASDAQ:TIBX), (NASDAQ:INFN), (NASDAQ:EXTR), (NASDAQ:QLGC), (NASDAQ:ALVR), (NASDAQ:XXIA), (NYSE:ELX), (NASDAQ:ALLT), (NASDAQ:NTGR).
For a Daily Input and Deeper View of my Work / Analytics you might want to Click, and scroll down to my "Thumb-Nail" articles:
Personal Blog. I post every day. Just Click - - > http://investingwisely-rotation.blogspot.mx/?spref=tw
If I can be of help with guidance and direction of your portfolio(s) just Email me. Serious Investors Only - Please!
senorstevedrmx@yahoo.com
Smile, Have Fun, "Investing Wisely,"
Dr. Steve
CSCO, BRCD, RVBD, TIBX, INFN, EXTR, QLGC, ALVR, XXIA, ELX, ALLT, NTGR