Crude Oil - Sticky Stuff with No Solvent in Sight - Well Maybe
Crude Oil - - ProShares - ETF continues to be Bearish and remains in a descending mode. It is on a Hold-Cash, and my fundamental and technical indicators are still breaking down. There is, in my longer-term Forecast a possible buy in the making. This last sentence should provide you with a prospective for "WHY" I Forecast so very, very much.

My previously written articles on UCO (just click) provide you the history of my forecasting, its accuracy and support for my performance. For over 50 years my management objective is to identify changing trends for my forecasting analytics. I simple want to have current notes to quickly refer to on the anticipated direction of this company and its industry peers.
My Performance (my 5-Year Table) for Crude Oil is available by clicking: Crude Oil Performance. I treat Apple just like any other Company, and my performance is an excellent credential that I will not hesitate to move my Clients to Cash e.g. when my Forecast dictates. 2009 and 2010 were good years with a 66% and 17% profits respectively.
My management objective is to identify changing trends for my forecasting analytics. Simple stated, I want to have current notes to quickly refer to on the anticipated direction of this sector and industry group.
Growth Investors
My Mission is to provide guidance and direction for conservatively providing consistent annual and superior profitable results for each Formal Recommendation I make to my Clients.
Forecast w/ 5 Year Performance
Crude Oil - - ProShares - ETF and other Energy - Oil / Gas Sector Companies and ETFs are NOT tracking well. Although Crude Oil - - ProShares - ETF has been in a Bearish mode and in strong Pull-Back since early 2011. Whether or not is will break the previous lows is just one of those "wait and see" parts of "Investing Wisely."
Forecast w/ Performance:
Note: The below Table is for your review, questions and perhaps thoughts. If you would like to "Invest Wisely" in my "Growth Asset Allocation Model," please email me to open a dialog on how I go about providing superior performance with a very low threshold of risk.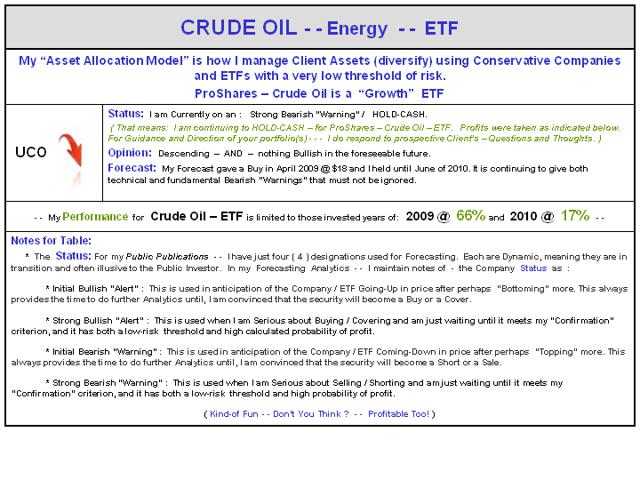 My Current Forecast is not as bright as you are perhaps being advised! (I will be more specific upon your email request).
If you own or are considering owning crude oil ETFs or companies, the securities are becoming a mixed, not a very positive bag. Crude Oil - - ProShares - ETF is currently very weak technically, and I have reservations about my fundamental valuation for the majority of the component companies. It is on my Strong Bearish Forecast - "Warning."
My Current Opinion is to Hold-Cash in anticipation of taking profits. This may be at even higher prices, but there will be an end and time to sell, but that is not currently in my forecast. That is a balancing of my below three (weighted) pillars of research.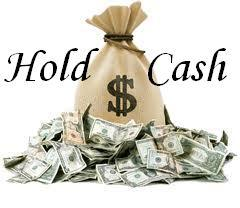 Fundamentally - ( weighting - - 40% ): My Analytics for my fundamental valuation play a vital role in profitable managing money. Earnings continue to be relatively strong.
Technically - ( weighting - - 35%): Within this outstanding company, my indicators remain weak. It is likely to flirt with its lows of $23, is selling for $34. Patience may be rewarded in the coming weeks.
Consensus Opinion - ( weighting - - 25% ): My third pillar of research is one that is always distorted to the positive by most all financial analysts. That's because they are afraid of being bearish. I am not! My articles on "reality" are supportive of the below 20 year Chart.
I will personally and promptly reply to any serious investor's inquiry as to my very cautious position for UCO !
A Twenty Year Perspective of Crude Oil - - ProShares - ETF
Crude Oil - - ProShares - ETF has taken some big hits over the years!
URL for (20-years of -(NYSEARCA:UCO): http://stockcharts.com/h-sc/ui?s=UCO&p=W&yr=20&mn=0&dy=0&id=p32486721734&a=310617298
"Selectivity" is what I preach (along with discipline and patience) and is what separates the average investor and mutual funds from the profits that come with long-hours / hard work and "selectivity."
Here are a number of the Component Companies / Peers in the Crude Oil Industry Group that I focus on rather frequently if you wish to follow me: (UCO), (NYSEARCA:OLO), (NYSEARCA:OIL), (NYSE:XOM), (NYSE:CVX), (NYSE:BP), (NYSE:RDS.A), (NYSE:STO), (NYSE:TOT), (NYSE:YPF), (NYSE:E), (NYSE:BAK), (NYSE:SSL), (NYSE:PTR), (NYSE:PZE). And, more . . .
Note: Should you have interest in my professional guidance and direction for your Portfolios, please Email Me with your questions or thoughts: senorstevedrmx@yahoo.com.
For Daily Updates and a Deeper View into my work / Analytics, you might want to Click and Scroll Down to my "Thumb-Nail" Articles within my personal blog.
Please spend some time reading my articles for a perspective of their and also viewing my Bio before making inquiries. Sharing a bit about yourself and your financial and needs, goals and objectives would be appreciated.
A relationship between You and Your Asset Manager must be a "Win / Win" affair. You get the Performance and the Education and I get paid for my Analytics / Work and Experience.
Smile, Have Fun, "Investing Wisely,"
Dr. Steve
UCO, OLO, OIL, XOM, CVX, BP, RDS.A, STO, TOT, YPF, E, BAK, SSL, PTR, PZE