Growth - - 5-Year Performance Record - - March 31st. - Update
My logo for over 50 years is: "Investing Wisely."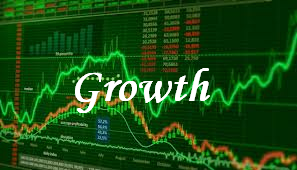 "Far and Away" it is largest group of Companies and ETFs that are available for "Investing Wisely" are in the "Growth" Investor Asset Allocation Model Category.
My Performance over these many years has been good to me as well as to my Clients with few set-backs. The table below listing of ten (10) specific Companies / ETFs is clearly strong performance but was also prudently attained performance. My performance records go back to the late 1950s! Click here for that record and narrative.
Asset Allocation Model Performance
You will want to review all four of my Asset Allocation Model Performance for a perspective of my focus on "results" for my Clients. Here are my four URLs / Links for recently published performance:
Income: http://seekingalpha.com/instablog/121308-steven-bauer/2760733-income-investors-only-5-year-performance-march17th-update
Income & Growth: http://seekingalpha.com/instablog/121308-steven-bauer/2780143-income-and-growth-portfolios-5-year-performance-record-march-24th-update
Growth: ( Your are reading my most current performance for my "Growth" Allocation ).
Aggressive Growth: http://seekingalpha.com/instablog/121308-steven-bauer/2742193-aggressive-growth-portfolios-5-year-performance-march-10th-update
Asset Allocation is foundational to "Investing Wisely." You must have a focus and stick with it to profit consistently. Yes, you can use other allocations to diversify, but you should primarily stick with investments in which you are most comfortable.
So we are on the same page: Asset Allocation or Diversification if you prefer is an "Individual Thing." I has to do with your financial needs, goals, risk tolerance, age and objectives. Everyone is just a little bit different, and your Financial Advisor / Asset Manager should have a very clear relationship with you that provides YOU the "Right Fit" when investing your nest-egg.
There is no simple formula that can be used. It is between you, your family and your advisor. Your age, health and your employment status should be a primary consideration. (More risk when you are earning and less risk when you are retired).
This article is offered for Growth Investors to have a look at my performance in this asset allocation category. That, for me, means a dual strategy of seeking first, capital appreciation (growth) and also often enjoying a current and steady income through dividend or interest payment from the Companies in your portfolio (income).
Growth Investing has risk, but Risk can be mitigated to almost zero if you use your head, are patient and are a disciplined Investor. Balancing your Portfolio with Companies that often pay a dividend, even when the dividend is small or large, depends very much on the current status of the Marketplace itself. Clearly, the objective is to seek consistent annual profitable (growth of your portfolio) results.
Accurately Forecasted and "In-Favor" Companies will always outperform in Bull Markets and sometimes (not always) hang in there in Bear Markets. For those uncertain time frames, including Bear Markets, I am a BIG believer in Cash. Most Financial Analysts and Asset Managers avoid Cash as a safe harbor, and that is something I will never understand. When my Forecast for a given Growth Company suggests that is more prudent to Hold-Cash - that is where I go.
I maintain a list of over 1,200 Growth Companies and ETFs of them to monitor. Growth Companies that are "In-Favor" are easy for me to identify, and I make it a policy of always having at least a twenty or thirty on my "Growth List" heading my List as possible future Buys. That may be several months ahead of taking positions but remember that is just one of the primary reasons I Forecast every day of the year.
When Bullish or Bearish Inflection Points occur it is quite easy for me to identify those Companies and ETFs on my Lists that will "greatly outperform" for that particular Rally or Pull-Back. This makes my work both enjoyable and fun, by following and frequently Re-Forecasting (Updating) those Companies that are on my "Lists."
Growth Investors
My Mission is to provide guidance and direction for conservatively providing consistent annual and superior profitable results for each Formal Recommendation I make to my Clients.
Table of Performance
The table below shares ten (10) Companies and ETFs each has their own Table (inside each article I write) for my five-year performance of that Company / ETF. I hope this gives you a strong reason to consider contacting me regarding your questions and thoughts about my professional guidance and direction of your portfolio. I will promptly Email you and candidly answer your query.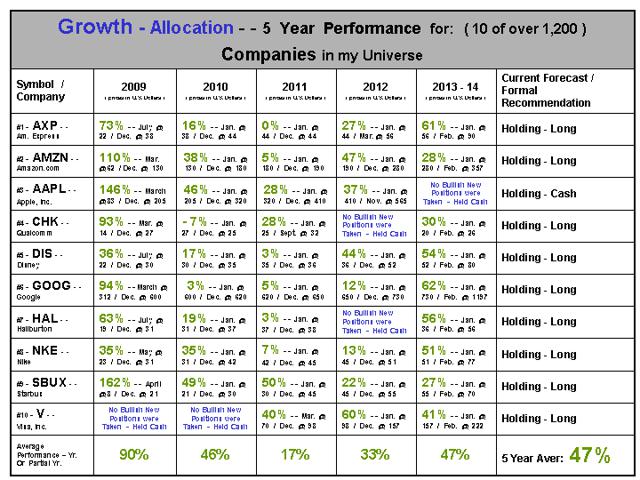 My management of "Growth" Assets is unique in many ways. For example: If I cannot identify a Company that has a very high probability for growth and is paying a dividend - - I Hold-Cash.
As mentioned above, Holding Cash presents a very low income flow, but I believe that owning a Company that is paying a dividend during times when my analytics and forecast is Bearish is definitely not following my logo of "Investing Wisely." There are very few times over the past 50 years that I have professionally managed the assets of my Clients that there was not some Companies to Hold, but Cash is also a prudent place to be.
My, point which differs greatly from most Financial Analysts / Asset Managers is that - - If you are not holding a Company that is Appreciating and appears to have the propensity to continue to Appreciate, you are going to substantially restricting your over-all profitability - - that means both disappointment and LOSSES!
This is my way of saying: Highly Selective Guidance and Direction in your Portfolio is essential in today's Marketplace.
I also use Inverse ETFs in Bearish Cycles of the Marketplace. In a Bearish Cycle only Inverse ETFs can be placed in a Retirement Account.
Note: Should you have interest in my professional guidance and direction for your Portfolios, please Email Me with your questions or thoughts: senorstevedrmx@yahoo.com.
For Daily Updates and a Deeper View into my work / Analytics, you might want to Click and Scroll Down to my "Thumb-Nail" Articles within my personal blog.
Please spend some time reading my articles for a perspective of their and also viewing my Bio before making inquiries. Sharing a bit about yourself and your financial and needs, goals and objectives would be appreciated.
A relationship between You and Your Asset Manager must be a "Win / Win" affair. You get the Performance and the Education and I get paid for my Analytics / Work and Experience.
Smile, Have Fun, "Investing Wisely,"
Dr. Steve