Up Close and Personal
My logo for Over 50 Years is: "Investing Wisely."
Introduction
Of the 30 Dow Industrial component Companies to the 1,500 component Companies in the Large Cap / Mid Cap and Small Cap, to each of the Sectors / Industry Groups there are always the winners and losers. Have you ever smiled and said to yourself: "I wonder if it is possible to separate and know for the coming months or even years - which of all these component securities will be the winners? Of course you have. Follow me and carefully read my articles and you will see that this question can be both calculated and forecast ahead of your making any investment decision.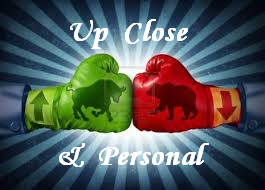 Currently the ratios of Bullish and Bearish Companies are (on balance) growing ever more negative (Bearish) while the market ascends often to new highs. This is deceiving and mis-leading Investors and always has.
As you know, my past postings of this Quantitative Matrix Counts for the above universes of securities has been descending. Fewer and fewer Companies and ETF project and forecast future upside profits. It is simply a matter of the "numbers" and they tell ALL!
Seeing Beyond the "Now !"
Unfortunately the focus for many Investors is the "Now." It is a human condition that is on the rise. Focusing on the "Now" in the Stock Market is a sure path to losses.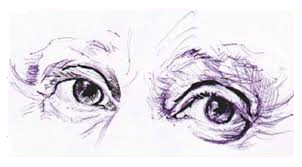 Forecasting and working with probability models is my "thing" and you can see from my performance it is highly rewarding. It takes: Patience and Discipline.
Table
The table below is offered for a perspective or reference, as to the a) Bullish (winners), the b) Bearish (losers) and the c) "Also Rans." This exact same procedure is used within my Analytics for the Dow 30 Industrials and my Sectors (15) and Industry Groups (300+) identification of the above three a),b),c)'s of investing within the current stock market "sweet-spots." Yes, there are always "sweet-spots" and there are also always "sour-spots in the market place. The trick is knowing the difference. I DO !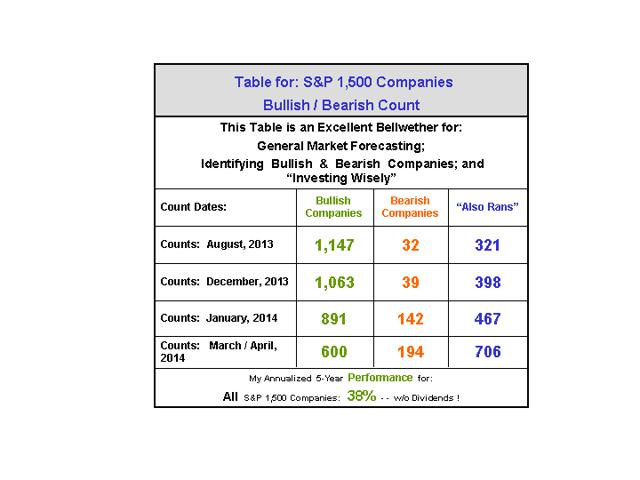 Table Notes: a) The numbers for both the above and below tables increase and decrease with the overall market within a month or several week periods but there is a trend (on balance) that remains quite clear; b) You will note the erosion of Bullish Companies, the increase in Bearish Companies and the rather large number and percent of "Also Rans;" c) With very long tenure (as an asset manager and financial analyst), I strongly suggest that Wall Street and the financial media deceives the average investor - daily - if not hourly. They NEVER present the big picture and that "big picture" is "growing ever more negative." Profiting in the Stock Market is doing your "Home Work" and having and understanding the "Big Picture." That is what makes the difference of whether or not you are profitable, out perform the market, and have superior investment results. Kind of Simple isn't it?
For many years I have learned to break the Market down (dissect) internally for each Sector and Industry Group and that is very revealing. That is "having and understanding" the "Big Picture." My four asset allocation models, for asset management, range from "Income" to "Aggressive Growth." It should be clear that I can identify the component Companies that are currently bullish / bearish and those that are neutral that I call "Also Rans." By being Selective you can "Cherry Pick" the best of the best and the worst of the worst. Think about that....
Important Note: After a time, I will not be presenting this data on a weekly basis so you might want to get acquainted and ask me some questions.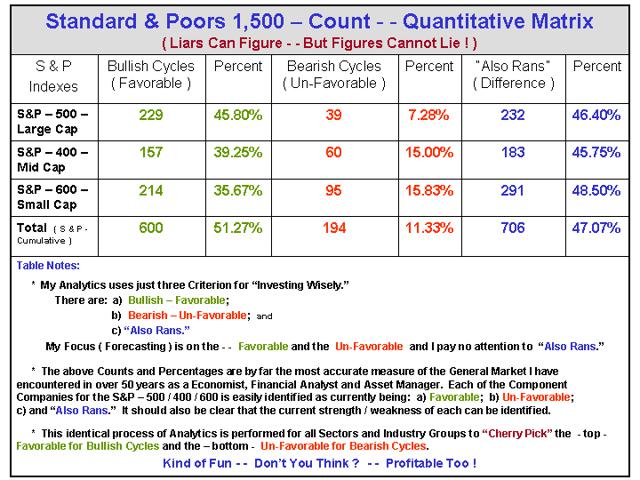 Some Guidance for the table above: You will note that there is a notable difference between the "Bullish" percent and the "Bearish" percent as you move from the Large to the Small Cap Index. You will also note that the "Also Rans" remains a relatively high percent. The nuisances of this work / analytics are vast and they offer what my doctorates in Economics and Finance NEVER taught and most certainly is not in the textbooks!
Short-Term we are Blind, but Over Time - the swings from Increasing Bullish to Increasing Bearish is very notable and clear - within this a very valuable tool. It supports much of my Methodology, in particularly the aspect of "Rotation" that is, within my work / analytics so pronounced.
Why the Major Indices (Dow 30, Nasdaq and S&P 100, etc) have remained lofty while the balance of the market is actually down is also explained quite well. For me, it is essential to know, Why the general market breadth has been going down for many months.
Odds -- Unequivocal / Undisputable Odds! Most people/investors understand the word "Odds" but they gamble anyway. The Stock Market is a huge collection of "Numbers" that can be broken-down or (Dissected) to make sense. Few take the time or have th know-how / experience to know how do make the Numbers "make sense."
May I just share my insight of why my logo is "Investing Wisely?" Please take a look at the current worst numbers in my table that clearly offer "Odds" that are much worse than Las Vegas or playing the horses. The Small Cap segment currently offers a new low of 36% Bullish (Favorable).That's much too low for investing. The odds of losing are 16% Bearish (Un-Favorable) - (much too high a risk). And the odds of going no-where are 48% "Also Rans" (Companies that are -- Going No Where) -- way too high a count and growing if you are a prudent investor. It is your choice, but understanding the Odds, and waiting for more "Favorable" time-frames will definitely make you a profitable investor and vice-versa.
In addition to the current poor odd, the (Big Picture) percentages are going the wrong way - That's Bearish!
You may want to have a look at my smaller metrics of Dow 30 Industrial Articles. They too are going the "wrong way" but are naturally much closer to the S&P Large Cap than the S&P Mid or Small Cap. For greater accuracy, obviously the 1,500 Companies of the S&P offers both 50 times the depth and a much broader perspective of the overall market. Knowing the current "Favorable" and "Un-Favorable" companies is also an essential part of my work / analytics. By the way, seldom do I get inspired to own Dow Companies but, within the S&P and my Universe of securities there are always Companies with excellent appreciation potential.
I continue to remind you that it is always a slow process of topping a multi-year bull market. It therefore requires much patience and discipline and a lot of work grinding out the analytics.
Profits Rule - all the other "stuff" you read perhaps needs to be taken into consideration but your annual profitability is what you must focus on FIRST! That's why I continually do all the forensic analytics required in accurate Forecasting. I repeat: Lairs Can Figure - but Figures Cannot Lie!
Graphic or Chart Perspective
I use the Standard & Poor's - SPDR - S&P - 500 / 400 / 600 - ETFs quite purposefully. They are: SPY, MDY and SLY. These ETFs are and were "Securities" that you can buy and sell and manage within your Retirement Account even if you are not yet retired. This flexibility in retirement accounts is something millions of employees with retirement accounts should be aware of and use. It will make an enormous difference to how you will retire financially.
Yes, I track the corresponding Indexes but always with an eye on the ETFs, both Regular and Inverse. I hope you understand "Inverse" ETFs. For further information about how this Quantitative Matrix (Q. M.) can be of notable profitability each year and for the future, do not hesitate to Email me.
Combining my Fundamental - Valuations with my very unique Technical Analysis always provides a clear perspective of the Best of the Best (Favorable) for Bullish Cycles and the Worst of the Worst (Un-Favorable) for Bearish Cycles.
Please note from the peak of mid-2011 to the trough, it took until late 2012 to resume the up-trend of this supposedly endless five year bull market. What if - you held cash during this bearish cycle in this five year bullish market? You do the calcs and that should open your eyes to why this kind of work / analytics is so meaningful. That is also why this (Q. M.) is so valuable.
Yes 2011 was my worst performance year but I was up over 20% and that all comes from implementation of the above 3 Pillars of a Methodology that produces results. The 3 Pillars are: SHB Cycles / Rotation Model / and Inflection Points.
There are clear calculable reasons that tell the above story very, very well, ahead of taking securities positions, be they bullish or bearish. And, not with the nonsense hind-sight that we all are presented and read so much about these days.
Market Status - with a Standard & Poor's - 1,500 Focus
Within my Analytics are clearly supporting my opinion that the Marketplace is: the fundamentals are too over-valued, the technicals are too over-bought, and the consensus opinion is way too bullish. Economic and financial news, on balance, is negative and not supportive of taking any Bullish positions. There are, of course, exceptions that come along - BUT THE FOCUS IS ... CAUTION!
During time frames when the marketplace is topping there are always clear signs which include:
a) advisors and bloggers are overly bullish;
b) smart money and insiders are selling;
c) corporate earnings growth is waning;
d) the Fed is vacillating and indecisive in providing clear leadership and direction to the economy (e.g, now there are new questions regarding quantitative easing - I call that - Janet);
e) Debt (borrowing for stock ownership) is at hitting a record-high and growing; and
f) the bond market is descending (bond prices drop when interest rates are rising).
Want more support for the this points? Try reading my many articles as shared in my private blog.
Simple Stated: I am currently turning ever more Bearish because my Fundamental Valuations have been deteriorating for quite some time, and my Technical Indicators are breaking down weekly. It's just that simple!
Summary
At this writing dissecting this huge Universe of Companies suggests that the very old Bull General Market is in a termination phase/process. Topping of a very long-term Bull Market is always slow in it development and that requires much patience and discipline. However, when it hits (a Bear Market) the losses in portfolios are quick, large and unrecoverable. Spend some time looking at long-term charts of the Indices and individual Companies and ETFs). Doing your homework with tools like the above each day helps your bottom line more than you might think or even dream.
The table above tells a compelling story if you will take the time to study it. Just looking at the numbers and reading my narrative will do little for you to learn "the whys and wherefores" of how I go about, and perhaps how you should go about making money in the stock market.
Spend some time pondering just what is happening. Yes, there is a pattern that has been repeated over and over throughout the history of the stock market. It is not just the "Now" it is ongoing. A collection or composite of this kind of data offers an unequivocal and quantifiable answer to:
a) where we have been over the past five-plus years and the all-important - why;
b) the increasing and decreasing - ebb and flow of the numbers offers much foresight and lead-time in my Forecasting. My Bearish List of Candidates for Short-Selling and my Inverse ETF List has been in place for several weeks;
c) it provides the ability to stay on top of the ever changing list of Favorable and Un-Favorable securities to focus on for profit be it a Bull or a Bear Market;
d) It tells you quite clearly which Companies are currently "Also Rans." Avoiding these Companies and ETFs is mandatory if you are seeking superior profits.
e) And, much, much more that leads to consistent annual profitability.
The trick, for me, is also simple knowing the difference between the Bulls from the Bears! Yes, all Companies are in a transition of becoming Bullish Candidates for Buying or Bearish Candidates for Selling and Short-Selling. As these ever changing cycles occur, these 1,500 (and all the other securities on the planet) will be offering strong rallies and also taking big hits or pull-backs that will clearly confirm to you that a Bear Market is in the making.
I write frequent articles on: (NASDAQ:AAPL), (NYSE:BA), (NASDAQ:CSCO), (NYSE:GE), (NASDAQ:GOOG), (NASDAQ:INTC), (NYSE:JNJ), (NASDAQ:MSFT), (NYSE:PFE), (NYSE:T), (NYSE:WMT), (NYSE:XOM), (NYSEARCA:SPY), (NASDAQ:QQQ), (NYSEARCA:DIA).
I indeed hope you will want to know more about and hence profit by my work.
Smile, Have fun, "Investing Wisely,"
Dr. Steve
AAPL, BA, CSCO, GE, GOOG, INTC, JNJ, MSFT, PFE, T, WMT, XOM, SPY, QQQ, DIA