Chances Are: Your Chances are Slim & Nun - and - You Don't Know It
My logo for Over 50 Years is: "Investing Wisely."
This Article is focused for: Senor & Retired Investors who are Conservative and are seeking - Steady Monthly Income with modest Growth to offset Inflation . . .
Risk can be managed and actually quantified (calculated) quite easily when you have the tools and experience. I have those tools and many years of experience. I also like - Sleeping Well at Night - and I DO!
Today's rather pathetic and common approach to asset management is to use DIRVERSIFICATION or a HEDGE and that to me, is just plain funny if not a very stupid way to manage your money. ( I'll explain upon request ).
The ODDS of consistently Profiting are against you and RISK and / or ODDS can be mitigated to almost ZERO if you have the above tools and experience. Read this article and you can begin to be a very profitable investor and learn how to do it for yourself in the coming few years.
My - 50+ Year - Opinion
Investors and many / most financial analysts and bloggers often get "Way Too Greedy" and "Way Too Exuberant" in their expectations about the direction of both the General Market and of specific Companies and ETFs they are recommending or sharing in articles with the public. I also read many of those articles that I believe I am well credentials to say - - these financial analysts and bloggers are offering, on balance, very poor guidance and direction to investors who deserve much, much more.
Profiting consistently requires separating the "Favorable" from the "Un-Favorable" and the "Also-Rans." This too requires having the tools and experience. All of my articles focus on this essential point and that is how I go about profiting.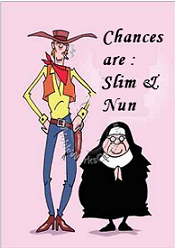 My profits for the past five years as well as over the past several decades is published each Monday in this Blog and in my Personal Blog.
These are superior profits as compared to most any Methodology of Investing over the decades. I hope you will read this article with the understanding that my Asset Allocation Models of, Income and Income & Growth securities are just one of many Groupings of securities that I work with in exactly the same way. I frequently write about the Sectors and Industry Groups - - Large Cap / Mid Cap / Small Cap as well as Gold/Silver and other Commodities. These too are all managed in the same way.
You cannot lose if you are working with the Current Best of the Best. I Do !
Breaking Down or Dissecting groupings is rather easy when you have the tools and experience to identify and then forecast my unique way of separating the "Favorable" from the, "Un-Favorable" from the, "Also Rans." I hope and encourage you to Email me with your questions and thoughts. Serious Investors Only - Please.
The Odds
The Odds are against you and are even worse than Las Vegas. So why do Investors and financial analysts keep making un-necessary mistakes when investing their assets every trading day of the year? The answer is simple, they just don't take the time do their homework and that is because they have no clue as to their Risk and their Odds. To get good grades, that approach didn't work in school and it definitely doesn't work when investing your money in the stock market. That is why there are teachers, instructors and mentors in this world. Unfortunately, few people are willing to take the time to learn or even be taught.
(click to enlarge)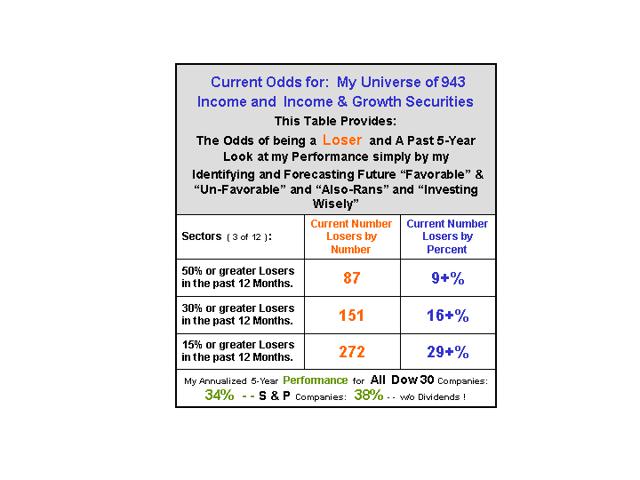 Click to enlarge
These Odds should tell you several things. a) the current marketplace is deteriorating when it comes to your odds of making money, especially with mutual funds; b) The above "LOSER" figures have been accelerating on the downside for well over six months; c) statistics don't lie, it is always the author that so often does so - perhaps unknowingly; d) These current numbers and percents are not what they will become based on my years of doing this work in both Bullish and Bearish Stock Market Environments; e) Understand in a Bearish Stock Market Cycle, my 50% or greater Losers often becomes a list of 75% or more. If you don't agree or understand I suggest you have a long look at my groupings for the 2000 and the 2008 Bear Markets.
(click to enlarge)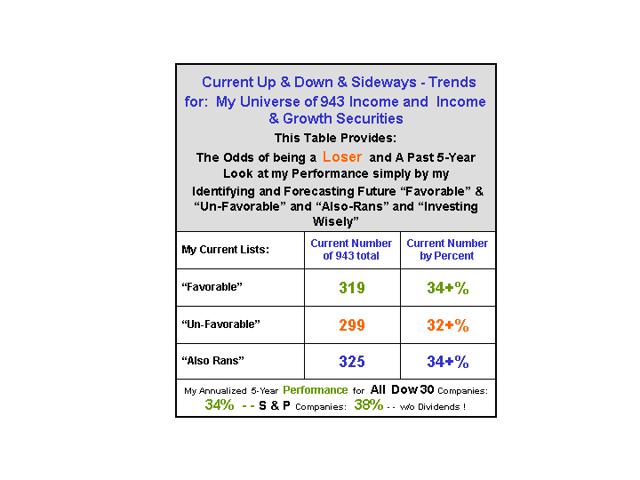 Click to enlarge
These Odds should tell you several different things from the above. a) the current marketplace is deteriorating with only 34% of the Companies having any prayer of producing profits in the foreseeable future; b) The above "LOSER" figures ("Un-Favorable and "Also Rans") are already down notably - percent wise from their yearly highs and have much more downside forecast - - see my above first table; c) statistics don't lie, it is always the author that so often does so - perhaps unknowingly; d) you will begin to benefit (Profit Consistently) if you will accept and perhaps question what I am sharing.
Forgive me for offering the following Basis of the Odds: First of all there are only 319 "Favorable" Companies out of the 943 quality Companies in my Income and Income and Growth Universe. (are there more, yes but if I cannot profit from this universe I do not go else ware hoping to find one)! Second, When Forecasting even the "Favorable" seldom do I find more than 10% that have both the upside potential and a descent threshold of risk to recommend to my Clients. (that converts to 32 companies and about 3.5% of my universe. (this mathematic holds true with all the above mentioned groupings)! Third, It is mandatory in my asset management to keep a close watch on each of my large groupings for what I call "Loss Control" and this task clearly offers excellent insight into both what companies are moving into Favor and those that are moving out of Favor. Yes, this is a very dynamic marketplace. I hope you will want to know more. . .
"Facts do not cease to exist because they are ignored." - Aldous Huxley
You might want to read my articles and their archive articles on: (AAPL), (GE), (GOOG), (AMZN), (CSCO), (GLD), (MSFT), (SLV), (T), (XOM).
Note: Should you have interest in my professional guidance and direction for your Portfolios, please Email Me with your questions or thoughts: senorstevedrmx@yahoo.com.
For Daily Updates and a Deeper View into my work / Analytics, you might want to Click and Scroll Down to my "Thumb-Nail" Articles within my personal blog.
Please spend some time reading my articles for a perspective of their and also viewing my Bio before making inquiries. Sharing a bit about yourself and your financial and needs, goals and objectives would be appreciated.
A relationship between You and Your Asset Manager must be a "Win / Win" affair. You get the Performance and the Education and I get paid for my Analytics / Work and Experience.
Smile, Have Fun, "Investing Wisely."
Dr. Steve
AAPL, GE, GOOG, AMZN, CSCO, GLD, MSFT, SLV, T, XOM.