Income & Growth Portfolios - - 5-Year Performance Record - - May 19th. - Update
My logo for Over 50 years is: "Investing Wisely."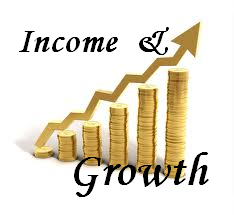 Far and Away Income and Growth one of the largest groups of Companies and ETFs available "Investing Wisely."
My Performance over these many years has been good to me and my Clients with few set-backs. The below table of ten (10) specific highly conservative Companies is clearly strong with prudently attained performance. You will note that most all are Dow Jones 30 Industrial Companies. I have always been able to identify alternate "Income & Growth" Companies with lower risk and a much higher probability of profit for alternate recommendations for my Clients.
My performance records goes back to the late 1950s! Want to go back and see? Here it is: http://seekingalpha.com/instablog/121308-steven-bauer/2406472-my-long-term-performance-record
Note: When studying the below table, it is important to note the periods of holding the Company and Holding-Cash. There are always alternate Companies to replace those time frames when I am holding-cash, as noted in my table. Also, Performance is not always for one full year. This will provide you a clear perspective on how I go about managing my Clients assets. Just remember, There is a "time to hold and a time to fold: - if you like those lyrics.
I use Four Asset Allocation Models for my Clients: Income / Income & Growth / Growth / Aggressive Growth
Asset Allocation is foundational to "Investing Wisely." It is essential to consistent profitability to have a focus and stick with it. Yes, you can use other allocations to diversify but you should primarily stick with investment "classes" in which you are comfortable.
So we are on the same page: Asset Allocation (Diversification if you prefer) is an "Individual Thing." It has to do with your financial needs, goals, risk tolerance, age and objectives. Everyone is just a little bit different and your Financial Advisor / Asset Manager should have a very "up close and personal" relationship with you that provides YOU the "Right Fit."
There is no simple formula that can be used. It is between you, your family and your financial advisor / asset manager. Your age, health and your employment status should also be a primary consideration. (More risk when you are earning and less risk when you are retired is often the formula).
Diving Deeper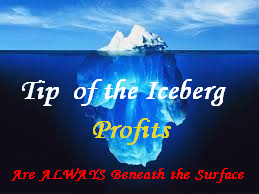 There are many very clear reasons (at least for me) that most Financial Analysts and Asset Managers - - Under-Perform each year. The Iceberg is a great metaphor of - "WHY."
My providing my on going performance record for the ten Companies in the table below is intended to share the fact that: The Real Profits are always well "Beneath the Surface." My total Methodology, Analytics and Forecasting procedures are based on "Diving Deeper." It is there that the exploring / researching (in that often very cold and dark environment) is profoundly unique and over these many years - very profitable.
I hope I am clearly sharing the essence, e.g. - - Is IT - or - Will IT be more Profitable to - -Hold the Company / ETF in your Portfolio - or - Is IT - or - Will IT be more Profitable to - - Hold-Cash. Remember there are always future and even more lucrative investments that will soon come along? Maybe you should read this paragraph twice, it is kind of profound if you are seeking consistent annual profitability.
This article is offered for conservative Income & Growth Investors. That, for me, means a dual strategy of first enjoying a current income (monthly flow) through dividend or interest payment from the Companies in your portfolio (income). Second, seeking modest capital appreciation (growth) while protecting from (growth erosion).
Income & Growth Investing has risk, but Risk can be mitigated to almost zero if you use your head, are patient and are a disciplined Investor. Balancing your Portfolio with Companies that pay a dividend, even when the dividend is small, depends very much on the current status of the Marketplace itself. Then the very important question: Is the Company / ETF you are considering owning currently Favorable / Un-Favorable or likely to be an "Also Ran?" (this is a theme I use in many of my articles). Clearly the objective is to seek consistent annual profitable results - and - that is why the "Growth" part of the equation is so vitally important!
When a Bullish or Bearish Inflection Points occurs it is quite easy for me to identify those that will "greatly outperform" for that Rally or Pull-Back. This makes my work both enjoyable and fun, by following and frequently Forecasting many Companies / ETFs - a few of which make it to my Buy (Favorable) or Short (Un-Favorable) "List."
My management of "Income & Growth" Assets is unique in many ways. For example: If I cannot identify a Company that is paying a decent dividend that has a Forecasted Upside, e.g. projected growth I Hold-Cash. Holding Cash presents a very low income flow but I believe that owning a Company that is paying a "decent" dividend during times when my Forecast for the Company is Bearish is definitely not following my logo of "Investing Wisely." Holding Cash is always a prudent place to be when the risk exceeds the reward.
My, point which differs greatly from most financial analysts / asset managers is that - - If you are not holding a Company that is Appreciating and appears to have the propensity to continue to Appreciate, you are going to substantially restrict your over-all profitability - - that means both disappointment and LOSSES!
Income & Growth Companies are all relatively conservative but they historically they take the same "HITS" on the downside as other more growth or speculative oriented securities. This is my way of saying: Guidance and Direction in your "Income Portfolio" is equally as important in your "Growth Portfolio" or my other asset allocation models.
I use conservative Inverse ETFs in Bearish Cycles of the Marketplace. In a Bearish Cycle these ETFs can be placed in a Retirement Account.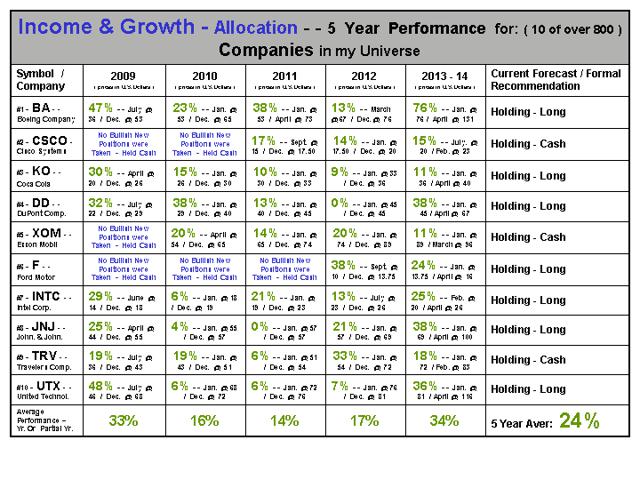 Supporting Articles: Here are links to my archive of articles I have written over the years for these Companies: BA, CSCO, KO, DD, XOM, F, INTC, JNJ, TRV, UTX.
A Twenty Year Chart Offers a Perspective That Always Gives You Greater Profits
It has NOT always been like you are being told by so many who do not take the time to do their homework and "Invest Wisely." Every Company has taken some big hits over the years.
Here are links to 20-year chart for the above Companies: BA, CSCO, KO, DD, XOM, F, INTC, JNJ, TRV, UTX.
Please understand that I am seeking new Clients and Consulting relationships. Please feel free to open an Email dialog with me personally. I do not sell I just present and support the facts as I see them from these many years of managing assets. I hope you are interested.
(BA), (CSCO), (KO), (DD), (XOM), (F), (INTC), (JNJ), (TRV), (UTX)
Note: Should you have interest in my professional guidance and direction for your Portfolios, please Email Me with your questions or thoughts: senorstevedrmx@yahoo.com.
For Daily Updates and a Deeper View into my work / Analytics, you might want to Click and Scroll Down to my "Thumb-Nail" Articles within my personal blog.
Please spend some time reading my articles for a perspective of their and also viewing my Bio before making inquiries. Sharing a bit about yourself and your financial and needs, goals and objectives would be appreciated.
A relationship between You and Your Asset Manager must be a "Win / Win" affair. You get the Performance and the Education and I get paid for my Analytics / Work and Experience.
Smile, Have Fun, "Investing Wisely,"
Dr. Steve