Seeing and Knowing Beyond the Now ! - for - June 6th.
Each week, within my Personal Blog, I take you through the market from my eyes and my very long and profitable experience. I try to share that dissecting my 37 Groupings is viatally important if you are seeking superior profits. My Groupings include the Large, Mid and Small Caps; my 12 Sectors and many Industry Groups. Also I do this for my four Asset Allocation Models, as well as others, that I have for my Clients. This is how I go about providing myself and my Clients with superior and consistence profits in both Bull and Bear Market environments.
It is only a matter of doing my homework, from many years of training and experience as well as having the patience and discipline to execute (Buy / Sell - Short / Cover Orders and Recommendations) when it is prudent and to hold cash when it is prudent.
I repeat from other articles: Hedging and using Diversification (Mutual Funds) -- to manage assets is the most ridiculous approach I can think of if profit is you objective. For those Investors who Hedge or use Mutual Funds, I recommend - Try using your brain (or work with someone who does) with specific analytics and not spend your time or talents in devious ways to invest yours and other peoples money.
Yes, there are people in many walks of life that have the ability to use the tools of their trade to "Seeing and Knowing Beyond the Now !" The "tools of your trade" are very different than the "Now" -Trader. Get rich "Now" is the new American Dream and it fails you every time. In fact the old American Dream is fading or perhaps has faded into the sunset.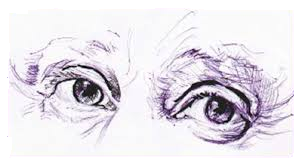 In this ever increasing "Now" world the Dynamics continue to be every more complex. Now is the focus and that focus is very expensive for those who are investing in the stock market.
Traders (In the old days they shot traders and now Wall Street "Embraces" Them - - Ever Wonder Why?)
Here are two URLs of excellent information on Trading: Just type in to Google: Is stock market Trading profitable
http://www.stock-market-prowess.com/12-reasons-why-youll-never-be-profitable-as-a-trader-or-investor-part-1
http://www.rediff.com/money/2007/dec/05bspec.htm
There are many more . . .
Lazy / Complacent and Head in the Sand ( or ) Some Where Else Where There is No Sunshine
Of the ninety-five million U.S. Investors most want it NOW and do not have the slightest clue of the Risks they are taking and the Odds of their being a winner (consistently profitable investor). Competing with professionals in any realm is just plain stupid, yet there are many who continue to try each and every day. I'll never understand, so I just keep producing my articles and am blessed with a rather steady flow of new Clients who seem to "Buy Into" my words, performance and methodology of "Investing Wisely."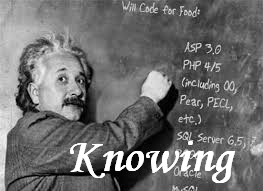 This guy Knew What He was Doing! Unfortunately, in the "NOW" world few (even professionals) - - DO!
I See My Job as Seeing that YOU Know What YOU are Doing
This weekly series of articles will help you do just that. I will use my information and data from my Wednesday Articles that address how I dissect my twelve Sectors to Identify my C4Bs and C4Ss. Candidates for Buying and Candidates for Short Selling is the derivative of my Analytics.
Seeing beyond the now and knowing what to expect is both an art and a science. Few if any Financial Analysts / Asset Managers have this tool in place and working 24/7. If they do, they certainly do not mention or share it with Investors such as YOU!
Table with Notes
This Table is one of several I use in my Weekly Sector Articles. It is a great way to focus my research towards the probabilities of Profits where the Profits are going to be.
My very recent past article - - published this past Wednesday - - covering 3 more of my Sectors covered Energy - Oil & Gas / Gold & Silver / Financials. The following Table is but the tip of the ice-berg, but it gives me a direction and guidance as to which Sectors and in turn which Industry Groups upon which to spend my Analytic time and energy.
I strongly advise you spend much time between the above referenced and this article. You will hopefully, rather quickly, begin to "SEE" and "KNOW" how to be a consistently profitable Investor. You might also realize that you will be mentored if you become my Client and follow my specific work / analytics in Real Time. Coming on board my ship is a true adventure in learning and profiting.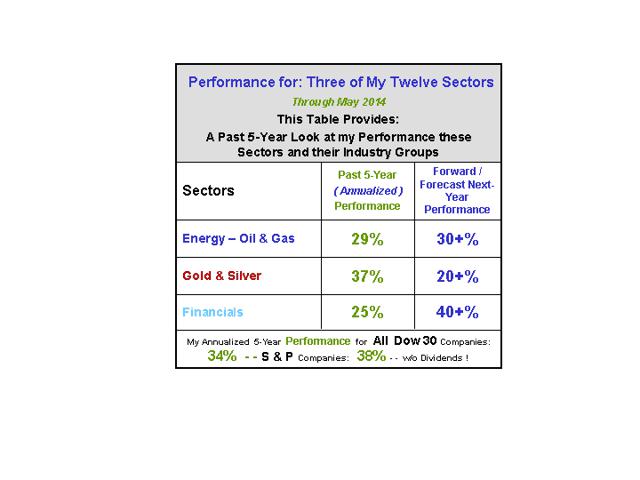 Notes: You can see that Energy - will continue to perform well and the Gold & Silver is currently under-performing, this may well reverse in the coming months.. Financials will also perform well. Here is the rub for those of you who often take incorrectly or mis-use / mis-understand my articles. a) it's the Industry Groups within the Sectors that I focus on. To generally assume all Companies within a strong Sector will do well or to assume all Companies within a weak Sector will do poorly is just not using you head and that (as you should already know) is often very often expensive; b) Even strong / weak Industry Groups have their Best of the Best / Worst of the Worst - Component - Companies. That is why I preach "Selectivity" and investing only in those securities that are clearly "Favorable" for Buying and "Un-Favorable" for Short-Selling; c) All of my investment decisions for formal recommendations to my Clients are based on my proprietary use of Inflection Points. Again and unfortunately for many Investors, my General Market Inflection Points are often quite different from my Sector, Industry Group, Commodity and Company Inflection Points. You might remember my touting my article on "Rotation." This marketplace is no longer a place that you can rely on it being consistent through out all the many asset classes.
Personal Note
Statistics and Probabilities was a full year math course in my Engineering Under Graduate work. It was the three most difficult courses of study I can remember. Ironically, I have spent my professional career using these fine courses and the Knowledge they provide to prosper in the stock market.
Mini Conclusion
Yes, there are many Sector ETFs that you can use from my research and analytics. Again it is first the "seeing" and then the "knowing" and that information is much too elusive for you to try save paying a one percent asset management fee to try to "Do it for Yourself for FREE." The stock market is NOT a Buy on Rumor or Opinions from a Blog. You will never learn or be a profitable Investor if this is your mind-set. My advice is just plain DON'T ! - - - waste you time in 99% if the CRAP that is being promulgated in today's Financial Cyberspace.
You might want to read my articles and their archive articles on: (AAPL), (GE), (GOOG), (AMZN), (CSCO), (GLD), (MSFT), (SLV), (T), (XOM).
Note: Should you have interest in my professional guidance and direction for your Portfolios, please Email Me with your questions or thoughts: senorstevedrmx@yahoo.com.
For Daily Updates and a Deeper View into my work / Analytics, you might want to Click and Scroll Down to my "Thumb-Nail" Articles within my personal blog.
Please spend some time reading my articles for a perspective of their and also viewing my Bio before making inquiries. Sharing a bit about yourself and your financial and needs, goals and objectives would be appreciated.
A relationship between You and Your Asset Manager must be a "Win / Win" affair. You get the Performance and the Education and I get paid for my Analytics / Work and Experience.
Smile, Have Fun, Investing Wisely,
Dr. Steve
AAPL, GE, GOOG, AMZN, CSCO, GLD, MSFT, SLV, T, XOM, SPY, QQQ, DIA