NEW SERIES ! - Managing the Dow 30: Eight DOWN, Twenty-Two to Go! - - Semi-Monthly - Update July 6th.
My 50+ Year Logo is: "Investing Wisely."
At this writing there are eight (8) Companies are now Bearish and "Un-Favorable." Another sixteen (16) are "Also-Rans." That means there are only six (6) "Favorable" that could even be Bought at Bullish Inflection Point. So, you know, a Bullish Inflection Point in not even nearly within my range (time-frame) Forecasts.
This translates into very negative "Odds" that managing the Dow 30 Industrials as a portfolio is going to be a profitable or prudent thing to do.
I hope you are listening.
And, I hope you are following my record of both Forecasts and Profitability.
I also hope you can see from these numbers and the below Tables that it is suggesting that this very old Bull General Market is clearly deteriorating. It is always a slow and expensive process of topping that requires much patience and discipline. Yes, Toping is expensive but once it happens your portfolio is on its way to being worth an average of 50% of its peak. Doing your homework each day/week helps more than you might think.
Table I - There is a Pattern with the Numbers - - Never with the Charts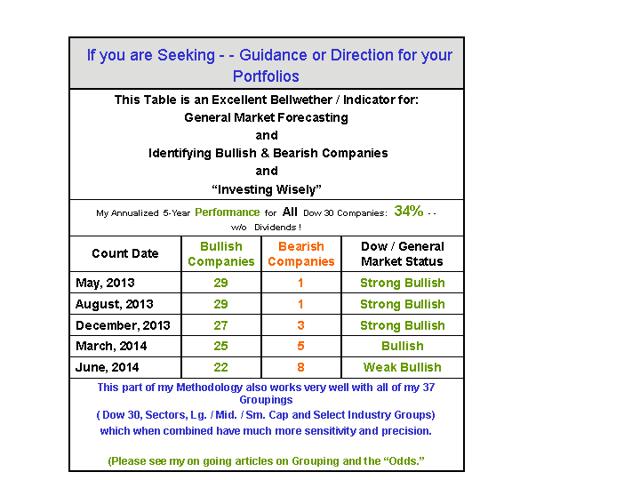 Believe it or not, this Dow 30 Table is one of my very best ways to Identify - Bullish and Bearish Inflection Points (including Major (Long-Term) Tops and Bottoms) for the General Market and its many Indices. You will find by reading my many published articles that I have even better ones (Grouping Indicators - - 37 of them) but this "simple guy" tells the story that is easier to understand than the others. You should know that graphic (chart) representations and the endless flow of Economic and Business data and articles that are put upon you - - DON"T WORK !. ( As a doctor or Finance and Economics I spend surprisingly little time with the Economic BS that is promulgated by Washington and the multitude of unqualified authors ).
Yes, the "better ones" referenced above, are my matrix of the 37 Groupings that I monitor frequently. While the Dow 30 has many very fine Companies, seldom do they measure up with their own peer Company in their respective Industry Groups. It is definitely a Bellwether for the Market but not a good source for Companies to own in your portfolio - that is of course if you are interested in equal risk and better percentage performance.
Retirees - - I can always match the dividend and get the bonus of having much more positive growth or up-side potential in "peer Company Industry Groups.
The above Table is telling you that there is a very slow deterioration going on within the General Market. This simple is not visible on any Chart or any of the hundreds of Indicators that the Charting Services offer publicly. Yes, the Charts are very valuable to me and they will once again tell me when the exact top has come, (they have for over 50 years) but that is only because of (the Leading Qualities) of what I am sharing within this article on the Dow 30. My other 36 Groupings tell the same story but with much greater precision.
It is basic mathematics with no gimmicks, formulas, charts or interpretations to learn in order to maximize profits. It is a matter of having the patience and discipline to monitor these BIG (Blue) GUNs, and as they endlessly Cycle from Bullish to Bearish and back again to Bullish ad-nauseas over time. I simple keep the Dow 30 - Industrials "Count" in perspective and believe it provides both you and me consistently profitable direction and guidance for profiting in the stock market. Of course it is the same procedure on a much larger scale with my other 36 Groupings.
Going Back Just A Bit for Reference
Right now, the 'Down / Bearish (Un-Favorable) Count for the Dow 30' is at Eight still too small a ratio to change my Opinion from Bullish to Bearish for the Dow or the General Market - BUT - It Is Getting Closer and Closer each and every week.
It is important to understand that the Dow Jones Industrial Average is a (weighted) average. For example: The numeric influence of Visa is ten times that of Verizon. I believe I have the credentials to more than suggest that -- this is Manipulation is Beyond ANY Acceptable Level by Wall Street - and they just keep taking advantage of a sanguine investing public. Sad but True. YOU ARE GETTING SCREWED ! ! !
Within any Grouping of securities, including all the securities on the planet, my work / analytics focuses on just three Lists for "Investing Wisely." They are: the Favorable and the Un-Favorable, and the Also-Rans. There are always an enticing number of Favorable Companies to invest or be long in. This is true about the Un-Favorable Companies to invest or be short in. And then there are the "Also-Rans" - - these guy are both prevalent and a total waste of time and money and should never be a part of yours or any other portfolio. Mutual Funds use them as a FILL and that too is taking advantage of you and their ways of extracting underserved professional management fees. They are not even honest with what the total of all their fees or revenue are. That too is a shame.
Can these three Lists or Categories ( Favorable / Un-Favorable / Also Rans) be determined ahead of Bullish and / or Bearish Inflection Points and investing your money / nest egg?.
Yes, I maintain continuous Lists of these three 24 / 7. Just Remember: All Companies and ETFs are constantly rotating - - Into or Out of "Favor." (Please read the notes in the table below).
You will note in the title of the Table below that it has notable meaning and comes from Kenny Rodgers' song The Gambler (click to listen carefully to the words). Gambling and Trading are not part of my asset management philosophy - - so you (Trader / Gambler) folks find another mentor. "Investing Wisely" is very different and much more consistently profitable than these two very high risk forms of managing / playing with money.
You've Got to Know When to hold 'em, Know when to fold 'em,
Know When to Walk Away and Know When to Run.
Table II of all 30 Dow 30 Industrials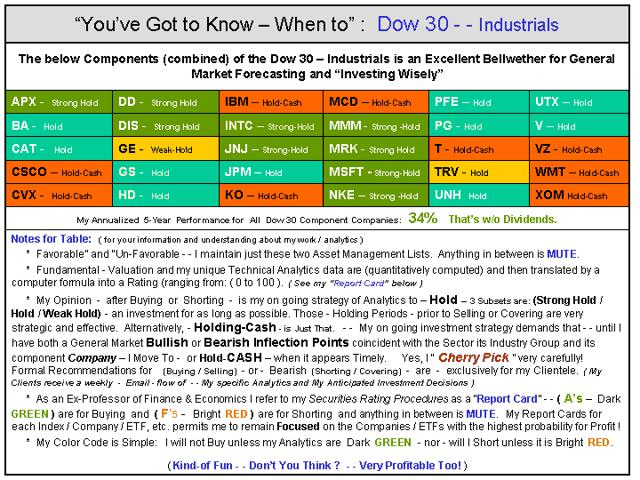 Table II above is designed as a teaching tool but it is also a very accurate management tool for the Dow 30 Component Companies as well as for my analytics of State the Marketplace. These last three words "State of the Marketplace" are a) mis-understood, b) tend to not matter to the average Investor and unfortunately to many financial analysts; c) have no perspective as to when to profit and when little or no profit is available.
I hope you will want to study it (the above Table) very carefully. Suffice it to say the warm colors are negative and have notable increased since my last posting of this article.
I write a semi-monthly article updating each of the Dow Companies. Here is a way to visit my long archive list for each of these Company articles: (Click on the symbol and you will be taken to my historical list of articles for that Company - - That should be conclusive proof of my Asset Management skills and profitability).
APX, BA, CAT, CSCO, CVX, DD, DIS, GE, GS, IBM, INTC, HD, JNJ, JPM, KO, MCD, MMM, MRK, MSFT, NKE, PFE, PG, T, TRV, UNH, UTX, V, VZ, WMT, XOM .
It should be clear that the Table above is current as to my views for each company. For those Companies that are "Un-Favorable" (Warm Colors) I still may have a Hold in place waiting for a more opportune and perhaps profitable time to sell. If you would like my specific opinion, please feel free to Email me.
You will find my long-term (20 year) Charts in each of the articles I write on above Dow 30 symbols. That too is a perspective you might want to acquaint yourself with that is not even considered by many.
The General U.S. Stock Market - Forecasted
The General Market is UP for the year to date is definitely un-impressive. That's Ok if you are looking for a Bearish Inflection Point - and I am. It only means that I / YOU must remain patient and wait for my composite technical indicators to do their thing. My fundamental and economic indicators have been in place for months. Technically, I am very prepared and confident with my pending Bearish Formal Recommendations to my Clients.
There will be more mini or bounce rallies and how those plays out is what keeps me smiling with my work / analytics. After which I expect to see further confirmation of my Bearish Short-Term Forecast - - unfortunately not with the Public - just with my Clientele.
At this time, I am primarily holding Cash. Oh yes, I am holding those Companies and ETFs that remain 'Favorable' which can be seen in the above table and in my articles. My overall research is focused on a Topping and very likely a new Bearish Inflection Point, or if you prefer a new / meaningful Bearish Cycle.
Note: Should you have interest in my professional guidance and direction for your Portfolios, please Email Me with your questions or thoughts: senorstevedrmx@yahoo.com.
For Daily Updates and a Deeper View into my work / Analytics, you might want to Click and Scroll Down to my "Thumb-Nail" Articles within my personal blog.
Please spend some time reading my articles for a perspective of their and also viewing my Bio before making inquiries. Sharing a bit about yourself and your financial and needs, goals and objectives would be appreciated.
A relationship between You and Your Asset Manager must be a "Win / Win" affair. You get the Performance and the Education and I get paid for my Analytics / Work and Experience.
Note to Professionals: I consult and this "stuff" is powerful. You might want to get in touch.
Smile, Have Fun, Investing Wisely,
Dr. Steve
Note: For a daily input and deeper view of my work / analytics you might want to click, and scroll down to my "Thumb-Nail" articles on my personal blog, which I update daily.
To Email Me with your questions or thoughts: senorstevedrmx@yahoo.com.