Coca Cola Company (The) -- You Can Do Better Than Owning "Coke"
Coca Cola Company has been a competitive leader within Dow 30 - Industrials composite Companies more recently. It is on a Hold-Cash and my (Fundamental and Technical) Indicators are continuing breaking down. Despite this, it has rallied to a new high. Still, I am not impressed and am focused on selling
It is on new highs but, $40. - $42. is going to be tough to beat. That remark has been clear for months.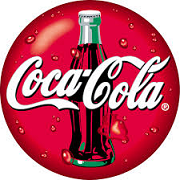 My Performance please see the below table. I believe it accurately shares the rather tepid positive results by from my initial forecast and then making Profitable Investment Decisions. I hope you will take a minute - to get better acquainted with my performance over the years and decades.
The Company like so many others has taken some big hits over the years!
Have a long look at this Chart, it tells you a story about how to make and preserve your profits. Click on KO.
A Special Note for Seniors & Retired Investors - Dividend Yield for Coca-Cola: 2.91%
I believe you folks deserve much better service and investment direction and guidance that either Wall Street or the Brokerage Community is / has been providing. Being a retired Asset Manager / Financial Analyst is a joy for me to assist you and meet your investment - needs, goals and objective. Peace of Mind for you is my mission.
Forecast w/ 5 Year Performance:
Note: The below Table is for your review, questions and perhaps thoughts. If you are seeking to "Invest Wisely" in my "Income & Growth - Asset Allocation Model" - - please Email me to open a dialog on how I go about providing super performance with a very low threshold of Risk.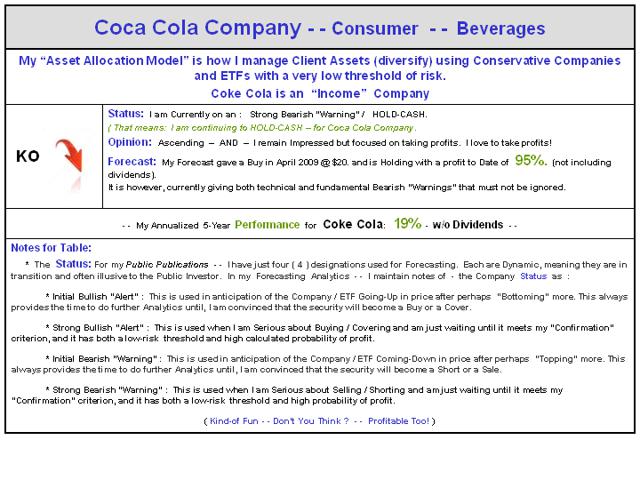 If you own or are considering owning Beverage Companies, the securities have definitely become a mixed bag of most the not so good. I have placed it on my Strong Bearish Forecast - "Warning."
My Current Opinion is to HOLD-CASH waiting for a better time to "Invest Wisely."

* Fundamentally - ( weighting - - 40% ): My Analytics (weighting) for my Fundamental Valuation play a vital role in profitable managing money. At this time my Valuations of (NYSE:KO) are not as positive as perhaps you are being told by other sources.
* Technically - ( weighting - - 35% ): Even with this fine Company, my Indicators are notably breaking down. It is only currently slightly off its highs of $42. selling for $41. The October rally is one that is tell a compelling story as to the longer-term future direction of the price of (KO). That is not an indication of a profitable future.
* Consensus Opinion - ( weighting - - 25% ): My third pillar of Research is one that is ALWAYS distorted to the Positive by most all financial analysts. That's because they are afraid of being Bearish. I Am NOT! My articles on "Reality" are supportive of the below 20 year Chart.
Note: Should you have interest in my professional guidance and direction for your Portfolios, please Email Me with your questions or thoughts: senorstevedrmx@yahoo.com.
For Daily Updates and a Deeper View into my work / Analytics, you might want to Click and Scroll Down to my "Thumb-Nail" Articles within my personal blog.
Please spend some time reading my articles for a perspective of their and also viewing my Bio before making inquiries. Sharing a bit about yourself and your financial and needs, goals and objectives would be appreciated.
A relationship between You and Your Asset Manager must be a "Win / Win" affair. You get the Performance and the Education and I get paid for my Analytics / Work and Experience.
Smile, Have Fun, "Investing Wisely,"
Dr. Steve
KO, PEP, WWAV, CCE, MNST, DPS, FMX, COT