So I said I would document my progress, but this week has been anything but progress. Losing money is never fun, but the loses are teachers and as long as I learn from them...they will never be in vein. So here's my thoughts from this week which I got from the school of "hard knocks"
#1. NO MATTER WHAT-BEFORE GETING INTO ANY TRADE. Take a breath wait five seconds. Think it over step by step. Be more than picky. It might take me 5 good trades to make my profit for the day....but just ONE bad one to take all my hard earned profits away. Or worse...if you didn't make any profits...make you start off negative and then try to play catch up.
I've learned that Impulse will be the death of me if I do not keep my emotions in check. Waking up at 4 a.m. to trade is no easy task...and I am not the happiest person when I wake up...meaning my chem levels in my brain are not where they should be. What really has helped me is waking up an hour before and going for a jog. Giving my brain an hour to start up has been the most helpful, I wish I had done it sooner. Oh well no crying over spilled milk, just have move on.
The image below is of a set of great trades I took...making about 30 points in a few minutes.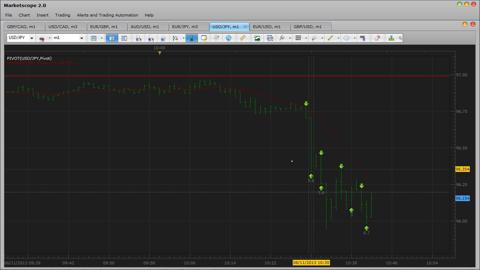 I was riding the trend....and I lost my head and got in yet again. I lost 50 points on that next trade...erased all my gains and felt like a moron. Why did I lose 50 points? Because I didn't cut the trade when i should of instead I thought I was going to let it come back to BE...which it did hours later, but I was too nervous and cut at negative 50.
Which will bring me to my next segment of risk management. Stay tuned folks.