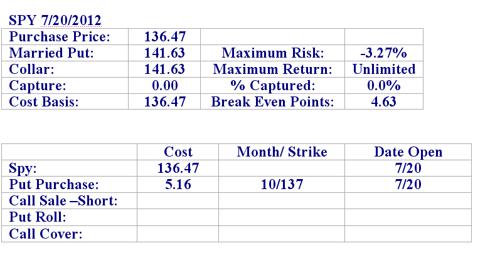 The opening trades for SPY Defined Risk Volatility Capture Program: a demonstration on how it works.
Each morning, before the opening, I will post an updated summary of the program. This will include all the changes I plan to make to the existing positions. Also, I will outline the most probable price path the SPY will follow. All of this will based upon the underlying data.
I will post these reports before 9:30 AM EST via InstaBlog. All the reports will also be posted on our website where they will be archived for your future reference.
As a member of SA, you will have free access to our website. ETFsagcity.com Username: ALPHA Password: member (lowercase).
To find the archives, enter the website and look to the left of the screen and find the "Click" points. If you click on "Portfolios" your next screen will show you the SPDR portfolio and if you click on "Commentary" you will find the Archived Reports.
This program is designed to capture the price movements of an underlying asset and convert the volatility into a positive capital gains cash flow. Over the coming weeks I will show how this done.
The program takes the daily high-low data of an underlying asset and creates an unbroken data stream. Next, it divides this continuous price flow into an alternating series of range bars. What we see as "trading channels" on a standard bar chart, the program merges into a series of "Price Structures".
The short term Price Bars are called Ranges and they tend to last 1 to 5 days; these structures function as a guide toward pinpointing precise turning points in the price direction of the underlying. Turning points or "Targets" are the optimal points to adjust the portfolios options positions.
The Slope is a price bar that will last 5 to 25 days and it's 4 bar price structure is what drives the longer term investment decisions within the program. My plans are to walk you through an entire investment cycle with the goal of you showing you that volatility can be capture without taking a great deal of risk.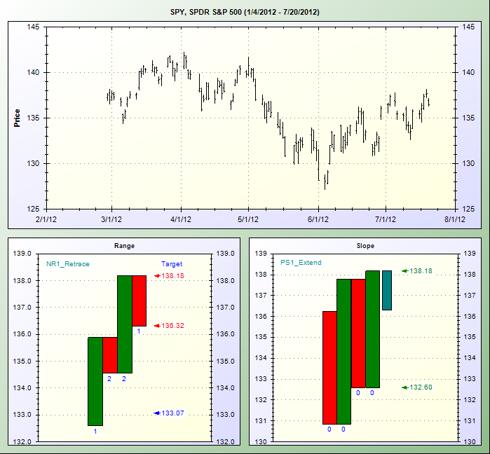 The SP500 Index will always move in the same direction as the majority of its weighted components. This section of the will provide the evidence that will support the future price projections for the SPY.
1 to 5 Days


5-25 Days


SlopeNet: +43.92
2 to 6 Week Momentum: +42.87
Disclosure: I am long SPY.
Additional disclosure: These option positions are managed on a real time basis