Petrobras, the government designated operator along with Majors Shell and Total and Chinese NOCs CNPC and CNOOC have won the Libra pre-salt bidding round. Libra is the biggest new exploration award till date, globally. The Libra Block is located in Santos Basin, ~170 km off the coast of Rio de Janeiro, offshore Brazil. The block covers ~1,550 sq km in water depths of around 2,000m. The estimated recoverable resources of Libra discovery is 8-12 billion Bbl of oil.
Production Sharing Contract highlights:
Signature bonus of $7 billion to be paid in a single tranche
Subject to oil price and well productivity, 41.65% of profit oil is shared with the Federal Government
Tenure of 35 year
Exploration phase to last four years
Minimum exploratory program: 3D seismic for the whole block, 2 exploratory wells and 1 extended well test
Ownership structure: Petrobras (40%, operator), Shell (20%), Total (20%), CNPC (10%) and CNOOC (10%).
The Brazilian oil regulator ANP had permitted all 11 applicants - CNOOC, CNPC, Ecopetrol, Mitsui, ONGC Videsh (OVL), Petrogal, Petrobras, Petronas, Repsol-Sinopec, Shell and Total, to participate in the auction.
According to Bloomberg, the terms of the bid were eased to attract bidders. The auction was rumored to be delayed.
(click to enlarge)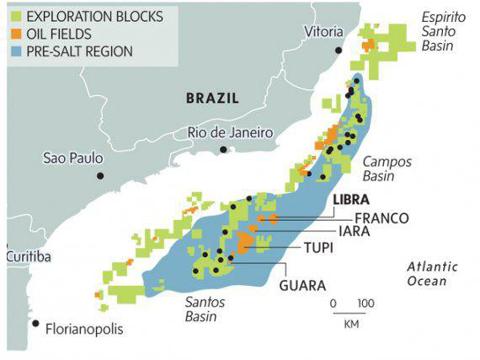 Click to enlarge
Disclosure: I have no positions in any stocks mentioned, and no plans to initiate any positions within the next 72 hours.