Shares of SolarCity(NASDAQ:SCTY) have exploded during the past few sessions, soaring over 100% from $25 not that long ago.
(click to enlarge)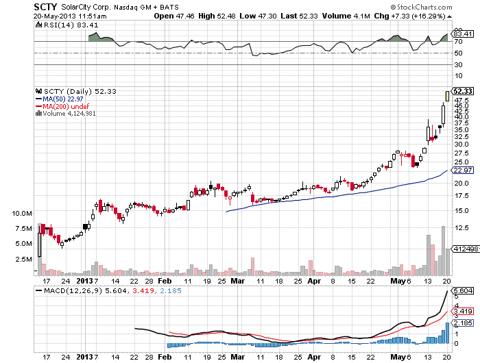 Click to enlarge
This author believes market participants should view this move with great caution and consider reducing risk in SolarCity before a significant correction
Post IPO Lockup Expiration
One of the biggest reasons you need to view the rally in SolarCity with extreme caution is the impending expiration of the lockup. Estimates are ranging that the float will be increased by 8-10x when this happens. SolarCity shares will face significant tailwinds. The lockup expires at the start of June, many large players in my view will exit the stock before then.
Technically overdone
The 50dayMA as of this article was at 22.97, an astounding 140% lower then the last traded price. This is an incredibly rarity on the NASDAQ markets and is often a sign of a bubble like movement.
The RSI is 83.19 as of this article. This is normally the area where many market participants close out longs and get short, while it can run into the 90's, the higher the RSI runs the harsher the correction will be.
The Tesla Connection
Shares of Tesla Motors have soared right alongside SolarCity in recent sessions. Many market participants are citing the "Elon Musk" trade where you buy any stock that is connected to him. This is a very dangerous sign that a bubble has formed in these names and people are buying on very weak reasons.
No meaningful change in Business
SolarCity continues to lose money since their IPO and will for the foreseeable future. In my view the business model for SolarCity is very questionable at best, relying heavily on Government grants is not the way to build a sustainable business, especially when a change in the Government could cut these grants.
As always take profits on the way and never be left holding the bag.