AMBEV (NYSE ticker: ABV)
Current Price: (US$) $37.22
52 week High (US$) $38.43
52 week Low (US$) $25.59
Long-term Debt (R$) 2,199.7
Cash (R$) 5,958.9
Shares Outstanding 3,124.2
Book Value per share (R$) 7.49
Paisley Financial Estimates
Revenue (in millions of Brazilian Reais, or R$)
CY2009A 23,194
CY2010A 25,233
CY2011E 26,621
Diluted Diluted EPS (per ADS in RS)
CY2009A 1.86
CY2010A 2.33
CY2011E 2.54
Key Points
In the year 2010, Brazil represented the world's third largest beer market in terms of volume (source: AMBEV 20-F). AMBEV has a dominant presence in Brazil, with a 64% market share of beer sales volumes. The closest competitors include: Grupo Schincariol with an 11.0% market share; Cervejaria Petrópolis S.A. with a 9.9% market share; and Heineken, with an 8.2% market share.
During the third quarter of 2011, AMBEV gained 70 basis points of market share in the Brazilian beer industry.
The Canadian business, represented by Labatt operations, sells domestic and Anheuser Busch Inbev brands (Budweiser and Bud Light). Garnering a volume share of 41% in the Canadian beer market, the Labatt operation is a major player. The main competitor in Canada, Molson, has an estimated market share of 41% (source: AMBEV 20-F).
In the most recent quarter, the company reported strong profit and cash flow figures. For the third quarter of 2011, normalized EBITDA (on an organic basis) increased 13.5%. Margins expanded 110 basis points to 46.3%. Operating cash flow totaled R$3,420.8, which was a 32.9% increase from the same period a year ago.
Looking forward, management expects higher industry growth rates. This is due to expectations of stronger disposable income from the anticipated (real) minimum wage increase of 7.5% in 2012 (source: AMBEV 2011 Q3 earnings release).
The Beer business is recession-resistant. Consequently, if global economic growth falters, AMBEV sales should hold up relatively well versus International growth and cyclically-oriented businesses.
Top-line growth appears less than stellar. Even though third quarter 2011 net sales grew 10.6%, the reality was price hikes accounted for 7.5% of the increase. Organic volumes increased at a much slower rate of 2.9% across all regions.
A significant portion of ABV's cost of sales comprises the commodities: aluminum, sugar, hops, and barley. Even though the company attempts to hedge its risk exposure, it may not be possible at all times. Consequently, a sharp rise in commodity prices could undermine margins.
If ABV decided to implement rapid price hikes to offset any cost inflationary pressures, beer volumes could come under pressure. Under this scenario, the company could lose market share to preserve operating margins.
Business Description
AMBEV is the largest brewer in Latin America by sales volume and the fourth largest beer producer in the world (source: AMBEV 20-F). The company produces, distributes, and sells beer, carbonated soft drinks (NYSEARCA:CSD), malt, and other non-alcoholic products in 14 countries across the Americas, under the brands Skol, Brahma, Antarctica, Gatorade, Quilmes, Stella Artois, Red Rock, Pepsi-Cola, Seven-UP, Pilsen, Labatt Blue, as well as being Pepsi's largest bottler in the world. In the chart below, HILA-ex stands for Hispanic Latin America and represents the Dominican Republic, Venezuela, Ecuador, Guatemala, and Peru. Latin America South represents Argentina, Bolivia, Paraguay, Uruguay, and Chile. Canada represents Labatt's operations.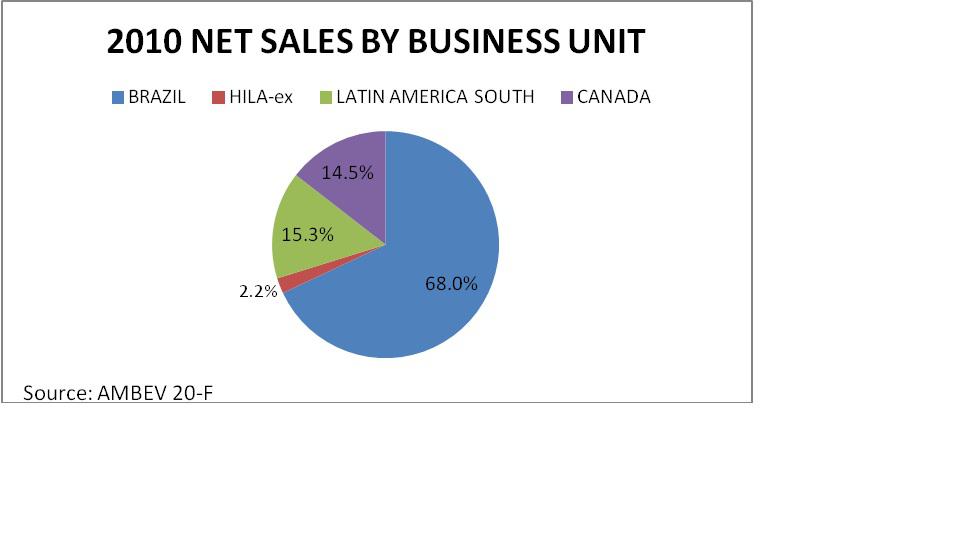 History
AMBEV (ABV) is the successor of Brahma and Antarctica (in 1888), which were two of the oldest breweries in Brazil. Fast forward to 1994, Brahma started its international expansion into Latin America, starting beer operations in Argentina, Paraguay and Venezuela. Four years later, Ambev entered into a new franchise agreement with PepsiCo, which granted the company exclusive bottler and distributor rights for Pepsi carbonated soft drink (CSD) products in Brazil. In January 2002, the company expanded its partnership with Pepsi to include the production, sale and distribution of Gatorade. The Pepsi franchise agreement for Brazil expires in 2017. In January 2003, ABV completed a two-step business combination with Quinsa, through which ABV acquired an initial 40.5% economic interest and joint control of Quinsa, establishing a leading presence in the beer markets of Argentina, Bolivia, Paraguay and Uruguay. In August 2004, ABV and Interbrew, a Belgian brewer, completed a business combination that involved the merger of an indirect holding company of Labatt. At the same time, controlling shareholders of Ambev completed the contribution of all shares of an indirect holding company which owned a controlling stake in Ambev to Interbrew in exchange for newly issued shares of Interbrew. After this transaction, Interbrew changed its company name to InBev (and, since 2008, to Anheuser Busch InBev) and became the majority shareholder of Ambev through subsidiaries and holding companies.
Essentially, Ambev and Anheuser-Busch InBev are independent companies, each one with its own management. Anheuser-Busch InBev is one of ABV's controlling shareholders, holding approximately 74% of the voting capital and 62% of the total capital. In 2005, Ambev and Anheuser-Busch InBev (InBev at that time) entered into a cross-license agreement, through which Ambev is allowed to produce, package, market and distribute beer under the brands Stella Artois and Beck's in Latin America (except Argentina and Cuba), on an exclusive basis, and Anheuser-Busch InBev is allowed to produce, package, market and distribute beer under the brand Brahma in Europe, Asia, Africa, Cuba and United States. Ambev currently has a commercial agreement with Anheuser-Busch to sell and distribute the Budweiser brand in Canada and Dominican Republic. This agreement was settled before Anheuser-Busch´s agreement with Anheuser-Busch InBev.
For more information please contact research at:
1-312-878-8500
www.paisleyfinancial.com
research@paisleyfinancial.com
______________________________________________________________________________
Paisley Financial does not provide legal, tax or accounting advice. Any statement contained in this communication (including any attachments) concerning US tax matters was not intended or written to be used, and cannot be used, for the purpose of avoiding penalties under the Internal Revenue Code, and was written to support the promotion or marketing of the transaction(s) or matter(s)addressed. Clients of Paisley Financial should obtain their own independent tax advice based on their particular circumstances. This material represents the views of the research group, which performs analysis for the Management Division of Paisley Financial and is not a product of Paisley Financial. This information is provided to discuss general market activity, industry, or sector trends, or other broad-based economic, market, or political conditions. This information should not be construed as investment advice, and investors are urged to consult with their financial advisors before buying or selling any securities. This information may not be current and Paisley Financial has no obligation to provide any updates or changes to such information. The views and opinions expressed herein may differ from the views and opinions expressed by other departments or divisions of Paisley Financial. This material is intended for educational purposes only and to facilitate your discussions with Paisley Financial as to the opportunities available to our private clients. This material does not constitute an offer or solicitation with respect to the purchase or sale of any security in any jurisdiction in which such offer or solicitation is not authorized or to any person to whom it would be unlawful to make such offer or solicitation. This material is based upon information which we consider reliable, but we do not represent that such information is accurate or complete, and it should not be relied upon as such. Any historical price(s) or value(s) is as of the date indicated. Information and opinions are as of the date of this material only and are subject to change without notice.
Economic and market forecasts presented herein reflect our judgment as of the date of this material and are subject to change without notice. These forecasts do not take into account the specific investment objectives, restrictions, tax and financial situation or other needs of any specific client. Clients should consider whether any advice or recommendation in this material is suitable for their particular circumstances and, if appropriate, seek professional advice, including tax advice. References to indices, benchmarks or other measure of relative market performance over a specified period of time are provided for your information only. Opinions expressed herein are current opinions only as of the date appearing in this material. No part of his material may be: copied, photocopied or duplicated in any form by any means; or ii) redistributed without Paisley Financial' prior written consent © Copyright 2012, Paisley Financial LLC. All rights reserved.
Disclosure: I have no positions in any stocks mentioned, and no plans to initiate any positions within the next 72 hours.