On Tuesday, August 14, 2012, 10 AM Eastern Standard Time, the curtain will open at Madison Square Garden in Manhattan for the biggest and glitziest launch in Microsoft history. The first to emerge will be Steve Ballmer, followed by Stephen Elop, then the heads of AT&T, Verizon, T-Mobile, Sprint, and several leading computer manufacturers.
Once everyone has reached the stage, Ballmer will look down from his position at center stage and click on a full size wireless mic, not a Britney mic, and then step forward. Sporting a gigantic smile, Mr. Ballmer will welcome and thank everyone in the audience for coming. He will then turn to his right and left and say: "especially you guys for helping make this the most impactful launch in Microsoft's history. Thank you, and I invite you to take your seats here in the first row for now."
"As you know, in previous launches, we've always used highly produced videos on large screens to show you how our products will perform. And sometimes we've used PCs connected to large screens to conduct live demonstrations. Well, what do you think of this?" Mr. Ballmer turns to face the large black screen behind him, lifts his left hand in front of him, to his eye level, and makes a slight motion with his fingers as if motioning someone to come to him. What happens next gives many in the audience goose bumps. The screen goes from black and comes alive to Steve Ballmer's Windows 8 log on screen featuring a picture of his wife and family. He lifts his left index finger and on the screen appears a bright spot matching his movement. He then points sequentially in five different spots on his family's picture and like a globe the picture revolves away and in revolves his desktop.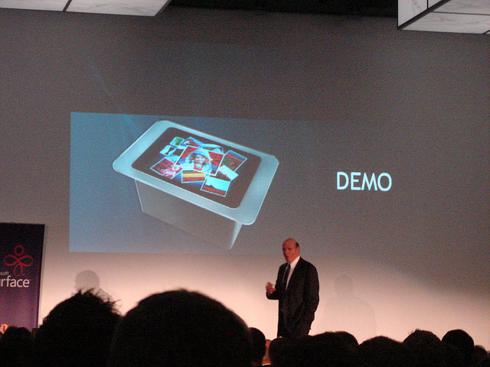 He then turns to face the audience that is applauding furiously, lifts his mic and says: "Just in case you guys were looking, I am going to change my password as soon as this presentation is over", and laughs his Steve Ballmer laugh. "And oh, by the way, the screen you're looking at is obviously not a touch screen because… I am not touching it." More applause. "This is something….", he turns back to the screen and swipes with his free hand to open his music folder, then clicks on the Van Halen song "Jump". Not a second later, MSG's state-of- the- art music system is blaring the iconic synthesizer solo that begins this classic.
"Wow!", he says, "even better than I had imagined." Thirty seconds of pure musical enjoyment later, just before the singing kicks in, he taps in mid-air the speaker on Windows media player and drags the volume slider down to number 1, to barely a whisper. "As I was saying, this experience is something, well not this…" as he motions up to MSG's speakers and ceiling, "this is something every Windows 8 owner will be able to experience in his home." All of a sudden the same song starts over, blaring over the speakers once again, Ballmer smiles and just has time to say "oops" in his microphone before the 2nd curtain opens, the one behind the large screen , and guess who pops out? You got it: David Lee Roth in his funky circus paints re-united with Van Halen yells "I get up…. And nothing gets me down!" Needless to say, the audience cannot believe their eyes and ears, and respond with thunderous cheers!
Four minutes later the song is over, the audience gets up to give Van Halen a resounding thank you. Ballmer walks back on stage, opens his mic, and says thanks to David Lee Roth. DLR responds "Hey thank you Steve for inviting us to this gig, and thanks for the great music mixing software you sent us recently. We like it so much we're going to use it to re-master some of our songs and who knows, maybe another record in the near future. "
"Well, you're welcome David," Ballmer says. "And I look forward to hearing more of your songs a little later". Applause. "That's right folks, Van Halen will perform for your pleasure at today's half time, that's half way through our presentation."
END OF PART 1. STAY TUNED FOR PART 2 COMING SOON.
Disclosure: This article is purely fictional and for entertainment purposes only. It is not meant to be taken as advice to buy or sell any stock.
Disclosure: I am long NOK.