Investors have an opportunity today to get in the bottom of the bullish move AK Steel Holding Corporation (NYSE:AKS) is about to make, with trend line support going back to October 3rd AKS has been in a slow upward channel approaching it's analyst estimate at $11.23 per share.
After a week long sell off AKS has returned to oversold territory where historically it gets a bounce shown in the chart below.
With the combination of the trend support and bullish attributes from the indicators on the Daily and Hourly charts AKS should see another run above $10.30 within the next week or two. With 47% upside from it's 52 Week highs back in August, AKS is a very good candidate for a short squeeze to run closer to these higher numbers.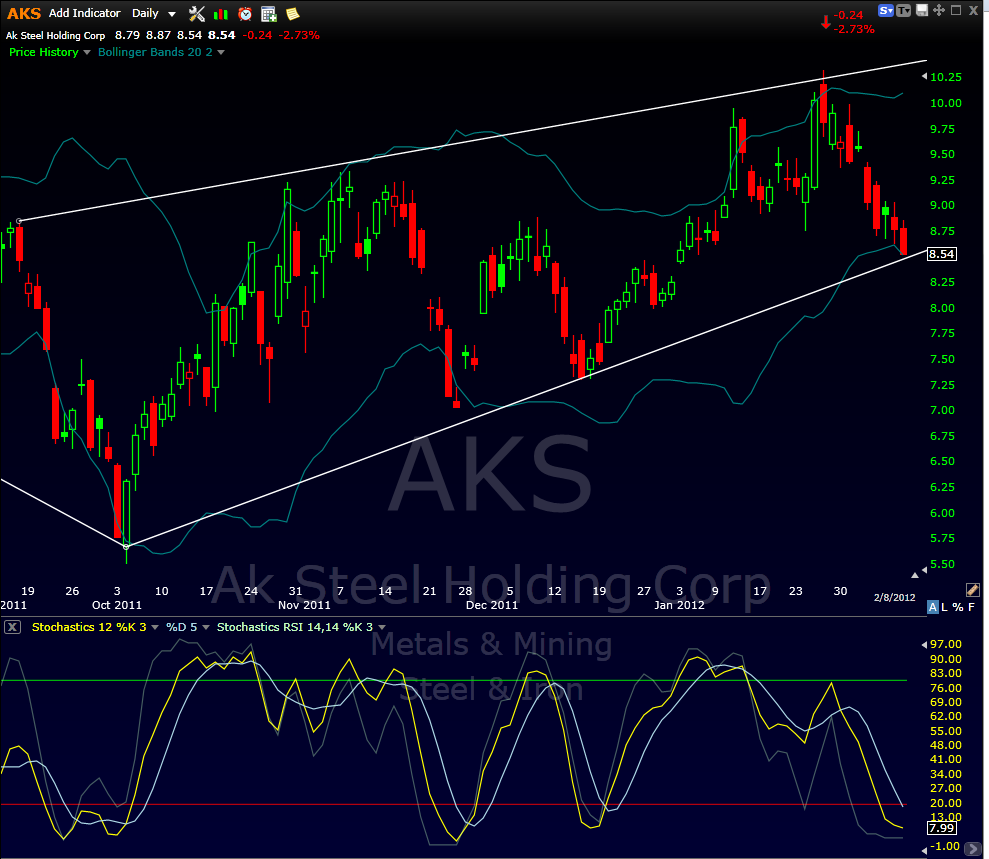 AK Steel Holding Corporation is a producer of flat-rolled carbon, stainless and electrical steels and tubular products through its wholly owned subsidiary, AK Steel Corporation (AK Steel). AK Holding's operations consist of seven steelmaking and finishing plants located in Indiana, Kentucky, Ohio and Pennsylvania that produce flat-rolled carbon steels, including coated, cold-rolled and hot-rolled products, and specialty stainless and electrical steels that are sold in hot band, and sheet and strip form. Its operations also include AK Tube LLC (AK Tube), a wholly owned subsidiary of the Company, which further finishes flat-rolled carbon and stainless steel at two tube plants, one located in Ohio and one located in Indiana, into welded steel tubing used in the automotive, large truck and construction markets. In addition, the Company's operations include European trading companies that buy and sell steel and steel products and other materials.
Disclosure: I have no positions in any stocks mentioned, but may initiate a long position in AKS over the next 72 hours.