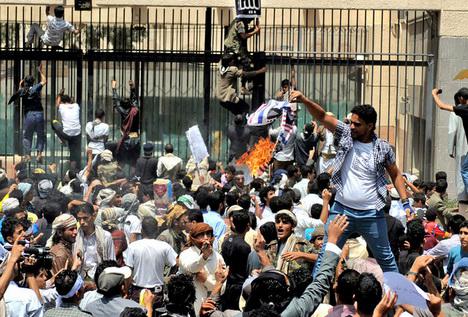 Bloomberg September 13, 2012 - U.S. Embassy in Yeman Stormed as Protests on Video Spread
Protesters attempted to storm the U.S. embassy in Yemen's capital Sana'a yesterday and at least one was reported to have been shot dead, while demonstrators rallied in Egypt and Iran against a film seen as insulting to Islam.
The spread of violence follows the killing of the American ambassador to Libya, Chris Stevens, and three colleagues during an attack on consular buildings in Benghazi on Sept. 11. Several people have been arrested in Libya for that attack, Al Arabiya TV reported yesterday, citing the Libyan Interior Ministry.
Demonstrators in Sana'a breached the embassy compound's security perimeter and set two cars ablaze, as security personnel fired into the air to disperse the crowd, said Yousef Al-Ahjan, who joined the rally. One protester was killed and five injured, Al Arabiya television said.
In a phone call yesterday, U.S. President Barack Obama thanked President Abdurabuh Mansur Hadi for his swift condemnation of the violence and his promise to investigate the incident, according to a statement issued by the White House. Obama underscored the importance of security for U.S. personnel and Hadi said additional security forces have been deployed around the embassy, according to the statement.
In Egypt, at least 216 people were injured yesterday, most from tear-gas inhalation, in a third day of clashes near the U.S. Embassy in Cairo, said Ahmed el-Ansari, vice president of the Egyptian Ambulance Organization. There were also demonstrations outside the Swiss mission in Tehran, which represents U.S. interests in Iran.
Anti-American Violence
The eruptions across the Middle East, recalling the reaction to the publication of cartoons about the Prophet Muhammad in a Danish magazine in 2005, were prompted by excerpts of the disputed film that were posted on YouTube. It portrays the Prophet Muhammad as a womanizer. For Muslims, any depiction of the prophet is sacrilegious.
The anti-American violence threatens U.S. efforts to establish ties with the new governments that are emerging in the Middle East after last year's wave of revolts.
In Washington, the Obama administration downplayed any rift with the Egyptian government a day after Obama said he doesn't consider Egypt an "ally," following the assault on the U.S. Embassy in Cairo by protesters angered by an anti-Muslim film.
The president "in diplomatic and legal terms was speaking correctly" when he described Egypt's status in an interview with Telemundo, White House press secretary Jay Carney said yesterday in Colorado, where Obama was campaigning.
Egypt's Transition
Carney said the U.S. doesn't have a mutual defense agreement with Egypt as it does, for example, with members of the North Atlantic Treaty Organization. For more than 20 years, Egypt has held a preferential status known as a "major non-NATO ally."
National Security Council spokesman Tommy Vietor called Egypt a "long-standing and close partner of the United States" and said Obama is committed to "supporting Egypt's transition to democracy and working with the new government."
The administration isn't considering withholding aid to Egypt, Carney said. "We have an important strategic partnership with Egypt and that partnership continues," he said.
The U.S. ambassador to Egypt, Anne Patterson, who wasn't in Cairo when protests began this week, is en route back to the city, State Department spokeswoman Victoria Nuland said yesterday in Washington.
Increased Security
Egypt's local-currency borrowing costs fell even as protesters clashed outside the U.S.embassy in Cairo. The average yield on one-year treasury bills dropped to a 10-month low after Bank of America Merill Lynch predicted the debt will catch up with a rally in other Egyptian assets once the nation secures International Monetary Fund aid.
Yemen's embassy in Washington said the government will step up security around all foreign missions. Protesters who made a second attempt to storm the embassy yesterday were prevented from getting close by increased security measures and roadblocks. Security forces fired tear gas and live bullets in the air to disperse the crowds.
Yemen's military committee, charged with restoring stability after last year's anti-government protests, denounced the attack on the U.S. Embassy, saying any assault on a foreign mission constitutes a terrorist act. It said security forces have been instructed to deal "strictly" with attempts at violence, the state-run Saba news agency said.
Earlier, protesters smashed windows as they breached the embassy perimeter, pulled down a U.S. flag and burned it, the Associated Press reported. They didn't enter the compound's main building.
'Flagrant Violation'
Saudi Arabia condemned the "violent" attacks against American interests and offered condolences to the U.S. government, the official Saudi Press Agency said, citing an unidentified official. It also denounced the production of the film by an "irresponsible" group, the agency said.
In Syria, where the U.S. and several European Union embassies have closed because of the uprising, Minister of Religious Endowment Mohammad al-Sayyed said the prophet's portrayal in the film "constitutes an offense against the values of humanity and a flagrant violation of the alleged democracy of the U.S. and its allies," the state-run Sana news agency said.
The governments of Islamic countries including Egypt and Iran have called on the U.S. to crack down on works that offend religious feelings. Egypt's Muslim Brotherhood has emerged as the country's strongest political party since the overthrow of Hosni Mubarak last year, and Islamic parties have gained ground elsewhere in the region.
Secretary of State Hillary Clinton said in Washington yesterday that she found the video "disgusting and reprehensible."
"It appears to have a deeply cynical purpose: to denigrate a great religion and to provoke rage," Clinton said. She also said, "There is no justification, none at all, for responding to this video with violence."

Trade Forex Oil Energy Metals ETF's
Islamic Moslem Swap-Free Accounts
Bonus Deposit for New Customers
Minimum Deposit $/€300 Free Bonus $/€75
$/€1,000 $/€150 to 1,000
$/€10,000 $/€1,200
Fixed spreads. Free advanced online forex trading tools. Daily exclusive institutional analysis. 24-Hour trading and support. Trade immediately by credit card, PayPal or WebMoney. Start trading forex with as little as $100. No commissions or fees. Euro or US Dollar trading account. Withdraw instantly with Ava Debit Card. Trade Gold Silver and Oil too.

Gold Newsletter
USA & Canadian Gold ETF Trading Strategies and Signals
High probability stock, index, sector, commodity, bond, & currency ETF trade alerts. US trading signals, Gold & Silver - GLD, SLV, Gold Stocks - GDX, Crude Oil - USO, Natural Gas - UNG, Index Trading - DIA, SPY, Bonds, Foriegn Investments US & Canadian Stocks. Canadian trading signals, Gold & Silver - CEF.A, Gold Stocks - HGU, HGD, Crude Oil - HOU, HOD, Natural Gas - HNU, HND, Index Trading - XIU, HXU, HXD, Bonds, Foriegn Investments, US & Canadian Stocks.

Gold Silver Alerts Reports Signals Trading
We send Buy and Sell signals, on average 30 to 50 times per month and you can easily make money in the gold and silver spot markets and commodities market with these Sell and Buy signals. It's that easy! Our gold trading signals and silver trading signals are valuable to the forex gold spot market traders and also for the long term gold investors in commodities market. We post the new gold signal every day in the users section of our web site. It will also be emailed to you, so you will not miss any signal.