Profit From Zacks Investment Research Earnings Estimates Revisions Free Trial
of Zacks a leading investment research firm focusing on equities earnings estimates and stock analysis for the individual investor, including stock picks, stock screening, portfolio stock tracker and stock screeners. "Earnings estimate revisions are the most powerful force impacting stock prices" Zack Investment Research Founder Leonard Zacks, Ph.D. Mathematics M.I.T.
September 22, 2012 - Why the Charts Point to New Highs - By Zacks Investment Research
By: Kevin Cook
Confession: I'm a chartist who secretly uses fundamentals.
And I was still bearish in June after the S&P made a 10% correction, for both technical and fundamental reasons. From the euro meltdown and China slowdown to slowing US growth and a looming "fiscal cliff," there was plenty to worry about.
But a funny thing happened on the way to the coming global recession and market meltdown. The S&P kept reaching up from the depths of 1,300 and making higher lows.
By late July, the index bounced off what had become an important support level and made its 4th new high in six weeks. That's when I retired my bear suit and said: "Folks, the correction is officially dead and we are going even higher."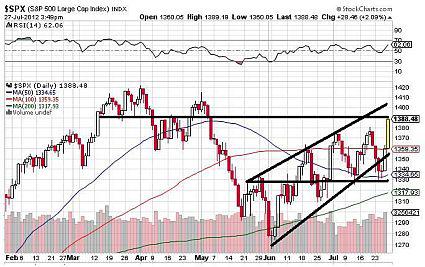 Nothing changed in the fundamentals. In fact, by the analysis of many top economists, and the dismal data flow from US employment and manufacturing, things had gotten worse.
What changed was price. And I have a theory about price which is simple, clear and requires very few technical indicators to make use of.
What Does the Big Money Think?
Early in my trading career, I learned that when the fundamentals seem cloudy or confusing, you can almost always get a "tell" from the price action. How so? Because the net money flow of institutional investors - and their buy and sell levels that create support and resistance - tells you what the "serious money" thinks of the fundamentals.
Remember, a free market is like an auction where anyone is free to bid or offer whatever price they believe is fair. There is no right or wrong price; only the price that a buyer or seller agree on.
So investors vote on and weigh the market of stocks with their dollars and thereby tell you what they think of fundamental values in the investment universe. It is the collective opinion of the big boys and girls that matters.
That's why long ago I adopted a simple phrase to define my approach to markets: price precedes fundamentals. It doesn't mean that price is always accurate in telling you where fundamentals are headed.
It just means that while most of the time the market finds equilibrium where bulls and bears battle it out, there are occasions when it swings to extremes of either optimism or pessimism. And you can ride those trends of emotion for sizable gains, until the winds of sentiment change and go the other way.
Even if sentiment doesn't change, price can tell you which way the market is headed next. That's how the charts told me the fundamentals were okay in August and that it was time to be bullish. Fund managers buying stocks based on their best estimates of corporate earnings becomes a fundamental economic driver itself, regardless of central bank "wealth effects."
Why were big investors net buyers of stocks in June and July? Because to them, all the bad news had been discounted and they were not going to be burned again selling stocks on groundless recession fears, as happened in 2010 and 2011. Fool me thrice was not an option.
Where Mr. Market is Headed Next
There were many questionable and hard-to-measure driving forces of the rally from S&P 1,300 to 1,475. ECB President Mario Draghi threatening - and then delivering - support for their troubled-country bond markets was one. Ben Bernanke firing the big gun of open-ended bond buying in US mortgage markets was another.
And there was also a mysterious force: doubt. It's not just a wall of worry the market climbed. It was total disbelief by so many investors and bears on the sidelines. That force of doubt can still drive the market higher the rest of the year, in the face of many economic and political uncertainties. Here's a chart that shows why...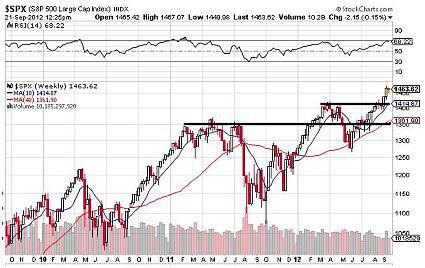 This is a 3-year weekly chart of the S&P, with 10 and 40-week moving averages as a proxy for the 50 and 200-day varieties. I have drawn lines at important levels of recent yearly tops.
1,350 was the rough topping area in 2011 and 1420 was the peak area this year. 1,350 has been a key "area of interest" and bull-bear battles several times. Now that the bulls have re-gained control, it will be significant long-term support.
1,400-1,420 is also now a bull victory and I would be a buyer of all pullbacks to there in the intermediate time frame. Note also the confluence between these levels and the important moving averages.
In 2011, I said that S&P 1,100 was an "extreme value area" and that investors should aggressively accumulate stocks there. Now I see S&P 1,300 the same way. But we won't be back there for a while (next summer maybe) because this market has more work to do making new highs.
As the market explores the ether above, at price levels we haven't seen since before the Great Meltdown and Recession of 2008, market players will continue to doubt and short it. They may be able to make some money doing so as volatility returns around the election and other Washington "cliff" hangers.
But, the big trend is bullish. Here's one more chart that tells me so . . .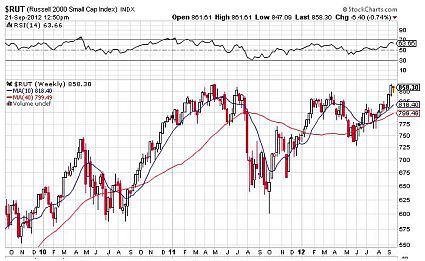 This is the Russell 2000 in the same 3-year view. This month, it retouched its all-time high from 2011 at 868. With the small caps showing this kind of strength, I say: "Don't fight this market or this economy. And buy the dips."
How to Play the Market Swings
Actually, whether the movements are upward or downward, you can profit by blending technical and fundamental principles (particularly the Zacks Rank). That's the premise behind our brand-new Zacks Market Timer, a unique approach to predicting quick, explosive swings in industries, sectors and the market as a whole.
Of course, we won't call them all correctly, but our strategy is to cut short losses and maximize gains by 2X with a simple Zacks metric and then 3X again with a twist on a common investment move. Our first trade is Monday and this service will soon be closed to new investors, so if this sounds interesting, I encourage you to check it out right now.
Good Investing, Kevin Cook